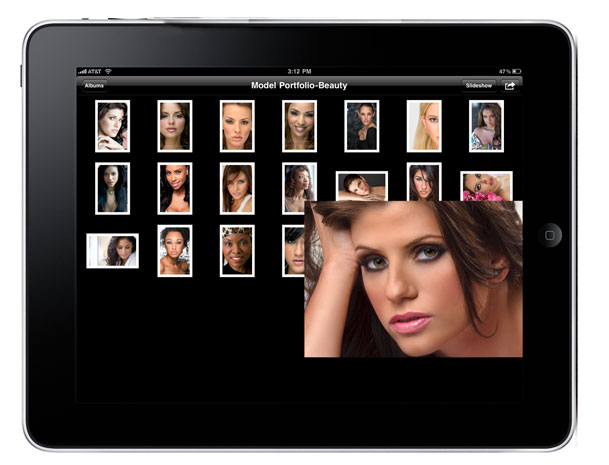 With Lightroom 3 out the door and now that I'm back from HOW Design Conference, I can start to look forward at upcoming technology, gadgets and projects. While I was at HOW I had the ear of Adobe's Tablet Application Project Manager, John Nack. On Friday, John asked via his blog what people might want in an Lightroom type app for the iPad? Since I reach a ton of iPad users here, I thought I would solicit your feedback and pass it on to John and team.
Two Camps
When I talk to iPad users about this, I get lots of different ideas on what they want and I've summarized them here with two options.
OPTION ONE: There are currently two lines of thought on what photographers really want in an iPad app. If we start with Lightroom's current five modules, we have Library, Develop, Slideshow, Print and Web. One school of thought (the one that I'm in) is that you bring in your photos via the iPad Camera Connection Kit (I reviewed it here) and then you're able to do Library Module type things to them. ie. add keywords, titles, descriptions, picks, flags, stars and possibly even put them in collections. You could also do Develop module type things like Exposure, Noise Reduction, Cropping, etc. Once you get back to your computer, you would connect your iPad via the USB cable (don't scream WiFi because again we can only do what we're allowed to do) and sync everything to your computer right into the desktop version.
OPTION TWO: The other school of thought is to go the other way. Start in Lightroom on the desktop, and sync your catalogs/collections to the iPad for client review and showing your mobile portfolio. Perhaps you'd still have access to Library like functions while your client reviews with you, that sync back to the desktop version.
Personally I think that no matter what, we should have a slideshow feature with music too. However, we also have to keep in mind that Apple doesn't take to kindly to "duplicating" built-in functionality. So again, our hands may be tied in many things we want to do.
So what do you want?
Sound off in the comments below. Also what's the right price for such an App? Um, duh, yeah free is great, but what if it's not? How much is the right price?
By the way, there are no promises here. There are lots of technical limitations to overcome and even then if such an App were to be built, it would still have to be approved by Apple. So keep that in mind. For those of you thinking, "how hard can it be?" You might want to take a look at this post.