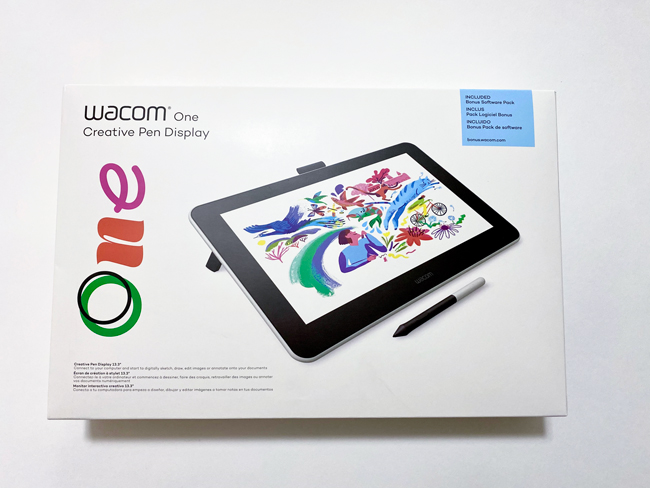 Wacom has had a long-standing history of providing professional-level graphics tablets and pen displays to the creative community. Often with professional tools, there is a professional price tag attached. Wacom products have never been referred to as "cheap." Reliable, yes. Quality, yes. Great features, yes. But not cheap. That's all well and good if you work for a design shop and a company is buying them for you. If you're self-employed or just starting out then the Wacom Cintiq (professional level pen display) probably was out of the question.
That all changed with the Wacom One
The Wacom One is not a Cintiq. It's not aimed at professionals. It's aimed at everyone else that ever wanted a pen display but simply couldn't afford one. The Wacom One is a 13.3″ pen display that works just like a Cintiq. You create or edit your image right on the display with a pressure-sensitive pen. 4,096 levels of pressure to be exact. This wireless, batteryless pen feels like a Wacom pen. Perhaps not a professional Wacom pen, but not so far off that it will feel foreign.
The Wacom One connects to your Mac or PC with the supplied USB and HDMI cable. It has a resolution of 1920×1080 (HD). It even works with an Android device with an optional connection kit.
How well does it work?
See my video review above. Having used it now for a couple of weeks I would say that it works really well. It would certainly be an upgrade from any traditional tablet where you're looking at your display but using the pen on a different tablet surface.
What it's not!
It's not a Cintiq, so, therefore, it's missing Express Keys and the Touch Ring. Wacom's newest pro-level Pen 2 has 8,192 levels of pressure. Also with the pro products, the pen has two configurable buttons instead of one as well as an eraser tip. If you're just starting out, none of these things would be essential. Unlike the Wacom Mobile Studio Pro or Microsoft Surface Pro, it's not a computer. It's a display that connects to your existing computer or Android device.
The Bottom Line – No more excuses
If you've held off buying a pen display or other tablet, there's no more reason to wait. The Wacom One is a mere $399! That's an amazing price for this product considering regular medium and large tablets have cost that much in the past.
You can get the Wacom One here.
If you want Express Keys and a Touch Ring, you can get the Express Key Remote here.