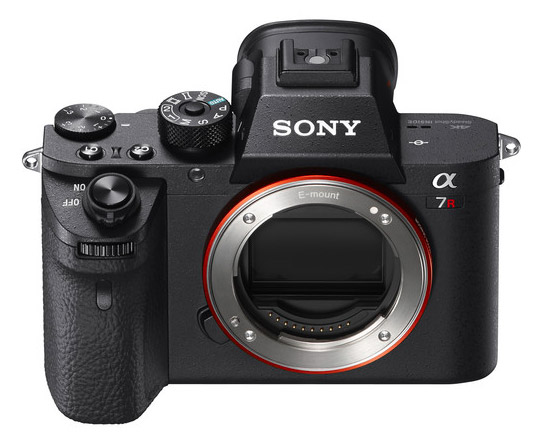 Ever since I received my Sony A7RII Review unit, people have been asking me what I thought about it. I didn't want to jump to any quick conclusions, so I decided to really put this camera though its paces, traveling with it and using it in one of my studio shoots. Let me start off by saying that this IS an AMAZING CAMERA. There's no question that Sony got a lot of things right with the Sony Alpha A7RII. I'm a Nikon shooter and have shot primarily with Nikon DSLRs since about 2006. However, I'm not a zealot when it comes to Nikon. I love my Nikon bodies, lenses and accessories, but not to the point that I refuse to look at anything else. In fact I have Nikon DSLRs, another older Sony Mirrorless camera, Canon Point & Shoot and Canon and Sony video cameras. Every manufacturer gets most things right and a few things not so right. Also I'm not paid by any of them so my opinions can be as unbiased as they can be.
Let's get to it…
Sony A7RII Review: Out of the Box!
My out of the box experience was pretty good. I really liked the feel of the camera. Not too big and not too small for my large hands. It was really just right. After I got the battery in the right way I was ready to play for a few minutes before needing to actually charge the battery. Sony's menu system is very straight forward and throughout my review period I was able to find most things I was looking for without picking up the manual or texting Frank Doorhof 🙂 As a matter of fact I unboxed it live on Periscope. You can see the replay here:
The only thing that people said when I unboxed it was "you should have got a better lens". I didn't request a particular lens and B&H sent me a 24-70mm. Not sure why people weren't that hot on this one, but it was decent. I'm sure there are better lenses, I made out ok with this one.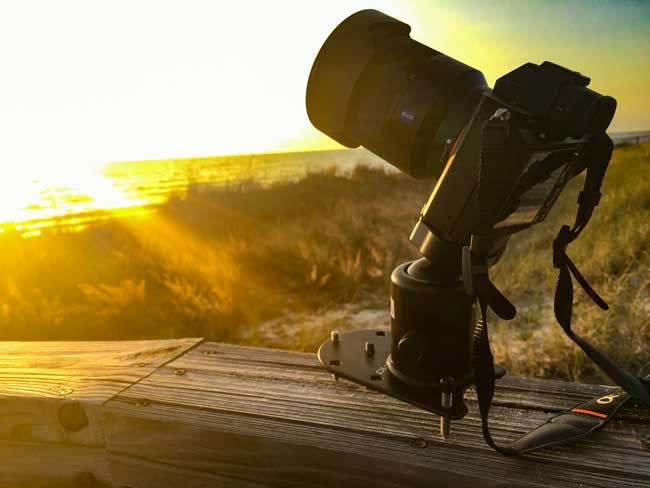 Why Mirrorless?
There are pros and cons to going mirrorless. The pros are you're getting the same or better quality images that you would get with a traditional DSLR, but since it's mirrorless (not looking through the lens the camera can be smaller. Since they are completely electronic, they are pretty silent. They tend to have faster autofocus in Live View. However, the biggest disadvantage for me was the electronic viewfinder. Since you're not looking through the lens, your actually putting your eye up to the viewfinder and looking at a very high res small electronic display. Normally this is fine except for when you're in studio with lots of bright studio lighting around you. Contrast can be an issue and cause you to make adjustments in what you're seeing before you snap the shot.
What I liked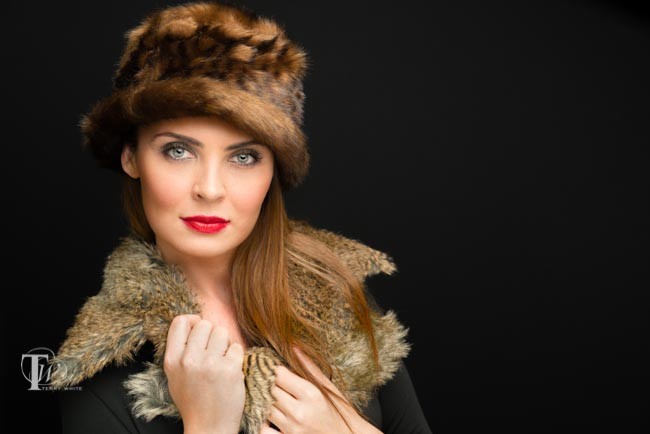 The Sony Alpha A7RII is AWESOME! I didn't really run into any problems. There were a couple things I couldn't find right away like how to do bracketing and how to adjust for shooting in studio with bright modeling lights. I found the bracket settings on Google and I texted Frank for the other setting. Otherwise everything I wanted to do was easy to figure out. I loved the feel and speed of the camera. It felt as good as any other pro camera that I have shot with. Although everyone said I should have gotten a better lens, I found the supplied 24-70mm to be good enough for this review and the results both with landscapes and portrait in studio were great.
The A7RII shoots 42MP images and can do RAW, compressed RAW and of course JPG. Adobe Camera RAW and Lightroom CC handle both RAW formats nicely. I ran all my images through my regular Lightroom workflows without incident.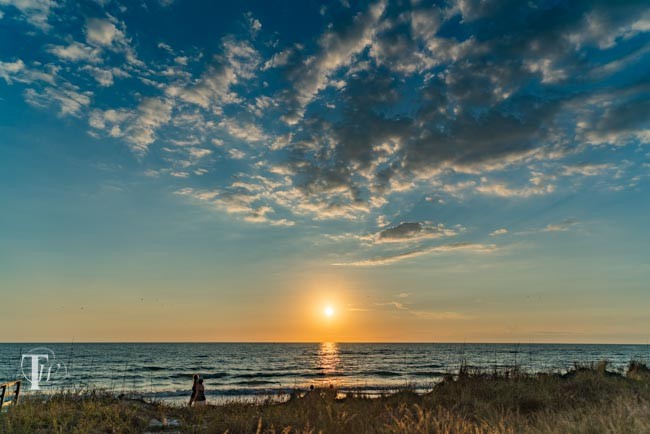 I traveled with it to New York, New York and Tampa Florida and it was nice having a camera that weighed less. I didn't get a chance to spend a lot of time with it outside, but I did do some bracketed exposures for HDR (high dynamic range) images.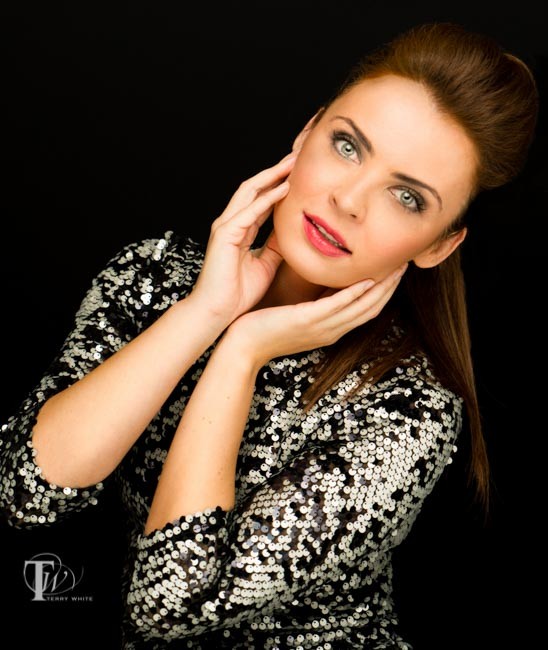 However, I did spend quite a bit of time with it shooting in studio with a portrait session including sending the images wirelessly to my iPad Pro via the built in WiFi. It was fast and worked great. Low light performance is superb as well. I was even able to retouch one via Adobe Photoshop Fix with Apple Pencil and post on social media during a break. This is the future of photography.
What didn't I like as much?
There's not a lot to dislike about this camera. However, there are a few things that would keep it from being my primary camera (at least for now). First off, I have a large investment in Nikon lenses. If I were to buy the Sony Alpha A7RII I would need to buy all new lenses. If you're a Canon shooter this is less of an issue because there is an adapter that lets you use your Canon lenses with this camera. The next problem is not being able to tether directly into Lightroom. Lightroom CC currently only allows tethering with Nikon, Canon and Leica cameras. There are workarounds for this such as using the Sony software to bring the images into a folder and then use the Lightroom auto import feature to bring them from that folder into Lightroom as you shoot. This won't be as fast as native support, but it works. Also I'm rethinking my live shoots because I liked the built-in WiFi features and seeing the images appear on my iPad Pro. Tethering into Lightroom is nice, but at the end of the day, the main reason we tether is to see what we're shooting as we shoot on a larger screen. It wasn't that big of a deal to import the RAWs into Lightroom after I was done with the session. My single biggest complaint is also the biggest benefit. It's a mirrorless camera and the electronic viewfinder is not as good as a traditional DSLR in studio with bright lighting all around. It's not the end of the world, but I prefer regular DSLRs in this situation. Although I shot most of that session with the Sony I still reached for my Nikon D810 from time to time to take a few shots as well.
The Bottom Line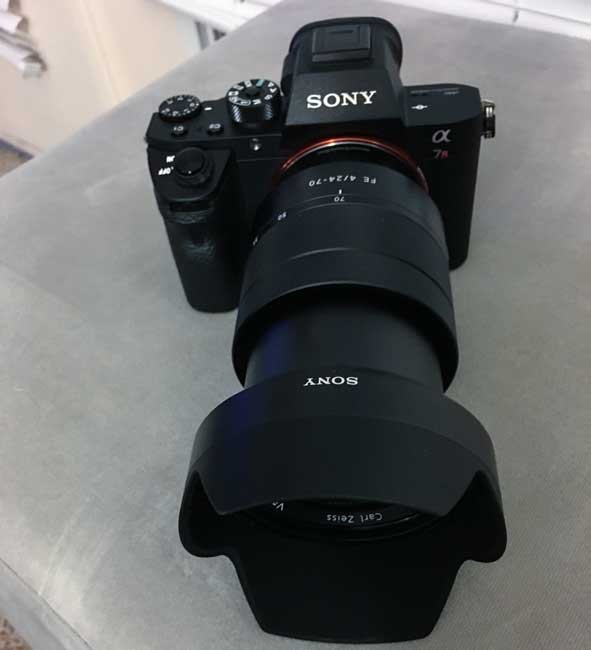 If you're looking for one of if not the best mirrorless professional cameras on the market the Sony Alpha A7RII is it. If you are a Canon shooter looking for a lighter, smaller second body, then this may be exactly what you're looking for too. If you're a Nikon shooter unfortunately moving in this direction would involve a sizable investment in not only the body but also the lenses. If you're primarily a studio shooter you will definitely want to try one first before committing to it. I had to return it when the review period ended and I do miss it. However, for me right now I'm sticking with my existing gear until either someone makes an adapter to mount my Nikon lenses or Nikon steps up with one that's on par with this one. It would be my second body as well as my travel camera. Oh yeah, I almost forgot, yes it shoots video too. As a matter of fact it shoots 4K video. Honestly I didn't experiment much with the video features, but it's definitely another plus that it can shoot 1080p and 4K where as most DSLRs don't do 4K yet.
You can get the Sony Alpha A7RII here. I used this lens.