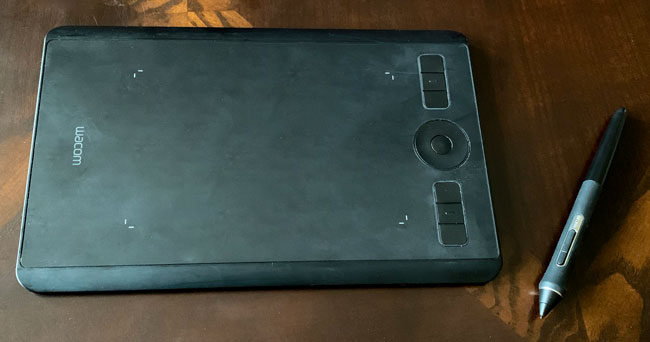 I've had several Wacom tablets over the years. I use them almost exclusively when I retouch photos and if I ever dabble in creating art. I love my 27″ Cintiq QHD display tablet. However, when I need to take a tablet with me on the go I've always preferred carrying a Wacom Intuos Pro Small. With that said, I stopped carrying my previous version. While it was "small" it was still bulky enough to take up more space and weight in my bag than I wanted. My backpack is always heavy. I decided to remove some things to lighten the load. Every ounce matters. I figured I could just use my iPad Pro and Apple Pencil as a tablet if I really needed to. While this solution did work, it just wasn't the same as a Wacom graphics tablet. Wacom has been refining their pen/tablet technology for years! The newer tablets have a pen that offers 8,192 levels of pressure. This level of precision is amazing. The pen also has configurable buttons on the side and the top can be used as an eraser. Apple Pencil is great, but it just can't do as many things as you can with a Wacom pen.
The NEW Wacom Intuos Pro Small makes its way back into my life and my backpack!
Wacom introduced a new version of their Intuos Pro line. The New SMALL Intuos Pro is a complete redesign and I can't believe how small and light they have made it. Unlike the previous version, this one is completely wireless. It has a USB-C port for charging, but you connect it via Bluetooth. I just take it out of my bag, press a button on it and it's ready to use. It's also a touch tablet. You can switch on/off the touch capabilities so that you can use it like a large trackpad with multi-touch gestures. This means that I can use my fingers to zoom in on a photo and then use the pen to start brushing. Like previous Pro models there are configurable Express keys and and Express Wheel that I use to adjust brush size.
A welcomed design refresh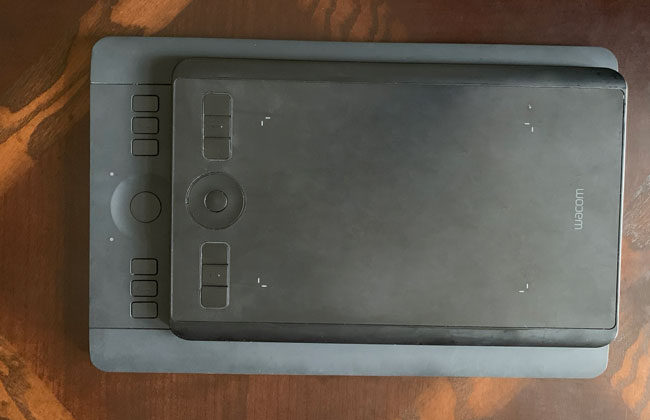 When I picked it up the first time I was like you've got to be kidding me! This weighs nothing. It's not like the older models are super heavy, but this one by comparison feels like it weighs nothing. They also got rid of most of the bezel space that was a waste of space. This means that while the drawing area remains the same, the physical dimensions of the tablet has a much smaller footprint. Another welcomed addition for travel.
Battery life is fantastic
I never really think about recharging it. The battery last me weeks/months! Unlike other devices, it doesn't drain just sitting in my bag. I have yet to have a moment where I went to use it and it was dead and needed to be charged. I do charge it when I think about it here and there, but the battery life has been extremely impressive!
There is one thing that I miss
One of the first things I missed in this new version compared to my older one is that while there is an Touch Ring, the center button no longer can  toggle the function of the Touch Ring. On my older Intuous Small tablet I could  press the center button toggle the Touch Ring to zoom or press it again and that would toggle the wheel to brush size. On the new Intuos Pro Small you can configure the Touch Ring to do only one function at a time.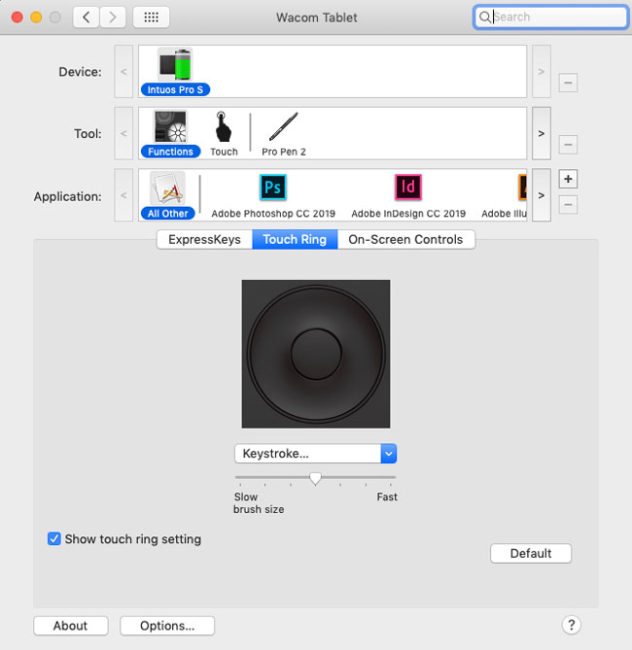 The center button acts as a power button to power the tablet on or wake it up. While I do miss the ability to more easily toggle, it's not the end of the world since I can flip a switch on the side of the tablet and turn on Touch. With Touch turned on I can pinch to zoom my image. I usually leave Touch off most of the time as to not accidentally move or interact with the image/canvas. However, the Touch feature is a nice work around to the missing Touch Ring toggle.
The Bottom Line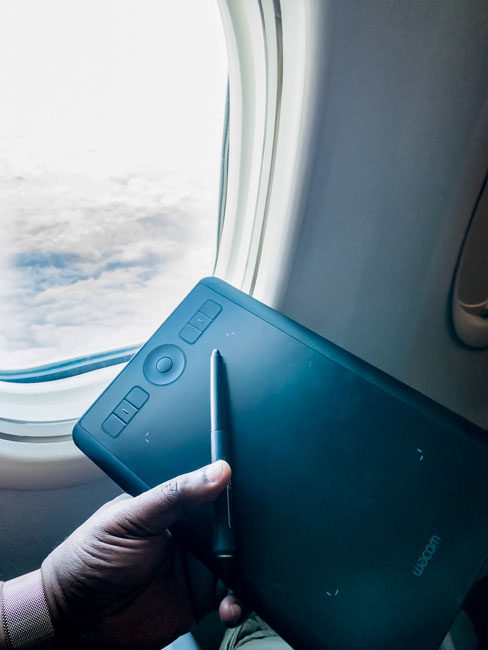 This is hands down the best graphics tablet I've ever traveled with. It's accurate and never fails to connect to my MacBook Pro. I'm glad to have a real tablet in my bag again! If they bring back the Express Wheel buttons it would be PERFECT.
You can get the NEW Wacom Intuos Pro Small here