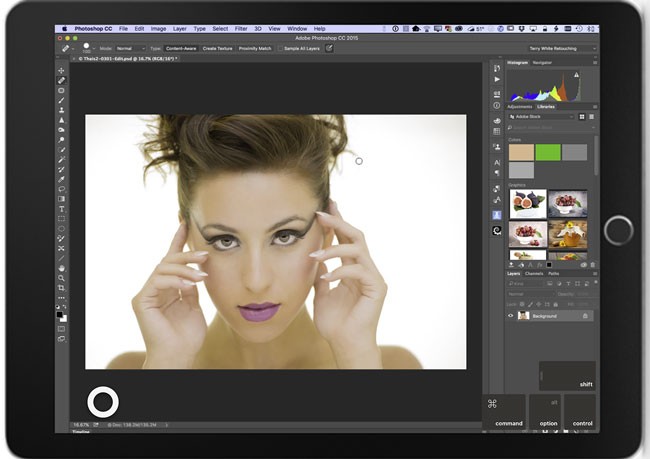 I'm loving the Astropad app for iOS. The latest update (1.3) just got "official" Apple Pencil and iPad Pro support. Prior to today…
the Astropad App had preliminary support for iPad Pro and Apple Pencil, but as of today they've really worked on it and improved it quite a bit! For those of you who are new to Astropad, let me explain what's going on. Astropad is an App that you get here from the App Store: Once you have it installed on your iPad, iPhone or iPad Pro you can download the companion app at no additional cost for your Mac. When you run the App on your Mac and connect to it via Astropad running on your iOS device, you can choose a display on your Mac to be mirrored to your iPad. Not only is it a display, but it's a touch sensitive display with stylus support. It got even better today with full support for Apple Pencil. That means that you can use your iPad Pro as a wireless or wired graphics tablet to your Mac. This is AWESOME for me because I travel with my iPad Pro and now I get to use my iPad Pro on the road, like I do my Wacom Cintiq
at my desk.
Here's my original video of how Astropad works:
Here's a short promo video from the folks over at Astropad:
What's New in Astropad Version 1.3
– Stylus Tilt support for Apple Pencil
– Better pressure curve for Apple Pencil
– Better stroke quality for Apple Pencil
– iPad Pro fixes
– Updated AdonitSDK
– Both iOS and Mac app require update
The Bottom Line
I've talked to the folks that make Astropad and they've assured me that this is only the beginning. Their goal is be the BEST and make you forget about other tablets. So far they are off to a great start. I was a little affraid that their would be a lag if I went wireless and much to my surprise their wasn't any! Keep in mind I have a very fast 5GHz WiFi setup, but it was a pleasure to work completely disconnected. The only thing missing is keyboard support. If you're going to wander too far from your Mac, you might want to bring along your bluetooth keyboard for those times when you need to type something. If a future version of Astropad includes support for the iPad Pro keyboard then it would be a total dream come true.