iOS 5 was released to the public yesterday and the good news is that there is a lot to like in this new version of iOS. For me most of the features address some of my long time criticisms of iOS. Although they are long over due, I welcome them just the same. Here are 5 of my favorite features right off the top:
1. WiFi Sync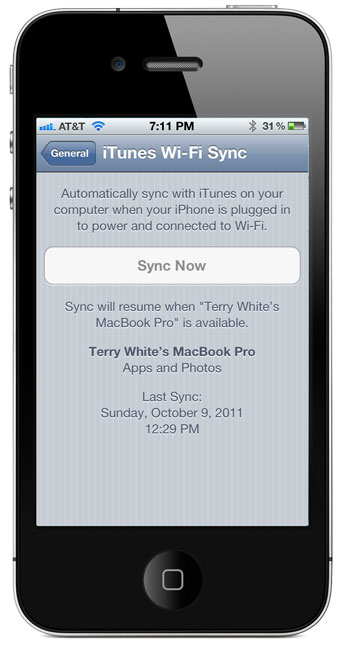 This is one that I've actually been waiting for since the early iPod days. I have an iPod that stays in my car and I always envisioned the day that I'd just be able to pull into my garage and it would sync with my computer in the house via WiFi to grab the latest music and updated playlists. iOS 5 brings this feature to life. You can now either initiate a wireless sync from the computer or iDevice manually or automatically when you plug your iDevice into a power source, say to charge it overnight.
2. Notifications screen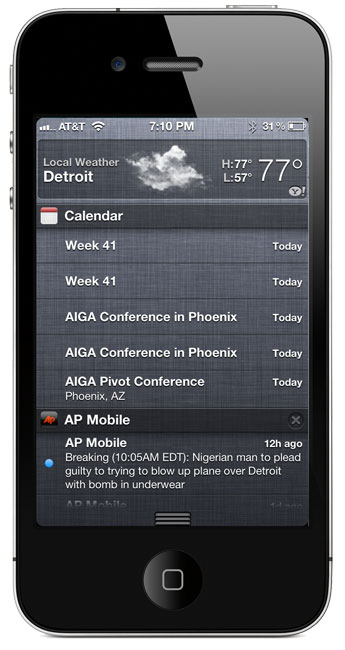 While this is a rip off borrowed feature of the Android OS notifications screen, I'll take it! I hated picking up my iPhone and having to dismiss 50 push notification pop-ups before I could do anything else. Now the notifications all accumulate on a single notifications screen. Just swipe down from any screen and see all your past notifications including the current weather and stock quotes. Nice and long overdue!
3. Built-in Shortcuts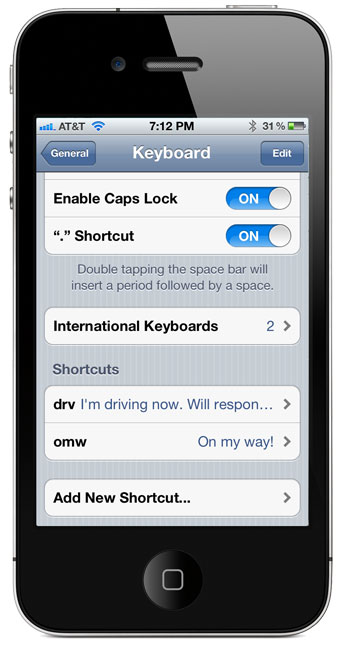 Recently I got hooked on TextExpander. While TextExpander works with just about any app on the Mac, the iOS version is limited to only the Apps that support it. Apple has built-in a universal Shortcuts feature located in the Keyboard prefs. You can type in your shortcut and the text that it should expand to. For example, "omw" expands to "On my way!" It's great to have this work in all Apps now!
4. Camera Access from the Lock Screen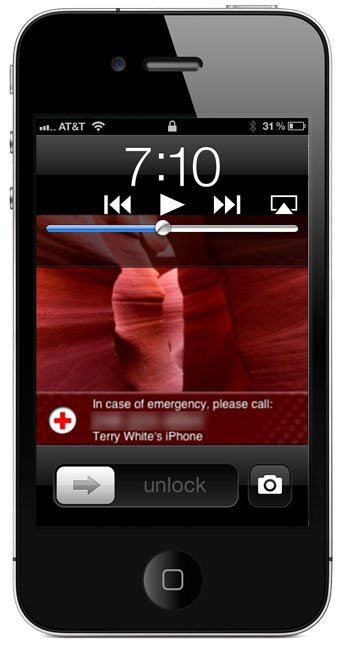 By the time you swipe to unlock your iPhone, enter your passcode, find the camera App and launch it, you've probably missed the shot. Now you can double tap the home button and you'll have immediate access to the Camera App. Sweet!
5. Adding Photos to Albums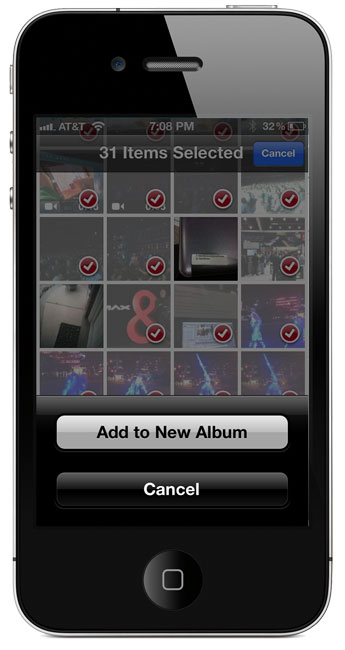 People accumulate hundreds of photos on their Camera Roll. This is largely due to the fact that there was no way to move the photos into Albums. You'd have to sync them to your computer first, delete them off the device, organize them into Albums/Folders and then sync them back on. Now you can just put them in Albums directly on your iDevice. You still can't edit existing Albums that were added from your computer, but this is a big step in the right direction.
The Bottom Line
iOS 5 has a lot of useful features and the above 5 are just a few of my favorites. There's a lot to digest in this iOS update as well as iCloud, updated/new Apps from Apple and the new iPhone 4s.