It's Nikon DSLR GPS review Week!
I'm a Nikon shooter (you knew that) and I have a fascination for Geotagging. I love the BUILT-IN support that Nikon DSLR cameras have for GPS modules. I've tried a few different ones and of course this lead to different manufacturers wanting me to review theirs. My policy has always been if you want to send me something I'll take a look at it and I'll review it honestly. So you may or may not like what I have to say and as long as you're OK with that, ship it! So I decided to dedicate today, tomorrow and Thursday's posts to this topic and on Thursday I'll declare a winner! By winner I mean that I'll put up a comparison chart detailing what you get with each of the ones I've tried and I'll tell you out of the 4, which is my favorite.
Let's start off with a second look at the Solmeta GPS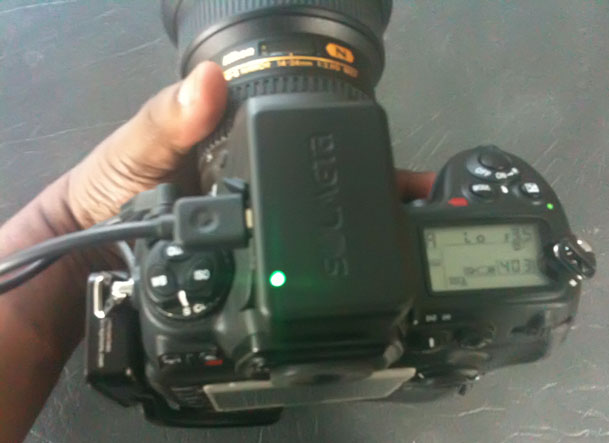 You might remember a few weeks back I reviewed (or attempted to review) the Solmeta Geotagger N2 GPS unit with direct support for Nikon cameras. My initial review was cut short due to a cable mishap. Turns out I had the wrong cable and while the cable that shipped with my first unit worked, it was in the wrong orientation and therefore caused unnecessary stress that ultimately broke the connector at the base. I reported the problem to Solmeta and they were very responsive and offered a replacement unit. The replacement has arrived and I decided to give it another shot.
You're not going to believe this…
I got the replacement and it came with the D5000 cable. I was happy to plug it in and give it a shot. However, when I fired it up, all seemed well with the GPS itself, but my D5000 didn't detect the GPS unit at all. I figured it might be the cable, but I wasn't sure. So as luck would have it, the cable for the Easytag unit that I'll be reviewing tomorrow, looked to be the exact same cable. So I figured, I'd try it. It worked! So I do appear to have a defective D5000 cable from Solmeta.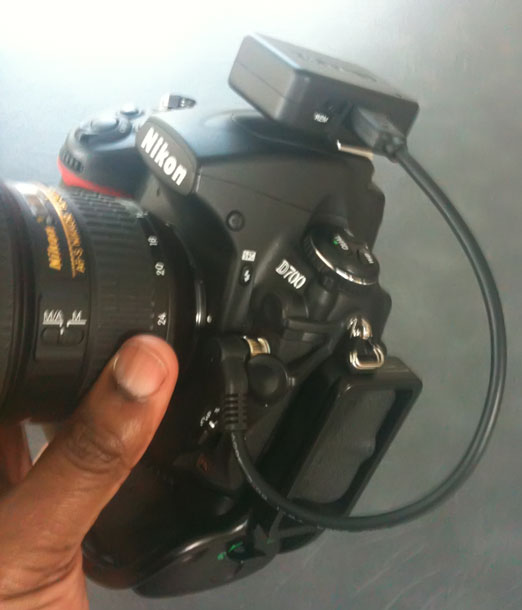 I also tried the 10 pin terminal cable with my D700 and it worked fine. So it's definitely the supplied D5000 cable that is bad. With a working cable, on to the review…
The Basics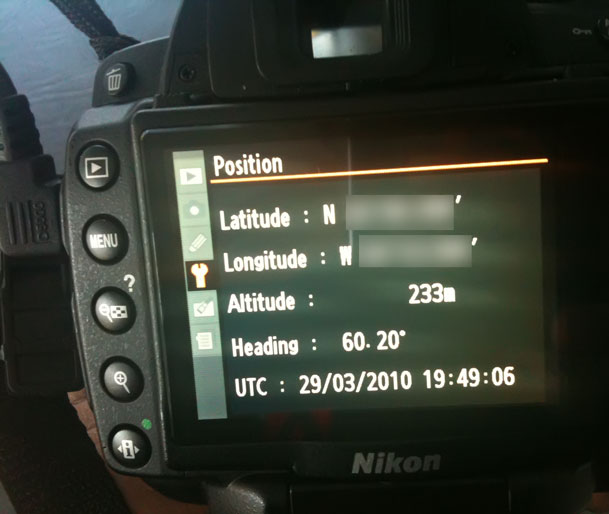 The Solmeta GPS is a unit that attaches to either the GPS port of your Nikon DSLR or the 10 pin Terminal Port of your Nikon DSLR. The latter is found on the higher end Nikon DSLRs. Once you plug it in (with a working cable) and turn it on as long as you're outside it will be able to detect a GPS satellite and put the longitude and latitude into into the metadata of your shots whether you're shooting in JPEG or RAW. All of the models I reviewed do this. So now we get into what makes the Solmeta different
What I like about the Solmeta
Although I've been a fan of the di-GPS (and still am), I can't help but like the fact that with the Solmeta I can use the SAME GPS on either of my DSLR bodies. Since the cable is detachable, you can attach either the cable for the D90, D5000 or the higher end models like the D300, D700, etc. For most shooters this won't be an issue because you'll probably only have the one kind of body. However, for me it makes a difference. The next thing that sets this one apart from the ones I've tried to date is that it features a built-in compass to not only give you location and altitude, but also HEADING! In other words, which way you were facing when you took the shot. Now this really isn't a big deal to me. Frankly I could care less, but you wouldn't believe how important this is to many of my readers. I get this question all the time. I tested the heading feature and it seemed very responsive and accurate. It would update live on the back of my camera as I turned around.
Shoot indoors – The one problem that the older GPS models had was that once you went inside or under cover, the GPS would no longer know your position. So if you walked into a museum and started shooting, those shots would not be geotagged. The Solmeta and most of the newer models remember your last known position and continue to geotag your shots even inside a building.
More power – The N2 has a built-in rechargeable battery that can last up to 10 hours without consuming any juice from DSLR. Once the N2's battery is run down, then it will draw power from your DSLR. So there's isn't a time when it doesn't operate. You recharge it over standard USB power (cable supplied)
Remote Trigger Included – Another question I get a lot, especially when I talk about plugging one of these into the 10 pin terminal adapter is what about a remote shutter release? The di-GPS PRO model has a 10 pin terminal passthrough. What Solmeta did was simply to supply a wired remote that plugs right into the GPS. So on the one hand problem solved, but on the other hand you have to use their remote. If you do want to use YOUR remote, you can get an optional 10 pin Y Splitter ($50) to plug both the N2 and your preferred remote or other accessory in at the same time.
No it doesn't have to sit in the hotshoe – the other question I get is "what if I want to use another accessory at the same time as the GPS. No worries. The Solmeta can either go in your hotshoe (for position only, doesn't connect electronically this way at all) OR it can attach to your camera strap. I actually prefer it on the strap be cause then it's not as easy to knock of the hot shoe and less stress on the cable too.
What I didn't like about the Solmeta
Um, nothing! Give me a working cable and I really don't have any complaints with the Solmeta. I'm sitting here trying to think of one thing I wish were better and I really can't come up with anything! OK OK, the one thing I would like to see is either a lower price on the 10 pin Y splitter OR a integrated pass-through port like the one on the di-GPS Pro. There, you happy now? 🙂
The Bottom Line
I'm glad that I had the chance to try the Solmeta again. I really like it and would have no problem recommending it. I'm hoping that I was just unlucky with their D5000 cables and that this is not a large issue with quality control. As far as their site goes, It looks like based on my last encounter they've made improvements to the N2 ordering page so that you get the right model with right cables! Thank You!

The Solmeta N2 is compatible with the: Nikon D3, D3X, D700, D300, D2XS, D2X, D2HS, D200, D90,D5000 and Fujifilm S5 Pro Cameras
Get it here for $160 including standard shipping
Tomorrow we'll take a look at the Easytag.