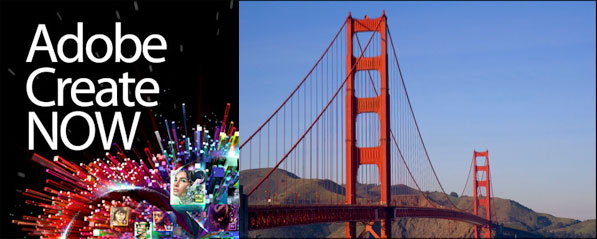 Hey guys! You can catch me LIVE at the Adobe Create Now World Tour Event in San Francisco tomorrow evening (Thursday, 2/7/13) at 4:00 PM PST til 8:30 PM PST. I'll be covering the latest and greatest Adobe innovations and updates for our design products.
Register here and I'll see you tomorrow!
Can't make it to San Fran?
Then join me Friday for my LIVE online event: Ask a Pro

– Creative Cloud for Photographers

I'll be showing photographers how they can take advantage of advances in Photoshop and Lightroom as well as new workflows brought to us by the Adobe Creative Cloud.

Learn about the new features in Adobe Photoshop for Adobe Creative Cloud members. Terry will demo Creative Cloud workflows showing how you can take projects created in Photoshop or other CS apps and publish websites using Adobe Muse or iPad apps using DPS SE.

Join me Friday at 12 noon PST for this hour long online session. Register here.
Where is the Create Now World Tour Coming to a City Near You?
If you want to check out the events happening in your town click the banner below: