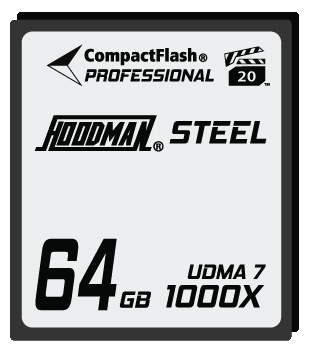 When it comes to memory cards I have a variety of different brands. I've used SanDisk, Lexar, Transcend, and Sony. No problems to date with any of them. I usually buy the ones that are on sale at the time that I'm in need of new cards. With that said, there is something to be said for going with products that are trusted by the photographer community. While at Photoshop World in Vegas I was introduced to the folks at Hoodman by my friend Robert Vanelli. Sure I'd heard of Hoodman and stopped by their booth before at previous Photoshop Worlds. However, I hadn't really paid that much attention to what they were really offering and how they differentiate their products from the others. One of the first products to catch my attention on this visit was the Hoodman Steel. First off they come with a lifetime warranty. Secondly they claim that they have the fastest camera burst rates and quickest download times (UDMA 7 at 1000x). Lastly they actually have steel in them to make them more durable. I was also impressed by the sheer number of photographers that I admire who use and vouch for these cards (many with video testimonials). By the way Hoodman isn't sponsoring me or paying me in any way. I'm genuinely interested in their stuff.
Hoodman Steel 64GB UDMA 7 1000X CF Card Here
Hoodman Steel 32GB UDMZ 7 1000X CF Card Here
Hoodman Steel 64GB Class 10 SDXC Card Here.
Hoodman Steel 32GB Class 10 SDHC Card Here.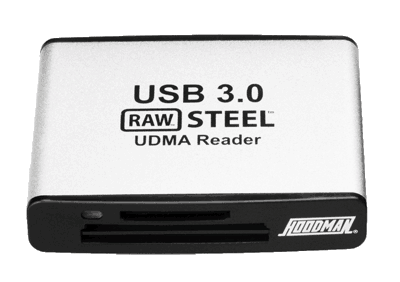 The next product I was interested in was their USB 3 Card Reader. This card reader is not only fast at USB 3 UDMA transfer speeds, but it's durable because it's made of steel. It's also about the attention to detail. The CF slot has a door that opens automatically as you insert the card. This keeps the pins protected and dust free when not in use and when bouncing around in my bag. It handles both CF and SD cards.
Hoodman USB 3.0 RAW Steel UDMA Reader Here.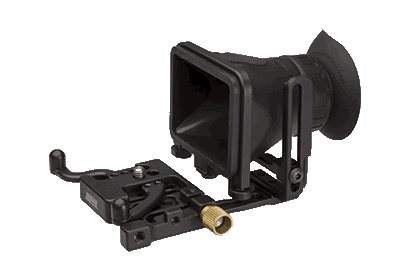 Lastly I was very interested in their loupes for viewing the LCD screen outdoors in bright light and for shooting DSLR video. I checked out the Custom Finder Kit. I already have a good loupe for still shooting and pro version for shooting DSLR video by another company. However, I couldn't help but notice how much cheaper the Hoodman versions are. So I decided to give this one a try.
The Bottom Line
I can't say that this will be the last manufacturer that I use for these kinds of products. However, I'll be using Hoodman memory cards and other products from here on out until I find a reason not to. I'm impressed by what they offer. I look forward to trying more of their product line and reviewing the results here.