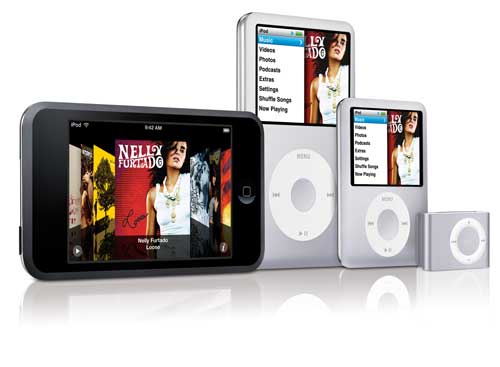 This is probably the first time since before the 3rd generation iPod (the one with the 4 buttons across the top) that I'm not in the market for a new iPod. My first iPod was the original 5GB iPod back in 2001. I skipped all the upgrades until the 3rd generation iPod for one simple reason. All of the iPods that came after the first generation didn't solve my biggest issue and that was storage. Apple released a 10GB iPod and a 20GB model and I passed on those because they still wouldn't hold my entire music collection and provide room for growth. It wasn't until April 2003 when Apple released the 3rd generation iPod with the dock connector and it came in a 30GB capacity that I decided it was time for a new iPod. That was TWO YEARS of using the same iPod! No battery issues either folks.
I've been buying each iPod upgrade since then and even an occasional shuffle, mini and nano along the way. Why? Because each iPod that was introduced after the 3rd generation increased significantly in storage and capabilities. Sure I'd  pass the older ones on to family members and friends. However, when the iPhone came out in June, although it was sorely lacking in capacity, I decided that I was going to try to make due with ONE device. I no longer wanted to carry around my 80GB iPod video AND a cellphone. So I decided that I would forego carrying every song and video I own and judiciously sync playlists of my favorite tracks and clips. It's not easy and it's even sometimes frustrating living in only 8GB of iPod storage when I'm used to 80GB's. I'm usually down to only 500MB of free space on my iPhone at any given time. However, I'd rather do this than carry two devices. So my 80GB iPod lives on an iPod speaker in the recreation area of my home and my iPhone is on my belt whenever I leave the house.
The new iPods look great, but…
The new iPod nano, classic and touch look like some pretty nice upgrades. However, when I look at each one I just have no interest in them. Let's start with the shuffle. The only real difference here is color. I already have a shuffle now (a couple if you count the first generation models) that I don't use. Then that brings us to the nano. I could see maybe getting a new nano. I have a 4GB nano now that stays in the car 99% of the time connected to my iPod integration kit. I like the nano because it's the only iPod that works with the Nike+ kit. I haven't been running as much this year as I did last year and when I do, I just take it out the of the car and use it. Having a new nano that plays video would be a waste for this application. I certainly don't need video in the car while it's tucked away and I don't need video while running either. Since I already have an 80GB iPod that holds my entire iTunes collection with plenty of room left over, the new higher capacity 160GB iPod classic has no appeal to me what so ever. Lastly there's the iPod touch, which most of you know is basically the iPod from the iPhone and since I already have an iPhone that I love, there is nothing to be gained here either.
So Apple if you want some more "i" cash out of me, bring on the iPhone 2.0 with 16GB of storage (or more) and 3g support. When you bring out that device, I'd be first in line (well probably not, I hate lines!, but you know what I mean).