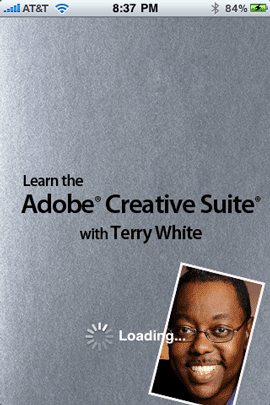 I've been getting great feedback on my app for the iPhone and iPod touch. Of course I've been getting feature requests too and I have been feeding those requests to the developer.
So 1.2.1 now offers:
A Star Tab
You can now mark your favorite episodes (this is directly from your feedback), or just mark episodes you want to come back to later, with a star. The starred episodes are accessible from new third tab in the app.
Offline (off Wi-Fi) mode
There is now the option to download starred episodes and play them when you are offline or on slow mobile networks. Getting on a plane? download a few episodes to enjoy right from your favorite show's app.
Bug Fixes:
App-wide usability updates and graphical tweaks.
Thanks for you support!
The "Learn the Creative Suite with Terry White" app is available for both the iPhone and the iPod touch. You can get it from the App Store for $1.99 here:
Of course if you already have the App 1.2.1 is a free update.