When I travel I sometimes have to rent a car. Although in the past I had been simply adding on the Hertz Neverlost option (or as my buddy Scott refers to it as Everlost), I stopped doing that once the portable GPS units became good enough. My first one was the Garmin Nuvi 350, then the 360, then the 400 series and finally a Nuvi 765t that I love. I also briefly used the Navigon 2100. They are all great units and I really didn't have any complaints with them. The 765t has performed perfectly for me and never misses a beat/turn. Nonetheless, I was still very intrigued when Apple announced the iPhone 3.0 OS update and that it would allow 3rd party apps to have turn-by-turn navigation abilities. The first one that I tried was Navigon. It certainly had promise, but the 1.0 version was missing key features such as text-to-speech. TomTom also came out with their app and it was also missing many of the same key features in its 1.0 version. This kept me from wanting to go solo with just an iPhone GPS app. Well a lot has changed since then!
The iPhone 3G/3GS and even iPod touch GPS Navigation Apps are ready for prime time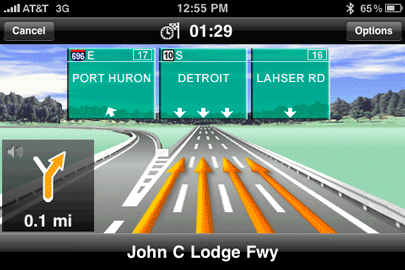 These companies have been working hard in coming out with frequent (free) updates to their Apps to not only fill in the missing features, but also to out do the competition. I actually own 5 of the se apps. I own them only because I review them, not because I need them. However, what it has allowed me to do is cherry pick which ones have the best features, user interface and performance. I have put the Navigon (North America and Europe), TomTom, Magellan and nDrive apps to the test and my favorite is still the Navigon app. Each App has a feature or two that the other ones don't have, but overall I just like the Navigon App better. They also seem to be first with updates containing great new features. I would probably say that the Magellan Roadmate is a close second and then the TomTom App.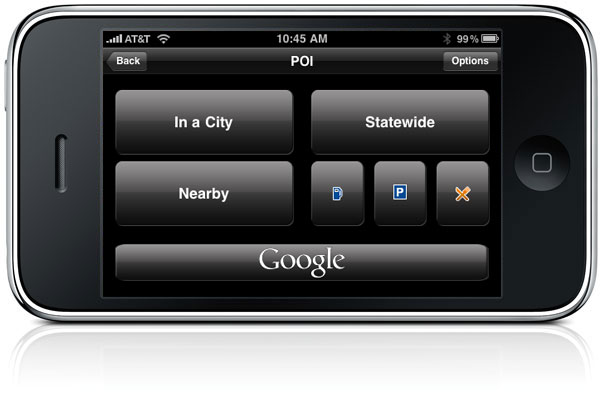 Probably the ONE feature that blew me away and proves that Navigon gets it, is the integration of Google search right in the Points of Interest screen. No GPS App or Stand Alone unit is going to be able to keep up with all the businesses that come and go, however since Google is constantly updating every single day, it's the service to use and Navigon has it nicely integrated right in. So you can either search the built-in POIs or Google and even if you use the Google search (which does require a data connection), when you find a location you want to go to it puts it right in for navigation so that you don't have to type anything. I was also jazzed to see the Traffic Alerts Feature (in-app purchase) work too.
Get the Navigon App here from the App Store:
The Magellan Car Kit is what really did it for me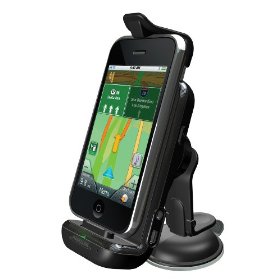 I've said it before and I'll say it again, i think iPhone GPS Car Kits are OVER PRICED! It's hard for me to wrap my head around paying upwards of $130 for a car kit that I still need to buy the iPhone/iPod touch AND the GPS App for. I've purchased entire GPS systems (Navigon 2100) for $99. So why does the iPhone car kit cost so much? However, now that I've used one if something were to happen to it I'd have to replace it. The Magellan Car Kit works PERFECTLY. It holds the iPhone in place, it charges it, it has it's own GPS chip in it so that it either boosts the signal of your iPhone 3G/3GS or it works with an iPod touch that doesn't even have a GPS. It also provides hands free talking via bluetooth. Lastly it has audio out so that you can plug in a cable to hear it all over your car speakers. Yes the price irks me, but it's also an AWESOME device that now I wouldn't want to be without!
httpv://www.youtube.com/watch?v=eTP34pSA6LU
Get the Magellan Car kit here
My last trip to California
As you know I attended the Photoshop 20th Anniversary Celebration in San Francisco. Although I've been to San Francisco more times than I can count, I've usually been in the back of a cab going from place to place or walked. On this particular trip I had other business in and around the city and also 40 miles away in Pleasanton. So I needed a rental. As I was packing for my trip, I was about to grab the Garmin Nuvi 765t and I said NO! This time I was going use the iPhone and the Navigon App as my only GPS. The scary part was that there was NO ROOM for ERROR. I had tight deadlines and important meetings that I couldn't be late for. I had to go to several places that I've never been to, so the GPS was going to be a critical piece of technology on this trip.
It all worked PERFECTLY!
The Navigon App and the Magellan Car Kit performed EXTREMELY well. I saved all of my destinations as Favorites before I even headed out. This way I could just get in the car and fire it up and go. Satellite acquisition was quick and accurate. No wonky routes, no missed turns (except one that I wasn't paying attention to), no problems of any kind. I even had music playing via the integrated iPod controls in the App.
Surprisingly I didn't receive any phone calls while driving. However, even though the iPhone doesn't allow multi-tasking of 3rd party apps it does allow it with the built-in Apps including the phone App and iPod App. So if you want to take an incoming call you can do so and start talking hands free. Then simply relaunch the GPS app the minute you answer the call and it will pick right back up where you left off navigating while you continue to talk.
One more thing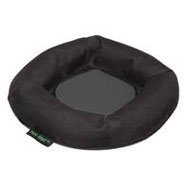 In California it's against the law to use a windshield mount. So I brought along my beanbag mount for the dashboard. Just be sure to take it out of your bag and put it in a tray for the airport xray as apparently they cant see through it and you will hear "bag check!".
iPhone GPS App misconceptions
Every time I mention iPhone GPS Apps I get a lot of questions around Data and Cell coverage. Especially when I said that I used one in Europe. So let me try to head off some of those questions now. Let's start with the built-in Google Maps app on your iPhone or iPod touch. It's a great App, I use it all the time. However, it DOES require a data connection even if you have a 3G or 3GS with a GPS chip. Why? Because the maps are loaded dynamically over the internet. So you'll need either a cellular data connection or wifi connection to use that App and YES that can get very expensive when you do international roaming if you don't have any data roaming plans on your account.
The Apps I've mentioned above (Navigon, Magellan Roadmate, TomTom, etc.) all include their OWN MAPS (which is why each of these Apps is over a 1GB download). So since they are all self contained they only need your iPhone 3G/3GS' GPS chip to function. Most, if not all of them will also work with an iPod touch if it's mounted in a car kit with a GPS chip like the Magellan one I've touted above. So No data connection or cellular connection is needed to use these apps. No roaming costs, no monthly fees, no hidden costs of any kind. Now there is one exception to this and it's the Google Points of Interest feature I mentioned in the Navigon App. This is an OPTIONAL feature. It's there and it does require a data connection to use, but you can totally use the App WITHOUT if you're roaming or you're in a area with no cell service. There are some cheaper GPS navigation Apps out there that don't include maps, but then you WILL REQUIRE a DATA connection to use those. So check before you buy.
I hope the above clears up the mysteries surrounding use of GPS turn-by-turn apps.
More info?
If you want more info on iPhone Apps, head over to my BestAppSite.com