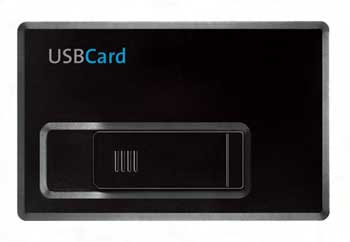 Just about everyone in the computer field carries around some sort of USB thumb drive. They're great for transferring files back and forth and sometimes more convenient or faster than setting up a network share or emailing attachments. Before getting my USBCard a few years back, I used to always run into a situation where I needed a USB thumb drive, but wouldn't have one handy. It would be on my key chain and my keys wouldn't be nearby. I'd have one in my computer bag, which would just so happen to be back in my hotel room. The one thing I almost always have with me is my wallet! So when I ran across the USBCard by Freecom.com. I knew that this was the one for me. I've had it in my wallet ever since.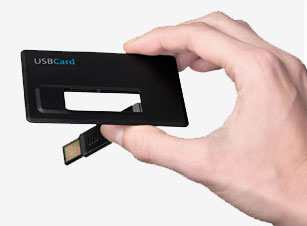 –
People are always amazed when I pull it out of my wallet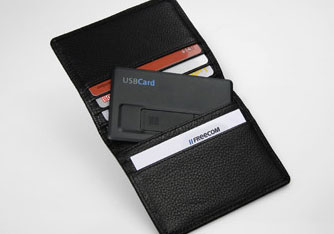 Whenever I go to use my USBCard people are always amazed by the size of it. I end up doing a 2 minute demo/show and tell every time. Of course being a gadget guy I'd want to recommend this solution to everyone that was interested. However, the problem was that they were out of stock for months. Well the good news is that not only are they back in stock, they also come in larger capacities. I have the 2GB model. Now they come in 1GB, 2GB, 4GB and 8GB models. They also now come in both Black and White. As you might have guessed, I've already ordered the 8GB model to replace my 2GB model (you can never have too much space). There is no telling how long these will be in stock this time around. So if you're interested, I'd suggest ordering one today.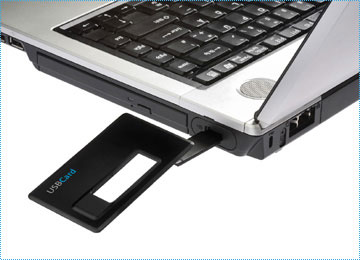 The USBCard starts at $16.90 for the 1GB card. The 2GB card is $22.50, the 4GB card is $29.00 and the 8GB card is $45.00.
Order them here.