As many of you know, when I'm in the studio I'm almost always shooting tethered to my laptop right into Adobe Photoshop Lightroom. Although I've got it down to a science, there is still a lag of a few seconds (doesn't sound like a long time I know, but wait until you're the one waiting) from the time I press the shutter until the RAW file is transferred via USB 2 to a folder (via Nikon's Camera Control Pro 2) and then imported into Lightroom and rendered on screen at nice large size. It's actually pretty amazing that all that happens in just a few seconds.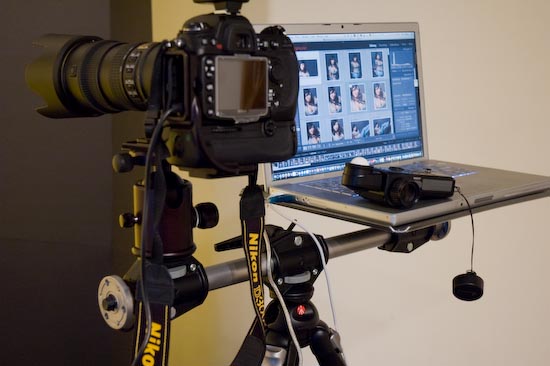 See my laptop set up here.
However, nothing is faster than plugging your camera up to a TV monitor and shooting. You see the shots instantly! You see them nice and big because chances are the TV screen is going to be much larger than your laptop screen (unless you're using a desktop computer and larger display).
I've always wanted to start using an HDTV instead, especially since both my Nikon D300 and Nikon D700 DSLR cameras have HDMI outputs built right in. However, the question has always been "WHICH HDTV DO I BUY?" I've experimented with some smaller models and the problem has always been, what I see on the HDTV doesn't match closely enough to the actual image. In some cases the color can be way off. In other cases the image on screen is much crisper than the actual photo. All of this can lure you into a false sense of security that your final image will look like this, good or bad. That's why shooting into Lightroom has always been where I've been most comfortable because I know what I see in Lightroom is what I actually shot. After all, it's in the computer and being shown on the display that I'll be using from that point on to review, adjust and retouch the photos.
–
JVC introduces a New HDTV targeted specifically at photographers
The New 42″ XIVIEW LCD TV is a 1080p set that has one thing that most HDTV's don't have and that is the Adobe RGB color gamut. It also has 52 manual picture quality adjustments, which means that you stand a much better chance at getting an image on screen that looks like the image that will ultimately wind up on your computer display. Here's what JVC has to say about it:
But here's what truly distinguishes the LT-42WX70: Its color gamut is capable of encompassing 100% of the sRGB color space and offers a coverage rate of 96% for Adobe RGB, making it possible to faithfully reproduce, as an industry first, the striking colors, subtle nuances and unique ambience of D-SLR photographs on a 42″ Class screen. The monitor also offers a selection from one of the six preset modes that are most suitable for the source such as Photo PRO and Theater.
–
OK, now what?
Sounds great! However, here are a couple of things that keep from running out and getting one today. First of all the list price on this baby is $2,399.95. That's a sizable investment for a guy who only does this as a hobby. Don't get me wrong, I'm a gearhead and I have no problem spending on the gear that will make a difference, but ouch, that's a lot of coin to shave "seconds" off my workflow. Yeah, I know that the seconds add up, but again this is a hobby. The second thing is that I would want the option of rotating this display in either a portrait or landscape orientation. That means that I either need to find a special mount or build it myself. Ideally I'd want this on a table or cart that can be wheeled around. I could wall mount it, but that would be just too limiting. So I would need to find or make the right setup for it first.
The Bottom Line: This is a huge step in the right direction! I'd like to see some smaller options too. I actually don't need a 42″ display. Ideally a 32″ or even a 22″ would be fine. Will this display be near the top of my wishlist? Absolutely! Now that JVC has created the HDTV photographers want, will someone step up and finish it by creating the stands, tables, wallmounts, etc. that rotate and have cable management. While we're at it and while I'm assigning a list of things to do (manufacturer/invent), how about some wireless tethered shooting methods that are fast enough to handle RAW files and are built-in or easily added to DSLRs? I can only dream…