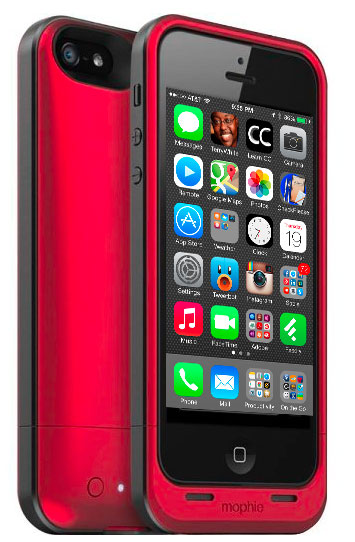 If you use your iPhone a lot during the day then chances are you'll run out of battery before you run out of day. While at my desk I keep it plugged in and while in my car I use this car charger. However, when I'm on the road I tend to use my iPhone 5s quite a bit when I'm not near a power source. I also depend on it heavily and can't afford to run out of juice. I've used a variety of external batteries before, but the one that is definitely the most convenient is the Mophie Juice Pack Air. The reason I like this one best is because it doubles as a case for iPhone 5/5s. This means that while your iPhone is in the Juice Pack Air it's being charged and protected at the same time. Because it is a battery it does add a bit more bulk than a standard case, but not too much. It's also very light and therefore doesn't add a ton of weight. The Juice Pack Air charges via a micro USB cable (supplied). At first I was a bit disappointed in this because I had hoped for a Lightning connector pass-thru. However, on the plus side micro USB is more common and easier to share with non-iPhone users. You can charge just the Juice Pack or both the Juice Pack and iPhone at the same time. The Juice Pack Air has a physical switch to turn it on/off and an LED readout to let you know how much "juice" is left. The 1700mAh battery is designed to give you 100% more power effectively doubling your iPhone 5/5s battery life.
The Mophie Juice Pack Air comes in Black, White and PRODUCT (Red). I went with the PRODUCT (Red) one. I keep it charged and available for those "long days". I've used previous models on previous iPhones and they have never let me down.
You can get the Mophie Juice Pack Air here.