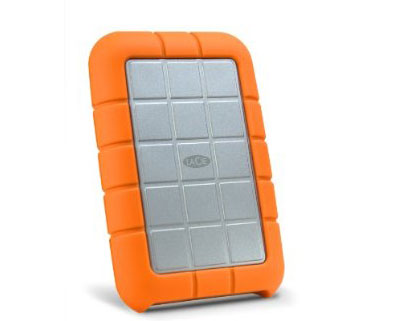 It still amazes me when I think about the fact that we've reached a point where we can carry around 1TB drives in our pockets. I typically carry an external drive or two in my laptop bag for carrying extra files, Windows 7 Images for Parallels, bootable backups and to backup my shots after my shoots before I leave the studio. Until the 1TB 2.5" drives came out this meant carrying two or three drives to accomplish this. Now I can carry one! I got the LaCie Rugged 1TB to put to the test. I wanted one drive that I could partition into three partitions and of course I wanted one that was bus powered over Firewire 800 (and USB when needed).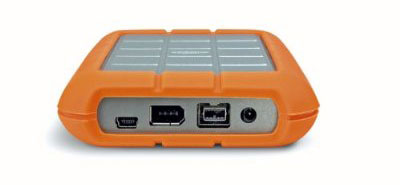 The LaCie Rugged meets those requirements. It has a triple interface with Firewire 800, 400 and USB 2 ports on back. Although it's bus powered, they even supply a USB to power cable for those situations when your single USB port isn't providing enough power, you can plug this cable into a second USB port to power the drive. They also provide FireWire 800, 400 and USB 2 cables.
Although the bright orange color stands out (you'll have no problem seeing it in your bag or maybe even a dark room), I ordered the optional 3 pack of sleeves to change the color of the drive.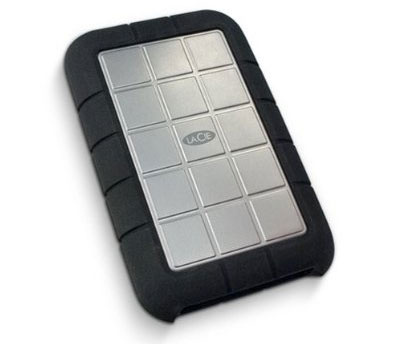 You get black, silver and purple in the sleeve pack. Even the purple/blue is a little more subdued than the orange.

So far so good
In my short time of using this drive it seems fast (5400 rpm speeds) and quiet. I had no problems cloning my boot drive to one of the partitions that I made and loading up the other two partitions with the files I need to carry. Also they call this drive "rugged" for a reason. It's meant to be traveled with. It has a rubber outer case (the sleeves) and it's one of the only drives I've ever seen that advertises a maximum "drop distance" although they clearly state that you should avoid dropping it while it's running (duh!).
| | |
| --- | --- |
| Maximum Drop Height : | up to 2.2 meters in non-operating mode (dropping is not recommended in operating mode) |
While this is not the first LaCie Rugged drive I've purchased (I got my daughter one for her Time Machine backups when she went off to college), it's the first one that I've gotten for me.
You can get the 1TB LaCie Rugged here for $199
You can get the 3 optional sleeves in Black, Grey, Purple here for about $17