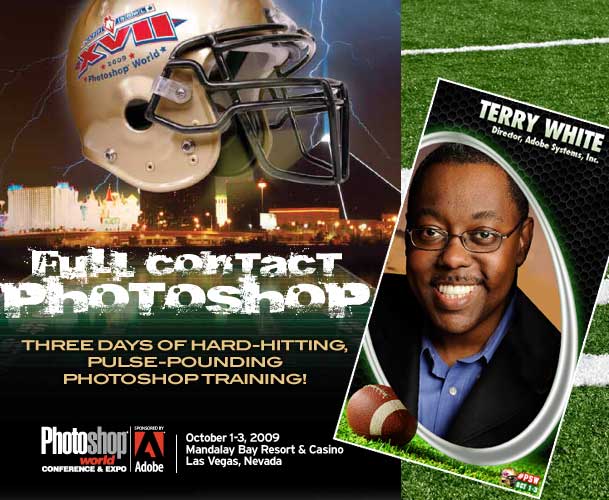 photo of me above by the amazing Joe McNally.
I'm headed to Photoshop World this week!
Photoshop World is one of the few shows I look forward to working each year because I have such a good time reconnecting with friends and customers. It's really a treat being around a couple thousand users of your company's products and the level of learning at this conference is second to none.
Each year the guys over at NAPP (National Association of Photoshop Professionals) think up a cool theme to use at this show. This year's theme is of course Football/Superbowl related – "Get your game on!" It was a blast earlier this year in Boston and the Vegas show this week is shaping up to be even better.
What am I teaching?
Like I said, I am "working" the show so I do have classes to teach on the conference track as well as booth duty in the Adobe booth and presentations in partner booths as well:
Thursday, October 1st
See me at the Bogen Imaging Booth at 12:15 PM – I'll be doing a session on "Unique and Cool Light Modifiers"
Then head over to the F.J. Westcott Booth at 2:00 PM for my "Live Shoot using the Wescott Spiderlite TD-5s"
Lastly head over to the Adobe Booth for my session on "Adobe CS4 Design Premium Time Savers" at 5:00 PM
Blogging from the show floor on Thursday! Any blog posts I do on Thursday I will be doing from my iPhone on the show floor. I'll be trying out the cool BlogPress App for the iPhone to post directly to this blog. Check out BlogPress here on the App Store:
Friday, October 2nd
Wake up and head over to the Conference Track where I will be doing my session on "Intro to InDesign CS4"
At 2PM I'll be back in the Adobe booth doing a session called "Designing Across Digital Media"
Then I'll head back up to the Conference Track for my session on "Beyond the Basics with InDesign CS4"
Lastly if you're a late owl and you were fortunate enough to grab a ticket for Midnight Madness, I'll be there on stage at 10:00 PM with my buddies Scott Kelby, Cory Barker and Dave Cross.
What about Saturday?
Sorry folks, I have to cut this one a little short as I need to head out of Vegas and over to Los Angeles for Adobe MAX. Have a great Saturday and safe trip back home. If you're coming to MAX, I look forward to seeing you there!
Also be sure to

for short bursts of info throughout the show. While you're at it, become a Fan on Facebook:
Are you paying attention?
Well you've read this post down this far, so let's really see who's paying attention? I thought I would do a fun thing this year and reward some of my blog readers at the show. I have people walk up to me all the time and tell me things like "I read your blog everyday" or "I really enjoy your Creative Suite Podcast!" Quite frankly I'm flattered when this happens and it always puts a smile on my face. It also encourages me to continue to do these kinds of things on my own time (like writing this post on a Sunday afternoon). Well I decided to have a little fun with it this year and really see if you're reading the blog or not? 🙂 So here's the deal. I have a very limited supply of cool prizes that I will be carrying around on me during the show. These are small tokens of appreciation for my fans. If you walk up to me during a break or in the hall or some other time that I'm not actually presenting and say "I read your blog AND CS4 Rocks!" I will reach into my pocket/bag and hand you one of these prizes. Again I only have a very limited supply and I plan to divide that supply up over Wednesday, Thursday and Friday of this week. So if you walk up to me and say the magic phrase and I'm all out for the day, I will say "thank you" and see you tomorrow 😉 If I run out before you come up, please understand that I can only travel with so many of these.
I look forward to seeing you all at the show!