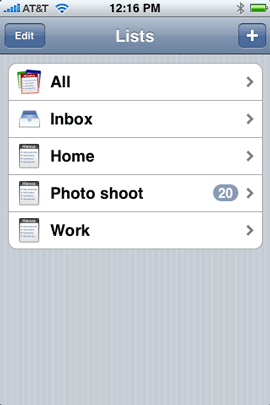 One of the things that I've wanted since day one, last year for my iPhone was a To Do feature. I always thought that it was odd that Apple included To Do's in both iCal and Mail on the desktop in Mac OS X, but not in the iPhone. I still think it's strange. However, now that the iPhone is open to 3rd party apps, I no longer have to wait.
 
There are several choices out there
What I thought would be a rather simple app to buy/download, turned out to be more challenging. What I mean is that there are at least a half dozen To Do apps for the iPhone (probably more), and they range in price from FREE to $9.95. What I found is that not everyone thinks of To Do's the same way that I do. What I wanted was an app that would let me create multiple lists, QUICKLY add items to those lists, and then check them off as they were done. I look at To Do lists in a couple of ways. I might create a To Do list for the things that I need to get done on a given day: ie. go to the cleaners, call my sister, get a car wash, record a podcast episode, etc. Then I might want a list of things not to forget before I leave for a trip. Such as a packing list for a photo shoot. I might also want to put a task on a certain day when it's actually due and give those items a priority. Pretty basic stuff! No rocket science here. What I found was that most of the apps out there were either "too basic", which means they didn't offer the features I wanted or they were WAY OVER COMPLICATED! Amazingly over complicated in some cases. It shouldn't take 50 taps to enter a To Do item.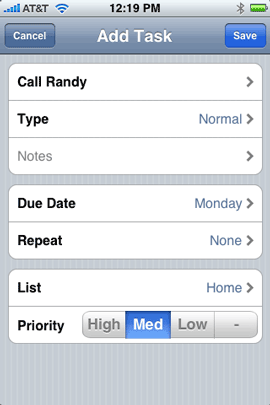 I finally found the right one
After trying two different To Do apps, the 3rd one was a charm. It's called….wait for it……."ToDo"! Genius! This app shouldn't be confused with the other one out there called "To Do". ToDo does EXACTLY what I want it to do (wow, that was bad). It's by a company called Appigo. Not only does it do what I want, it's also got a great UI (user interface) too. Very clean and graphically neat.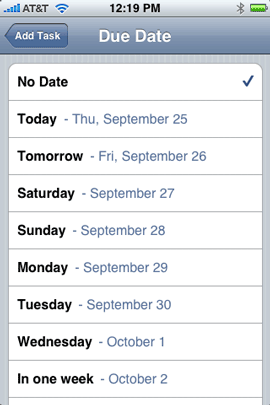 Two ways to enter your To Do's
Like I said, it shouldn't take 50 steps to enter a To Do item. Luckily, ToDo has a "Quick Add" task entry feature. This allows you to quickly add a task and just the task itself. If  you want to get really specific about due dates, priorities, repeating, etc., then you can use the regular task entry method (pictured above) and even that one is well thought out and doesn't take too long to complete.
Once your list is entered, there is also a very neat selection of "done/strike out" graphics. So when you check things off, you get a nice graphical display (of your choice) to distinguish between the completed items and the ones still left to do.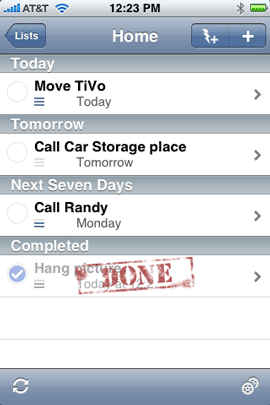 If you have one or more tasks due "today" then you will see a numeric banner on the app's icon indicating that something is due today. However, until Apple turns on background processing for 3rd party apps (rumored to be in the upcoming iPhone/iPod touch 2.2 update), this feature will only work, if you actually go into the app at least once on the day that something is due or while the apps is running.
 
The Bottom Line
There is a feature in ToDo to allow you to sync your ToDo's to the web or to your desktop. I have not tried this feature as I simply don't need it. I need my lists on my iPhone while I'm running around. Having them on my computer would be nice, but not necessary. Sure, there are free ones and cheaper ones out there. However, this one does things EXACTLY the way that I want to work and therefore it was worth the $9.95 to me. Although ToDo satisfies my immediate needs, there is room for improvement. For example, if I create a task "Call Steve", then it would be nice to actually be able to dial Steve's number right from the ToDo app.
Update: Blog reader Jan pointed out to me that you can in fact setup a task to do a call directly from the app by using the longer entry method and changing the Type from Normal to "Call" and then you're prompted to choose a Contact from your Contacts. When you actually tap the task when you want to make the call, you're then presented with a popup of all the numbers you have for that contact to dial. Very slick! Thanks Jan! The other types are "Email a contact" and "Visit a website". Email a Contact brings up your contacts to choose and Visit a website allows you to enter a URL. I'll be using that one a lot as I always see ads for websites that I want to visit later and of course forget the URLs by the time I'm able to visit the sites.
Also, I'd like to see a permanent list feature. I'm not sure (I need to do more testing), but it seems that once you complete the items on a list, that list eventually clears itself of all tasks. I'm not 100% sure of this, but one of my completed lists was blank when I went back to it days later. I would like to keep the items on some lists so that I can use the list (say a packing list) over and over again. As a work around you could always keep one item on the list that is not done. Again, I need to do more testing to see how this actually works. I may have lost the items on that particular list due to an update of the app.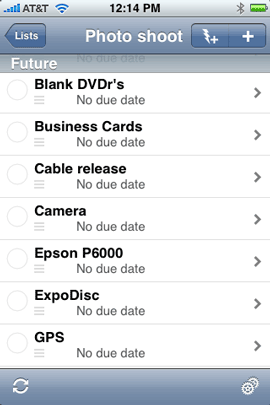 An example of one of my packing lists
 
You can get ToDo from the App Store by going here. ToDo works on the iPhone or the iPod touch.