While I didn't make it the PhotoPlus East tradeshow in NYC this week, I have been spending some time with one of my new iPhone apps. PhotoBuddy aims to be your Photographer Assistant. The main purpose of this app is to help you calculate things like Exposure changes, Flash timing, DOF (Depth of Field) and can even measure the distance of objects (this feature only works on the 1st gen iPhones).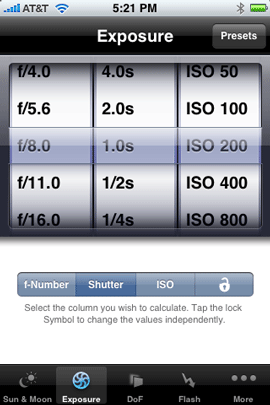 However, it has other useful features too. For example, when I captured the shot below in Spain, the one thing I didn't know at the time was what time sunrise occurs for the area I was in. The hotel staff looked it for me on the internet.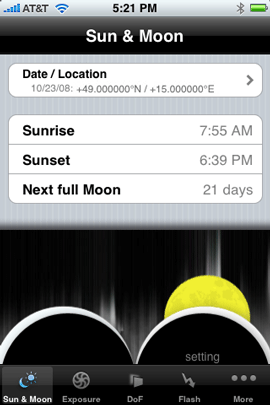 However, had I had PhotoBuddy back then, I would have simply been able to use the built-in Sunrise calculator. The Sunrise calculator is location based and tells you the sunrise, sunset and next full moon. I used to use a separate "Sunrise" app for this. It even displays your current longitude and latitude which is handy for noting and geotagging your photos later in post production. You can also advance to a date in the future to see what time the Sunrise/Sunset will be on a specific day.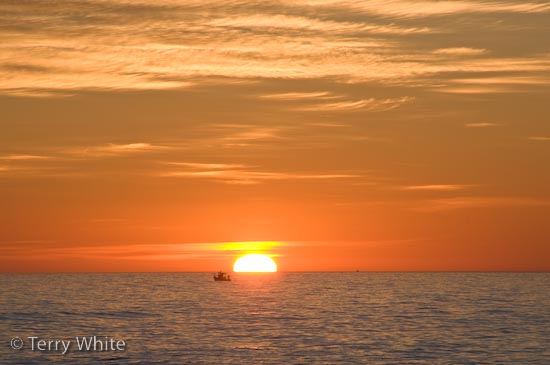 One of the other features I was happy to see is the "grey wedge" to help white balance your shots. Now you have to keep in mind that this feature is not totally accurate because your iPhone's screen is not color calibrated. So the displayed tones are not neutral. However, they are off by a constant value, so you can use it to color calibrate images.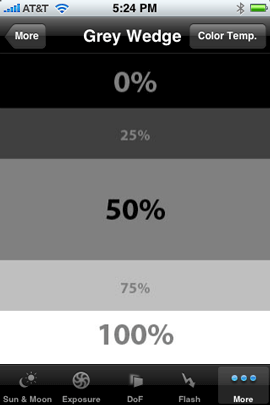 There are a ton of settings. One of the things that helps you quite a bit is that you start off by telling PhotoBuddy which camera model you have. This gives PhotoBuddy the important information that it needs about your sensor. If your camera is not listed, you can choose an "undefined setting" or choose the film equivalent.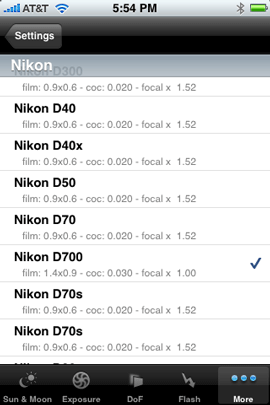 The Bottom Line
There are a few apps with similar features on the App Store. I've tried a couple of them so far and I like PhotoBuddy best (a close second would be PhotoCalc, which has a better Sunrise/Sunset calculator). Most of these apps do the same things. However, PhotoBuddy offers a couple of nice little extras and fit and finish. Also PhotoBuddy is only $1.99 so it's hard to go wrong. You can download PhotoBuddy here for your iPhone or iPod touch.