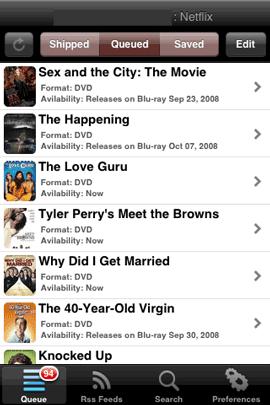 My pick for this week's iPhone app of the week is Dashbuster! Dashbuster is an app for the iPhone and iPod touch that allows you to manage either your Netflix or Blockbuster (or both) movie queues. I've been a Netflix junkie for years! I usually have no less than about 80-90 movies in my queue at all times. Netflix just makes it so painless to rent movies and they started the whole "keep it as long as you want with no late fees" thing, which was perfect for me.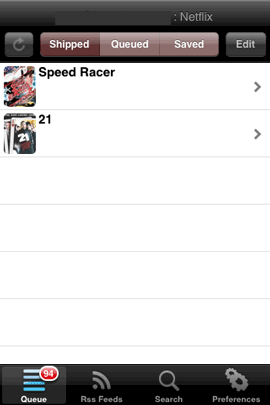 Why use this app to manage your queue?
Since I'm into to movies, the conversation usually comes up at some point when I'm talking with friends, family and colleagues about favorite movies or movies that they've recently seen that were good. The problem is, I'm never gonna remember the names of those movies. Now I can whip out my iPhone and add the movie to my queue right there on the spot. Now this isn't the first Netflix iPhone app I've tried. There was one that I was using called iFlix (which seems to have been removed from the App store) and I really like iFlix, but there was one thing that pushed me over the edge to buy Dashbuster and that was the way they handle "Saved" movies.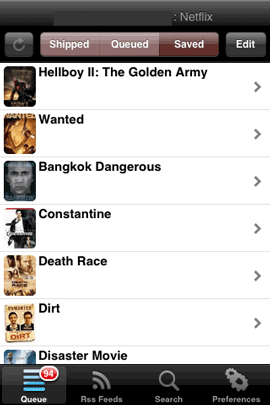 A "Saved" movie is one that you add to your queue that isn't actually out on DVD yet. I LOVE THIS FEATURE! Although I do a lot of movie renting, I also actually go to the movies from time to time. It never fails that while I'm sitting there watching the previews, I think "wow, that looks like a cool movie, but I may not get to see it in the theaters." So I want add it to my Netflix "Saved" queue while it's fresh on my mind. Now I can sit there and add them right after I view the Preview. iFlix allowed this too, but it didn't break out the "Saved" movies from the "Queued" movies the way that Dashbuster does. That little feature was enough to make me buy and download Dashbuster even though I already bought iFlix.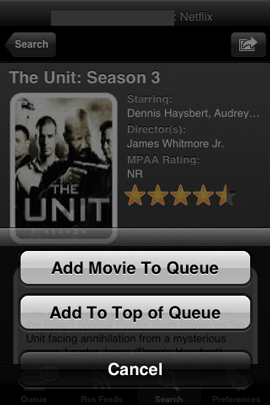 Complete queue management and more
You can not only add to your queue, but you can also change the order in which they will be shipped. Of course you can also remove a movie from your queue with a swipe of your finger. There is also a really good search feature to find the movies you want to rent. Can't think of a movie to rent? Use the RSS Feeds feature to see the Top rentals in each genre including the Top 100 rentals overall. Although I'm a Netflix customer, this app works for either Netflix or Blockbuster accounts or Both! This app is also quite stable and works as advertised.
 
Dashbuster goes for $3.99 there is a FREE Dashbuster version, but the free version doesn't allow you to add movies to your queue. Dashbuster works on the iPhone or iPod touch.