Let me start with a disclaimer: Having been in the world of digital photography for a few years now, I have met some great photographers. I have also met some fanatics. These are people that treat their camera brand like a religion and no one is going to tell them they are wrong. It reminds me of the Mac vs. PC days back in the 80's and 90's. Although I'm a Nikon shooter, it's not my religion. I can certainly appreciate when one manufacturer does something cool vs. another. I'm not paid by Nikon, it's just the camera brand I picked at the time based on the models that were out at the time. Once you buy a camera body and start buying lenses, it's very hard (financially) to just up and switch because another manufacturer comes out with something that is tempting. So if this is your religion, that's great for you, but I really don't care. I'm just reporting on what interests me. So spare me with the comments on how one is so much better than the other (I am glad that you feel so passionately about it). Now that I got that out of the way, let me go on with my post: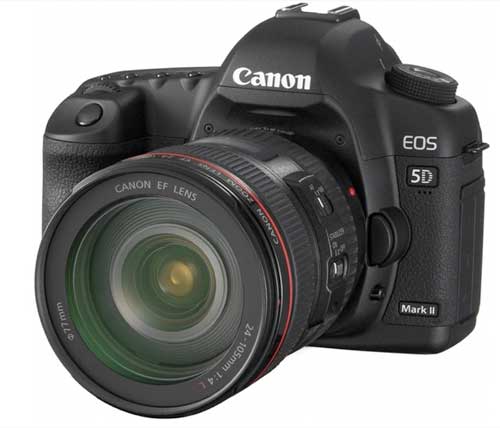 Canon's New EOS 5D Mark II SLR Kicks Butt
Yes, I said it! I'm a Nikon shooter, but I can certainly appreciate when I see a camera that has outstanding specs and that's exactly what I woke up to this morning. The 5D Mark II had been rumored and leaked for months now. I've been watching the rumors as many of my friends are Canon shooters (yes I associate with both Nikon and Canon users, call me crazy). However, when I saw the specs this morning, all I could say was WOW! What caught my eye was: 21.1 megapixels, Full Frame, Full HD 1920 x 1080 video (Woah), 3 in LCD with Live View, 3.9 fps burst for unlimited JPEGs or up to 14 RAW images when using a UDMA CS card all for only $2,699 (body only price)! Based on the specs and price point, this camera is going sell WELL!
 
My take on DSLRs shooting video
One of my blog readers asked if I would perhaps do a post on the Nikon D90? I thought about it at the time and I didn't really feel comfortable doing a review of a camera that I didn't have or plan to get. However, now that both Nikon (with the D90) and Canon (with the 5D Mark II) have released models that shoot video, I thought I would at least weigh in on this topic. I haven't actually used either model yet, so this is only my opinion/feeling at this point. I think that having an DSLR that can shoot video is an interesting concept. It will certainly appeal to the "dads" and "moms" out there. Think about it, you're at the little league game and you can capture your kid as either high res great quality digital stills or as a video, when they slide into home base. I also think it's going to open up a whole new world for seeing "different" kinds of video because now you have a camera shooting video using the dozens of different lenses available to DSLR cameras. What I'm not sure of is how well this will appeal to professional photographers. Most professional photographers that I talk to, never show any interest in doing video. So I'm not sure if they will care about having a DSLR that can shoot video. However, on the other hand most professional videographers I know DO SHOOT STILLS more and more now. So these cameras will definitely appeal to them.
Usually when you have a multi-function device, it tends to be really good at one thing and suck at the rest, or worse, it's not really good at any one thing. I think these new cameras are probably going to be much stronger at taking stills than they will be at taking video. So therefore it won't be the "only" camera that a video professional could carry. I think it will be good for occasional video use. There are all kinds of things that we don't think about when it comes to video. The first thing that comes to mind is, "what kind of microphone do these cameras have?" Sound is the most important aspect to good video. People will forgive you for having crappy video with great sound, but they will not forgive you for having great video  with crappy sound!
Here's a Sample Video my buddy Bruce found on the web, that was shot with the 5D. Video shot at 600 iso with 70-200 lens:

 
So the bottom line is that I think it's an interesting idea that will appeal to the hobbyists out there. I don't think the pros will latch on just yet or at least not to this first round of cameras, for their video needs. It's going to be interesting to watch though!
 
My purchase plans?
I'm set! I'm very happy with my Nikon D700 and D300. I'm getting all that I want out of them and more. So I have no plans for any of the above at this time. I'm just sharing my thoughts on what I see out there. Sorry to disappoint the fanatics (actually I'm not sorry – dude, you need to get over it. Use that energy on taking better pictures) 🙂