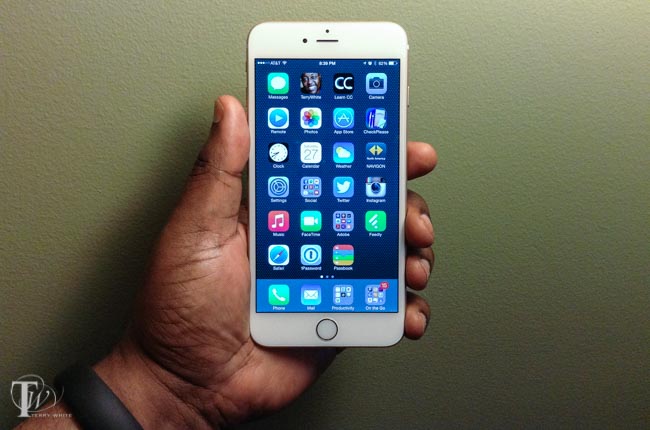 Overview
I've been doing iPhone reviews since the 1st one back in 2007 (if you want to see how far we've come, go back and have a glance at that one). So it's become a tradition here on my blog and many of my friends and followers patiently wait for my take on the new mobile device. Normally I have these reviews done by the 1st Monday following the Friday release. However, my iPhone didn't arrive until the following Wednesday (last week). I pre-ordered mine on day one, but apparently I didn't make the 1st cut. Nonetheless, it did arrive a few days later and I wanted to have a few days with the new larger device anyway. The last couple of iPhones have been evolutionary with the things we've come to expect such as better cameras, faster processors, more memory and a design tweak here and there. Let's face it, the original 2007 iPhone pretty much nailed it when it comes to form factor, size and functionality at that time. As a matter of fact the iPhone was blasted by several "industry experts" for it's initial design by being a "touch screen" phone with no physical buttons. Seven years later all of the smartphones now look and act this way. However, this is not a comparison review of other devices. It never is! If you have a competing device and you're happy with it, no need to read any further. Enjoy your _____ phone. Have a nice day. For everyone else, the question that we are always asking is "is this new iPhone worth upgrading or switching to?" That of course will always be up to YOU. I can only tell you what I've experienced with mine. So here goes…my iPhone 6 Plus review…
Which one did I get?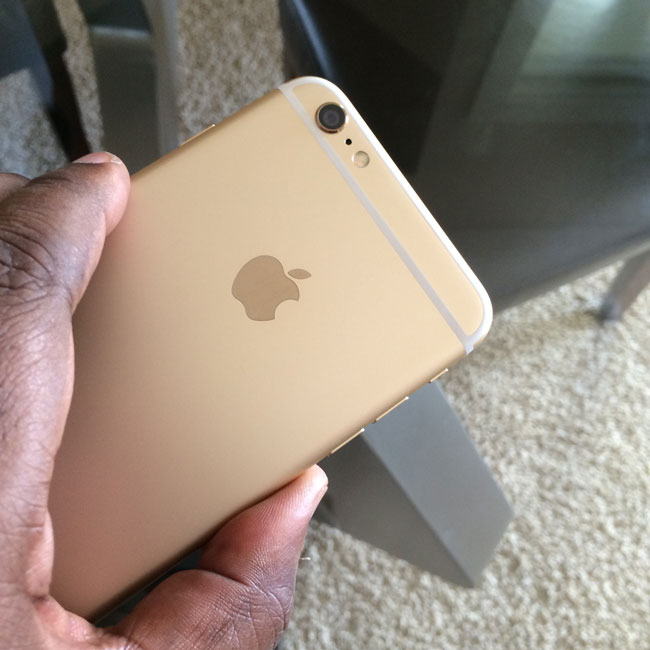 I went with the iPhone 6 Plus 64GB Gold Contract Free T-mobile version. This is the way to go even if you're not a T-Mobile customer (I'm on AT&T) and you want an unlocked, contract free phone that will accept any GSM nano-sim from any carrier. I debated between the iPhone 6 vs. the iPhone 6 Plus and 64GB vs 128GB and I decided that it was time to try a larger iPhone. I could always go back down to a iPhone 6s (assuming that Apple sticks with the same naming convention for the next iPhone) next time if the iPhone 6 Plus was too big. Also I upgraded from 32GB to 64GB going from the iPhone 5 to the iPhone 5s and that was the right amount of storage for me. If I didn't have an iPad, then I definitely would have gone with 128GB. However, the iPad Air serves as my entertainment device for movies and other large file tasks, so 64GB was plenty. Also all of my iPhones to date have been black/space gray. I wanted gold with the iPhone 5s, but they were sold out of that color when I got mine back then. This is my first white iPhone.
Yes it's BIG!
I gave my 1st Impressions last week. The first thing I thought when I took the box out of the shipping box was "wow, it's big!" That was before I opened it.  Luckily for my hands and pockets it's not too big. I had no problems with putting it in a front pocket of my jeans. I was also pleasantly surprised that it wasn't too bad in a shirt pocket either. Now keep in mind that the weight (which is pretty light for a device this size) will probably make your shirt sag a bit, but still in a pinch it's not too much.  Let's see some comparisons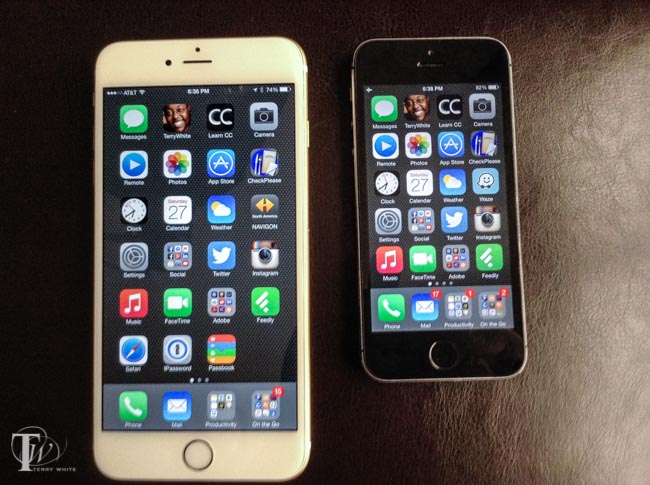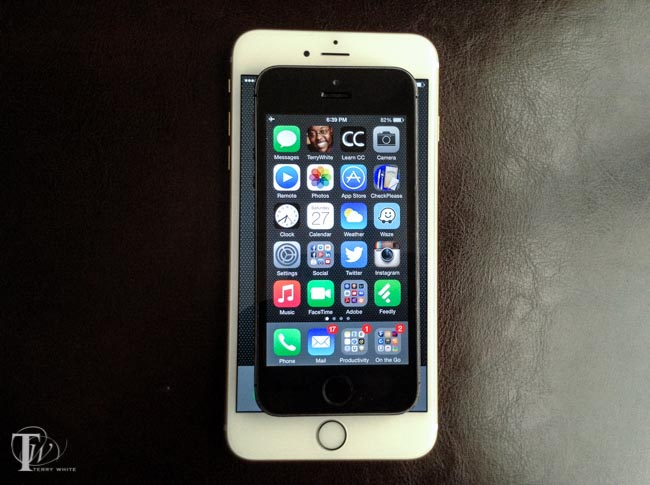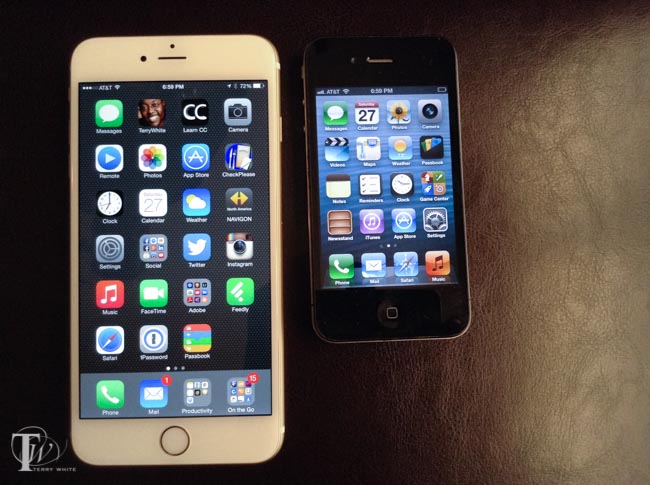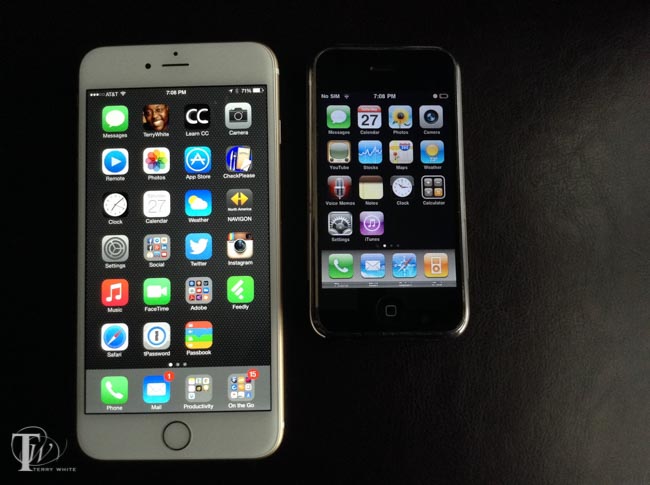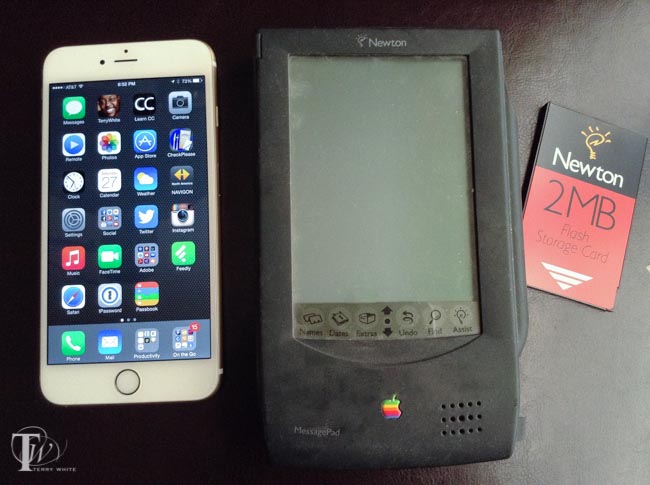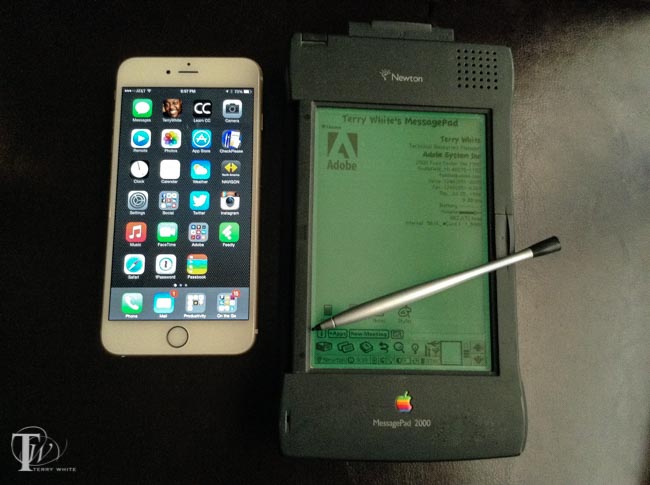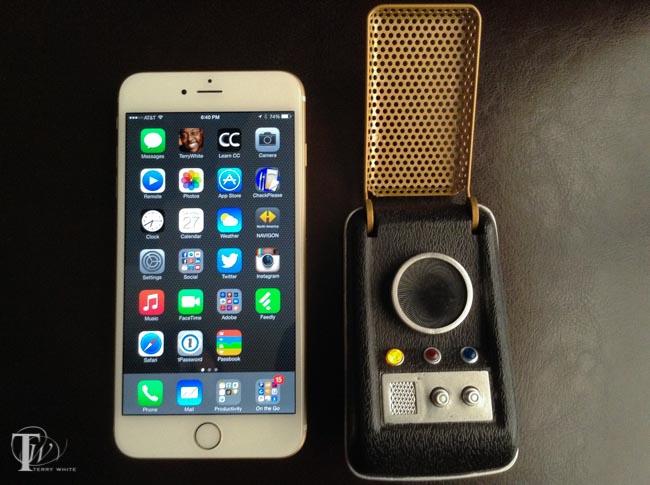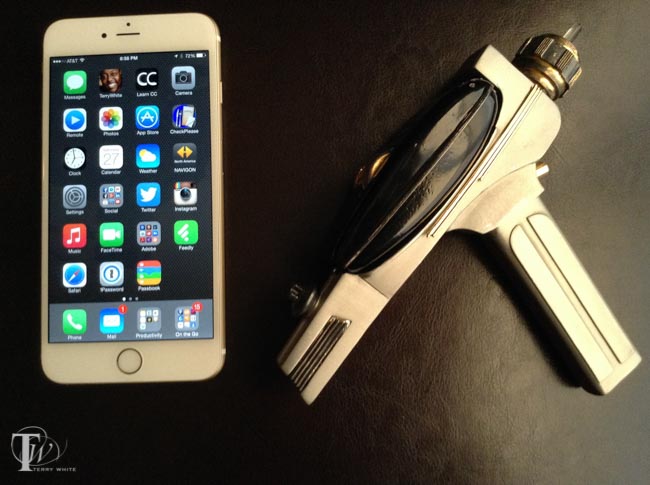 Hopefully the photos above will answer your questions regarding the size compared to other devices 🙂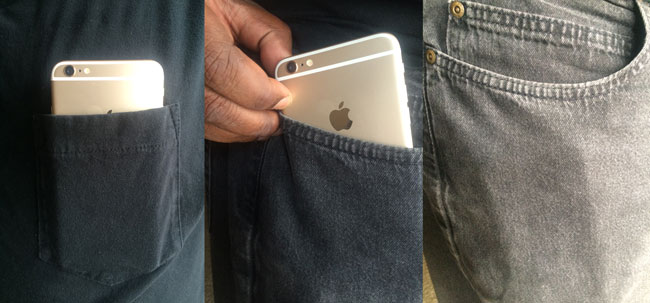 Ergonomics, fit and feel
I'm happy to see Apple return to curved edges. It just feels better in my hand, especially for a larger device. It does take a little getting used to having the sleep/power button on the right side now instead of the top. For the first couple of days I was instinctively reaching for the top of the device to wake it or put it to sleep. When taking landscape screenshots I always hit the volume buttons by mistake. However, now I'm used to the new location and it isn't a big deal. I would have expected the home button to be slightly larger, but it's the same size as the one from the iPhone 5s. The touch-ID (fingerprint scanner) works flawlessly and now that iOS 8 opens it up to 3rd party apps, I'm using it all day long. For the first few days I used it without a case waiting for mine to arrive. This means that I was more careful than usual as I didn't want any scratches. I did drop it once on a carpeted floor at home and it survived with no scratches or damage. As others have indicated, the camera lens does protrude from the back a little. This is the price we pay for a thinner iPhone.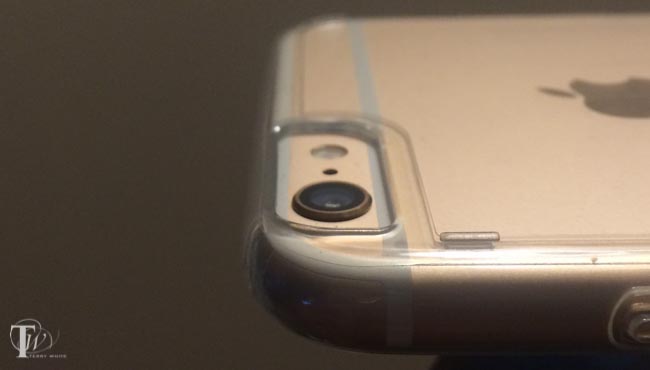 However, had I not read about that first I'm not sure that I would have really noticed. Some are complaining that this prevents the iPhone from lying perfectly flat on a table. I agree, but once you put a case on it that problem goes away as your case is more than likely going to protrude out more than the camera does. My only problem to date with the new larger form factor is the width, not the height. Even with my large hands it's difficult to thumb reach the opposite side of the screen if the icon or button I 'm trying to reach is always up higher on the display.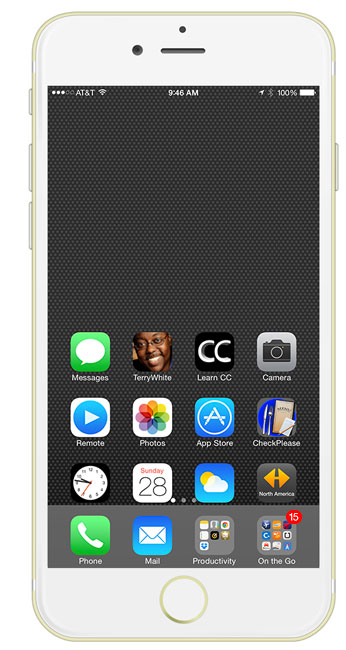 Apple includes a "reachability" mode that you can access by double tapping the home button (not pressing it, but double tapping the touch sensor). This makes the whole screen slide down so that you can reach icons that at the top. Even with reachability it can be a stretch reaching the other side of the screen.
The Bigger 5.5″ Retina Display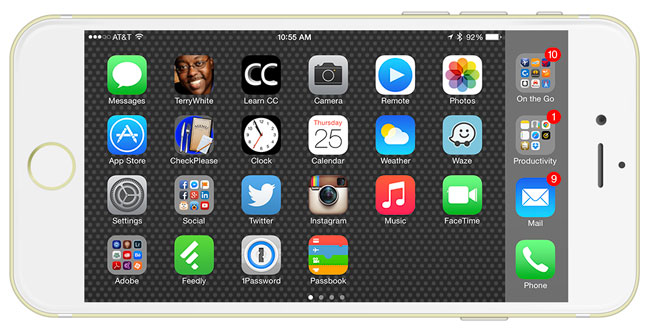 It's gorgeous and probably the single biggest reason for going with an iPhone 6 Plus over an iPhone 6. Crisp, clean, high definition, 1920×1080 401 ppi of awesomeness. There are some exclusive features in the iPhone 6 Plus that aren't on any other iPhone. The first one is a landscape home screen. While you've always been able to rotate your iPhone to see apps in landscape mode, the home screen was locked in portrait mode. Apple has finally freed up the home screen to have a landscape view on the iPhone 6. There is one choice you have to make. When you setup your iPhone 6 Plus for the 1st time you'll be given a choice of Standard vs. Zoomed (yes you can switch it later). I chose Zoomed because it looked better to my eyes. However, with Zoomed enabled you don't get the landscape home screen, extended landscape keyboard or the two column mail view. Also switching modes requires a reboot. I'm not happy about giving up Zoomed display for the other features I wanted. This is something that I wish Apple would address in the future. Perhaps a middle choice that gives a little more zooming AND the other landscape features.
Older apps on the bigger display – When Apple rolled out the iPhone 6 the promised that it had a very good "scaler" in it for apps that hadn't been updated to the larger display sizes. Well I have to hand it to them. They did a MUCH better job than I expected. Keep in mind that iPhone apps zoomed up on the iPad kinda suck at the "2x zoom" and iPhone 4 sized Apps on an iPhone 5/5s just appear letter boxed in the middle of the display. However, older apps on the iPhone 6 Plus look, well, really good, especially by comparison. Sure Apps like CNN that have been updated look BETTER, but I don't hate seeing the older Apps on the newer display at all.
Battery Life
There is a mobile device user on the planet that wouldn't welcome longer battery life. So when it was rumored that the iPhone 6 Plus had longer battery life than previous models, I said bring it on! After the 6+ was released and people started doing tear-downs of them it was shown that the iPhone 6 Plus battery is almost as large as the iPhone 5s itself, it was definitely a good sign that battery life would be good. I'm happy to report that I'm easily seeing 25%-40% better battery life over that of my iPhone 5s. While not a totally scientific test, I base this on the percentage of battery life that I have left at the end of the day. On Saturday I unplugged my iPhone from the charger at around 10 AM. I used my phone as I normally would throughout the day (social media, texting, phone calls and apps). At 4PM I noticed I was still at 82%. At 7PM I noticed I was at 72% (even after leaving the screen on for a while while taking the size comparison shots above). Finally at 10PM (12 hours later) the iPhone 6 Plus was at 57% battery life. My iPhone 5s probably would have been at around 20%-30% after 12 hours of use.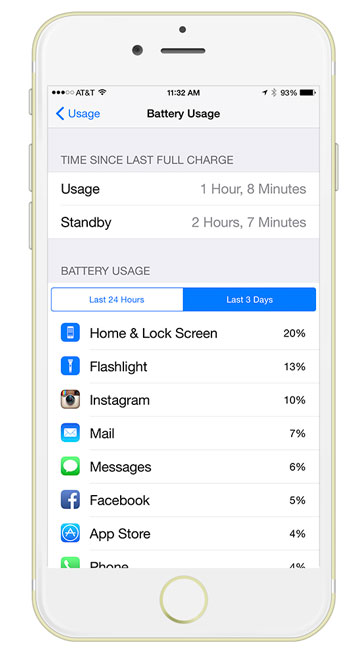 Keep in mind that there are many factors that affect battery life and I'm not saying that tomorrow that it won't drain faster or last longer, it just depends not only on what you're doing on the iPhone but also where you are. For example, if you're in a 4G LTE area then it will probably drain faster. If you were in a 4G area but left it set on 4G LTE then it would drain even faster while searching for a 4G LTE signal. Screen brightness is another big factor. I keep mine down to around 30% on average. Making the display faster will definitely drain the battery faster. So your results can certainly vary. Y.M.M.V.
Performance
Yep is faster! We expect that each iPhone will faster than its predecessor. The iPhone 6 Plus is no different. It sports a new multiple-core A8 chip that's faster than the A7 before it. Upgrading from the iPhone 5s to an iPhone 6 or iPhone 6 Plus will be a noticeable speed bump. However, upgrading from an earlier model will be even more noticeable. Apps launch faster and perform better. The biggest and most noticeable speed difference for me though is actually the WiFi performance. Since the iPhone 6 Plus supports 802.11ac and I have an AirPort Extreme Base Station that supports 802.11ac I can really really really see a big difference in internet speed and file transfer speeds.
I have 500 Applications on my iPhone 6 Plus and some of them haven't had updates in years, yet the work fine. Some glitches in a few, but that's no different than any other OS or phone upgrade that has ever happened.
Phone calls and Bluetooth Audio? Oh yeah, it is a phone too. Yep I've made and received them with no problems. I would say the only thing that took a little getting used to was center the speaker on my ear. At first I couldn't hear the caller as loud as I was thinking it should be. Then I moved the iPhone 6 Plus over a little and bam, the sound was perfect. I paired it with my Jawbone bluetooth headset and the bluetooth built-in to my car and no problems with phone calls. The only App that doesn't seem to work with bluetooth audio in my car is the Waze Social GPS navigation App. Both Apple Maps and Navigon give turn-by-turn directions over the bluetooth just fine. However, when Waze goes to broadcast a direction the music mutes and nothing else can be heard then the music comes back on. Hopefully Waze will address this as it seems to be the only one of my GPS apps not working. I deleted the pairing and set it up again and still Waze was a no go.
The Camera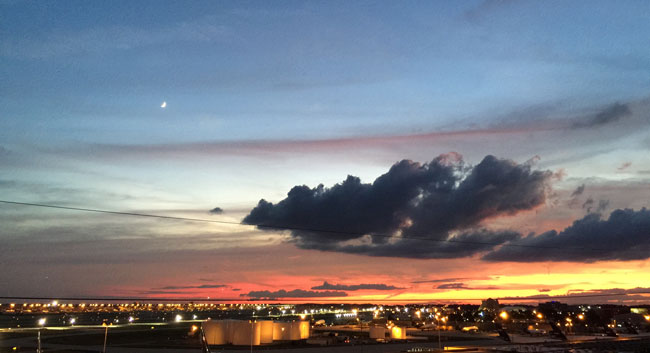 While I don't expect the iPhone (or any smartphone) to replace my DSLRs and professional lenses anytime soon, iPhone photography is here to stay. The best camera is the one you have with you and I always have my iPhone with me.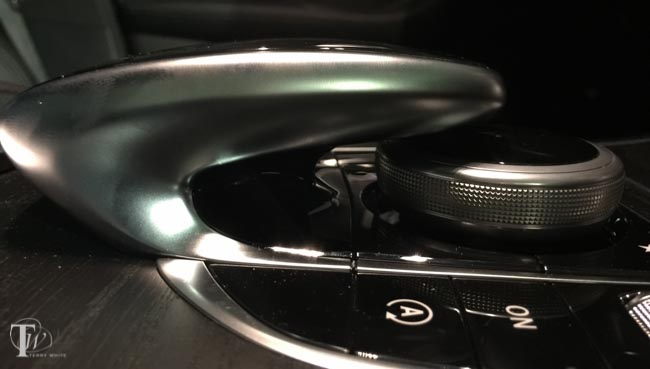 Therefore it's probably my most used camera. If I want to capture a scene or movie, I pulling out iPhone and take the shot. Especially if I want to then turn around and share that photo on social media or via text.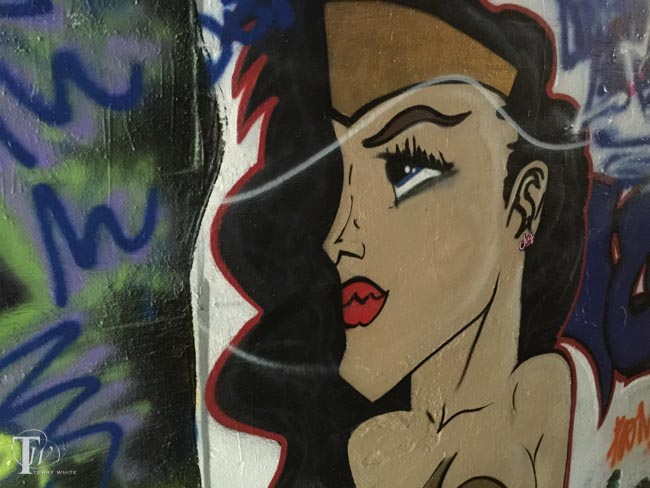 Therefore, ANY camera improvements are always welcomed. The iPhone 6 Plus sports an 8MP,  f/2.2 aperture camera. It shoots 1080p video at 60fps and 240fps slo-mo as well as a new time-lapse feature.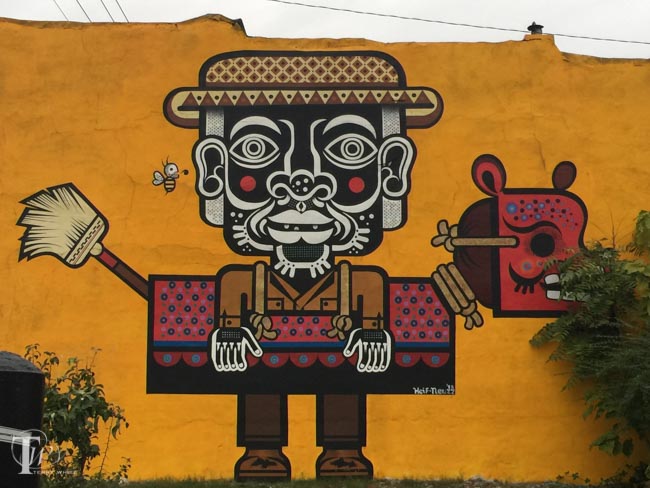 It also has Optical Image Stabilization. The big new thing here is faster autofocus for stills and continuous autofocus when shooting video. You should also get better selfies and Facetime with the new sensor allowing 81% more light.
Also now that iOS 8 opens the door for manual control over the camera it's even more useful. There's even a new App called "Manual" that let's you have complete manual control over ISO, shutter speed and manual focus.
What could be better?
Apple doesn't get everything right. Remember Apple Maps? The super buggy iOS 8.0.1 debacle was a recent reminder of this fact (iOS 8.0.2 came out afterwards and this review is based on that version). Most of my complaints are minor, but no device is perfect and the iPhone 6 Plus isn't perfect either.  The things I wish were better to fixed have more to do with long standing issues I've had with iOS vs the iPhone 6 or iPhone 6 Plus itself. For example, it's 2014 and there are still several inconsistencies in iOS that continue to bug me. For example, I can setup groups of contacts in the Contacts app on my Mac. Those groups sync over fine to the iPhone and are even recognized throughout the OS like in the Do Not Disturb feature. Yet there still isn't a way to create a group in iOS or manage the ones you already have. While I'm on my annual Group rant, there is still no way to assign a ringtone to a group of contacts. If we are truly in a PC Free era, then Apple needs to make have feature parity in iOS 8 for these kinds of features. Another one that bugs me is the lack of a "Select All" in many areas throughout the OS. For example, now in the Messages App you can tap on the "Details" for any conversation. You can see all the attachments that are still in that conversation. GREAT! Now lets say I want to keep the conversation text, but delete ALL of the images/videos. I have to tap them one-by-one to select them and then press delete. Why not let me select all? There is no warning when I tap delete. They're gone. So if safety is the reason, then give the standard "are you sure?" a few times If I select all. Hell, even make me enter my passcode to confirm the deletion of lots of media at once. Speaking of deleting, now in iOS 8 when you delete pictures from the Recent Activity (formerly the Camera Roll), they aren't deleted YET. They go into another album called "Recently Deleted". From there (yes you guessed it) there is a "Delete All" button. I definitely want to turn this idiot proof feature OFF. If I delete a picture or video, I'm sure! Photo management is a mess. Photo albums that come from your computer can be viewed in iOS but not edited. Really? Why not allow me to rearrange/delete/add photos to these albums and have them sync back to my computer? If I do create Albums on my iPhone and add photos to them I must also keep those photos in the Recently Added album too. Delete them from Recently Added and they are deleted from the custom albums too. Another inconsistency has to do with the "Open In" command. If I receive a photo via text message I can tap the Share button on that photo and open it in any other compatible App on my iPhone. However, if I save that picture to the "Recently Added" album and then access it from the Photos App, sorry no way to access it from Apps that haven't been updated to be added to the new Share sheets. Thankfully I can use Lightroom Mobile for my photo management needs and I don't have to rely as much on the built-in Photos app.
It would also be nice to hide (if not delete) built-in Apps that we don't use like Game Center. Yes I know it can be buried in a folder, but why not allow it be turned off completely?
As far as the iPhone 6 Plus hardware goes, I really don't have anything to complain about. Everything from the fit and finish, to the curved case, to the buttons, to the Lightning port, to the speaker, to the cameras are really good to awesome! It's not too heavy or too big for my day to day use. While no device is perfect, nothing comes to mind to complain about hardware wise.
What's missing?
When Apple introduced the iPhone 6 and iPhone 6 Plus they also introduced Health Kit, Apple Pay and Hand Off. Because of a bug, Healthkit didn't get turned on for 3rd party App support until iOS 8.0.2. I have one of my Apps to date that has been updated with Healthkit support. I'm waiting on Nike+ Fuelband, Withings Health Mate and Lose It to take advantage of it with updates hopefully soon. Apple Pay is slated for an October debut. While Apple may turn it on in October, it will still take a while for all the merchants out there to offer it at the register. Lastly iOS 8 offers the ability to hand off things that you start on one device to the other. For example, now when my iPhone 6 Plus rings it will also start ringing on my iPad. I can answer my phone with either device. However, the feature I was looking forward to the most is SMS messages (those green bubble friends) showing up in the Messages app on other devices. That feature has been held back until October as well. Most of the joy of working between your iOS devices with iOS 8 and your Mac is on hold until Apple releases Mac OS X 10.10 Yosemite. This includes the new iCloud Drive. Again Apple has really missed the mark on this one. Unfortunately software is ready when it's ready and trying to coordinate TWO major OS updates is no small feat. This is the case with Mac OS X 10.10. Apple hasn't said when it will be released. However, until it is the hand off features between the two OS's won't really be realized.
The Bottom Line
The iPhone 6 Plus is definitely a great upgrade from the iPhone 5s with a faster processor, bigger, sharper display, faster WiFi, thinner, and much better camera. With over 10 million sold (iPhone 6 and iPhone 6 Plus) in the 1st weekend breaking sales records across the board, Apple has another hit on their hands. As I was writing this close I asked myself  "ok, now that you've had the iPhone 6 plus for a few days, if you could do it again would you still go with the iPhone 6 Plus or would you go with an iPhone 6?" The answer is YES, I'd get the iPhone 6 Plus again. Is the iPhone 6 Plus worth upgrading to if you're still under contract with an iPhone 5s? Probably not. I check the status of my sister's contract and if she were to upgrade now it would be an extra $250. However, if she waits until 10/8/2014 then she can upgrade at the regular prices. She has an iPhone 5 and I can imagine that the iPhone 5s would be a similar situation. If you're on an iPhone 5 or below and you're eligible for regular upgrade pricing then this iPhone is a no brainer. It should be better in just about every way over your iPhone 5, iPhone 4s or iPhone 4. To decide whether or not to go iPhone 6 Plus vs. iPhone 6, you really need to hold them in YOUR hands and see which one feels best for you. The larger iPhone 6 Plus is not for everyone. I'm sure Apple will sell more iPhone 6's than iPhone 6 Pluses.
One more thing…  Before someone asks "will it bend?", perhaps you should check this out first. Hopefully that puts an end to NON-ISSUE of #bendgate.
Some of my favorite iPhone accessories
I went with this case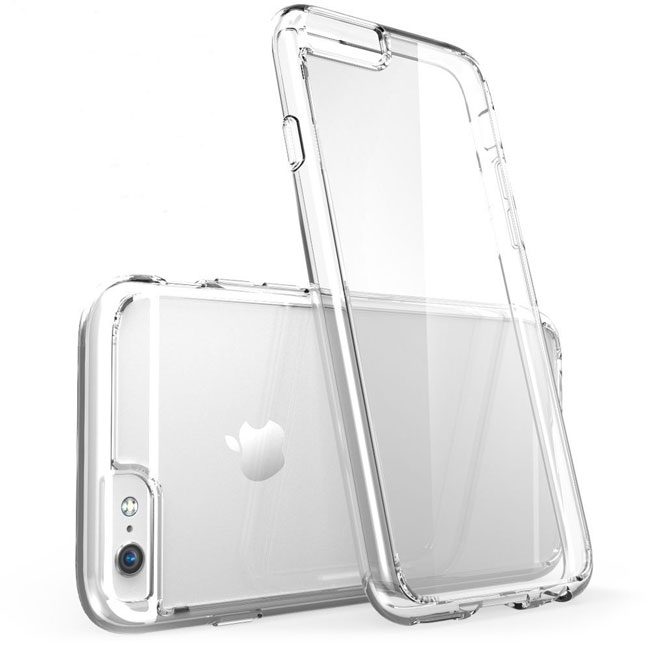 I like clear cases that offer scratch protection and basic protection from occasional drops, but still show the beauty and color of the device. I know that many of you need more protection, screen protectors, water protection, etc., however to date I've been pretty careful with my iPhones and have never broken a screen or severely damaged one. However, they can get scratched and that is something I look to prevent. This case does that for me.
I like these two car mounts (both will work even with a case on your iPhone 6 or iPhone 6 Plus)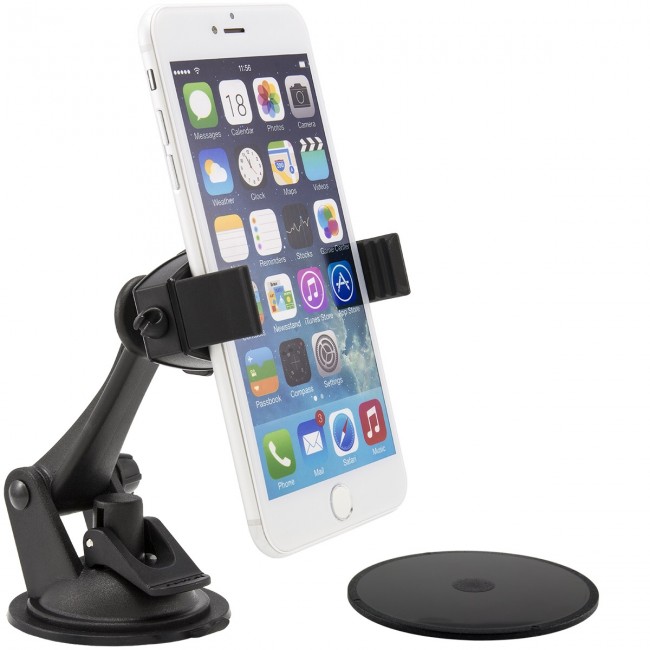 If you're looking for a dash or windshield mount, the good folks over at Akron have you covered with this one. Unscrew the cable guide on the side and you get a standard tripod mount for photography/videography!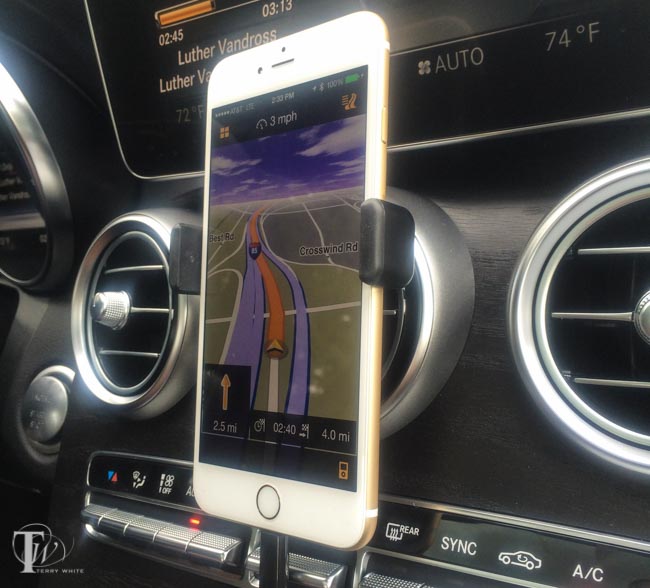 If you're looking for a vent mount, then the only way to go is the NEW Kenu AirFrame+ (yes I said +). This is definitely my favorite mount for travel and regular use when a dashboard or windshield mount doesn't do it for you.
My Favorite 3rd party Lightning cables at different lengths

While this really has nothing to do with the iPhone 6 Plus itself, I think I finally found a DURABLE 3rd party Lightning Cable. I have been frustrated by the quality of 3rd party Lightning cables to date. They either don't work out of the box, stop working after a while or worse they start to fall apart where the connector connects to the cable. NewerTech makes this cable and I ordered a couple of the 3 meter version. I'm impressed with the way they are constructed. Definitely the best I've found so far.
My favorite charging accessories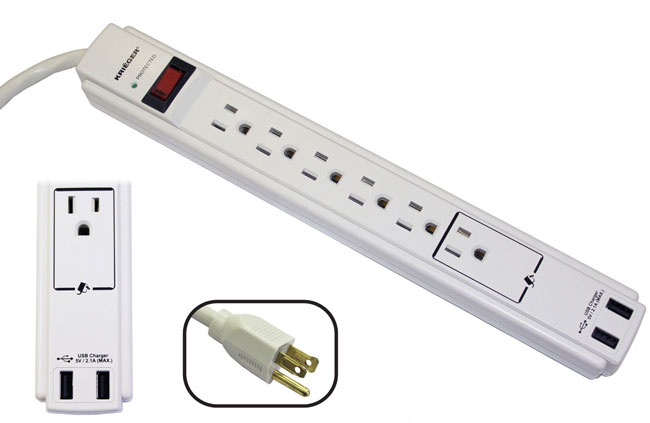 I just bought 3 of these for use around the home and home office. So far they're working out GREAT! Unlike most power strips/surge protectors this one has a longer than average 6 foot cord. It has a lighted power switch as well as 2 USB ports that can provide up to 2.1A of power, which is enough to charge an iPad. Also the fact that it's a surge protector as well doesn't hurt. The only downside is that the 2.1A is shared between the two ports. This means that you can charge two devices or one device at the full 2.1A speed. Yes, you can charge an iPad (or other tablet) and iPhone (or other smartphone) at the same time, just not two devices that both require 2.1A each.
Here's the best part: This power strip is on sale for only $14.99, which is less than the cost of a name brand single port USB charger. Get this one and you can use the charger that came with your phone as a travel charger.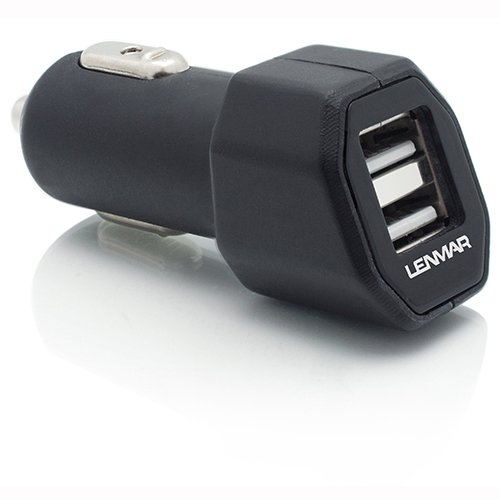 For the car, I like this one.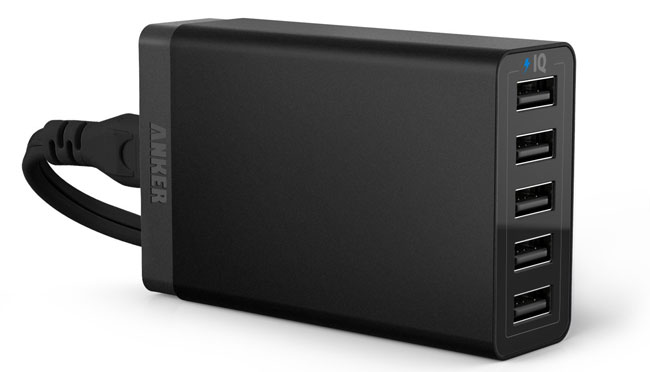 For charging several USB devices at once I like this one.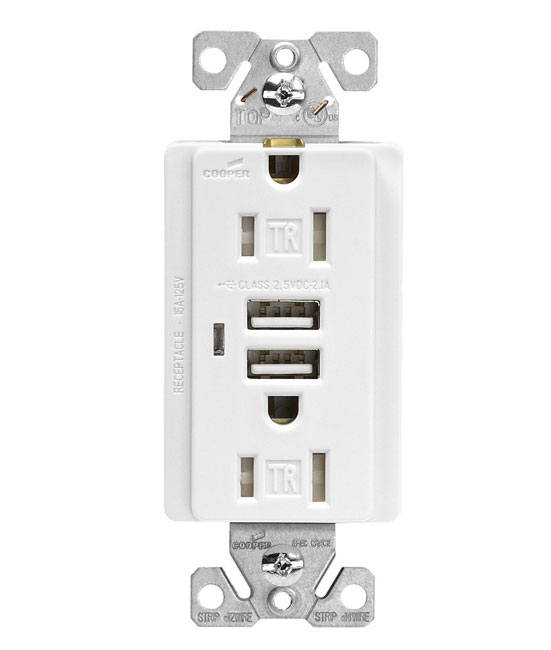 For a permanent installation I like this one.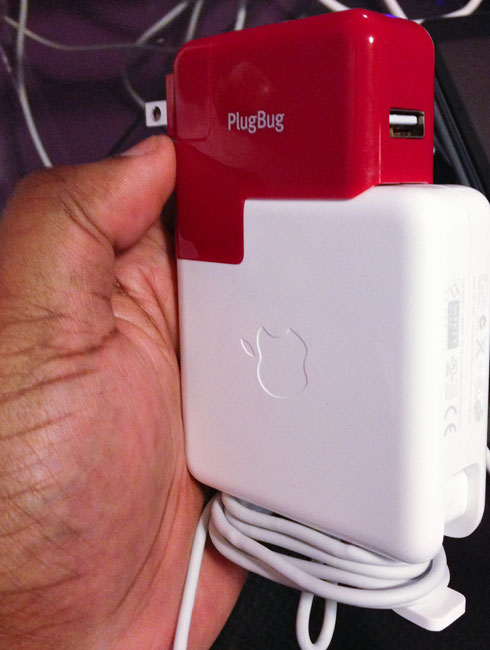 For charging while traveling to hotel rooms with limited outlets, I like this one.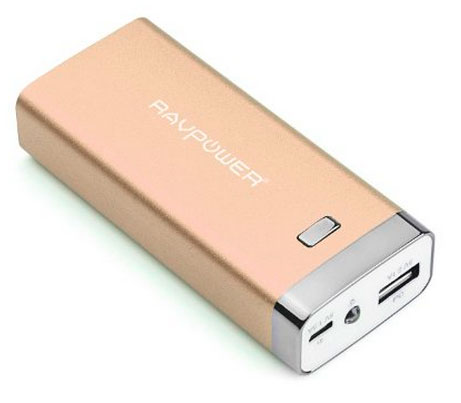 While the iPhone 6 Plus battery life is greatly improved, I will still carry this backup battery.
iOS 8 Tips and Tricks