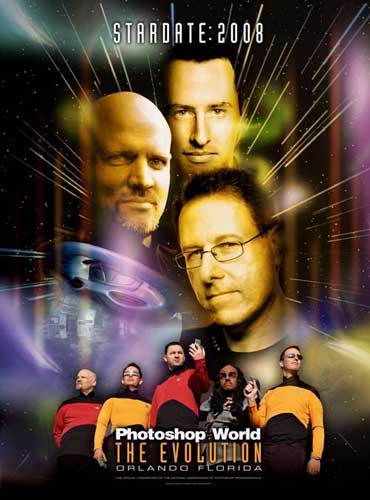 I'm headed out today to Photoshop World in Las Vegas! This year's theme is based (loosely) on Star Trek (as you can see from the Orlando poster above). I'm a Trekkie so this is right up my alley. This is one of the few shows that I actually enjoy working. It's a Photoshop Geek Fest! This is also a chance for me to meet and talk with many of the readers of this very blog. So if you see me, don't forget to say hi. It makes my day!
I'll be doing a session in the Adobe Booth Thursday on the CS3 Production Premium with a slant towards photographers. I'll also be doing two InDesign CS3 sessions Friday on the conference track, not to mention taping a session for Photoshop User TV. You might also catch me doing a lighting session in the Westcott booth as well as some iPhone tips and tricks in the Kelby Training Booth (schedule conflics permitting) It'll be a busy week and I'll be exhausted by Friday, but hey-it's what I do.
Look for my blog post on Thursday with updates from the Adobe Keynote address. I'll also post video from the keynote on my Adobe Creative Suite Podcast if there is anything new and exciting (and most likely there will be). Johnny L and John Nack never disappoint!