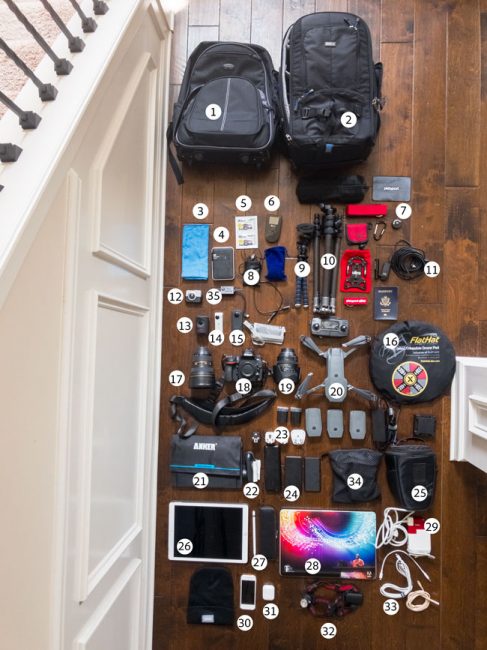 Hey everyone! I'm back from Iceland and as usual I learned a lot and had a blast. With that said there are a lot of questions that come up when ever I do a photographic excursion and this trip was no different. The questions started even before I left about the equipment I was taking and in some cases why I wasn't taking more? As promised here is the list of gear I took based on the load out pic above.
Targus laptop rolling backpack. I initially bought this for Photoshop World so that I would have to carry my heavy backpack back and forth. For the Iceland trip it served as a secondary equipment bag.
Thinktank Streetwalker Backpack. I love this camera bag because it not only holds my camera gear, but also my iPad Pro and MacBook Pro.
Klear micro fiber cleaning cloths.
WD My Passport Wireless 2TB HD. This drive is a lifesaver as it allows you to backup your SD cards without having to use a computer. It has a lithium ION rechargeable battery and you can just plug your SD cards in and they automatically copy to the drive.
Klear wet pack screen cleaning pads.
SkyRoam contract free WiFi Hotspot
Platypod Max camera tripod without being a tripod.
Rode SmartLav+ microphone for doing live streaming and interviews.
Arkon Smartphone Tripod for capturing 360° and iPhone videos in general
Gitzo Traveler Carbon Fiber Tripod
Nikon cable release for capturing long exposures without having to touch the camera.
DxO ONE 24MP DSLR quality camera for iPhone.
Mevo Live Streaming 4K Camera.
Insta360 nano 360° still, video camera and live streaming camera.
Ricoh Theta S 360° still and video camera.
FlatHat Drone collapsable landing pad.
Nikon 14-24mm Wide Angle Lens
Nikon D810 DSLR 36MP full frame camera
Nikon 28-300mm Zoom lens
 DJI Mavic Pro 4K Drone
Anker Solar 15W USB charger.
Monster 4 port AC travel power strip
OREI 2 in 1 USA to Europe Adapter Plug
Anker backup batteries for charing USB devices.
Vovomay Hardshell Shoulder Waterproof Suitcase Bag For DJI Mavic Pro
iPad Pro 12.9″ 256GB WiFi-4G Gold
Apple Pencil for iPad Pro and case.
MacBook Pro 15″ Retina 2014 with custom Gelaskin.
PlugBug USB port for Apple wall charger.
Apple AirPods, but my Blackpods arrived the day I left.
Coast Head Light dual color.
Anker PowerLine+ Lightning cables.
di-GPS for my Nikon DSLR
See the whole story below…
The list above only tells you what equipment I took to Iceland this year. If you want to know the whole story, check out the Spark Page embedded below:
I told my story with Adobe Spark Page. You can see it above or here. (don't forget to scroll)
If you want to see a quick video recap, check it out below:
The Bottom Line
You can always carry more gear or less gear. The trick is having a plan and backup plan for your trip. The one thing I wish I had brought more of was memory cards for the drone. I totally messed up there and I'll tell you about that in another blog post. Overall though I'm happy with the footage that I came back with and I learned a ton about my Mavic Pro. Can't wait for my next adventure!