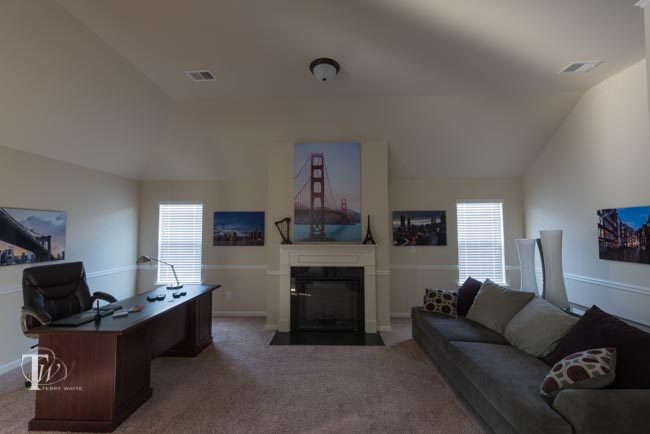 Lately I've been getting more and more of my work printed and mounted. Typically I get either canvas prints, metal prints or prints that I frame. When I moved into my new house I basically had a clean slate to start with. I started mounting pics where I wanted them, but after hanging the first couple I started to question the height. Honestly I was just eyeballing it. I had always heard that pictures should be mounted at eye level, but what does that mean? After all I'm 6'1″, so eye level for me is going to be a lot higher than eye level for someone shorter than me. That led me to do a little research…
There is a recommended height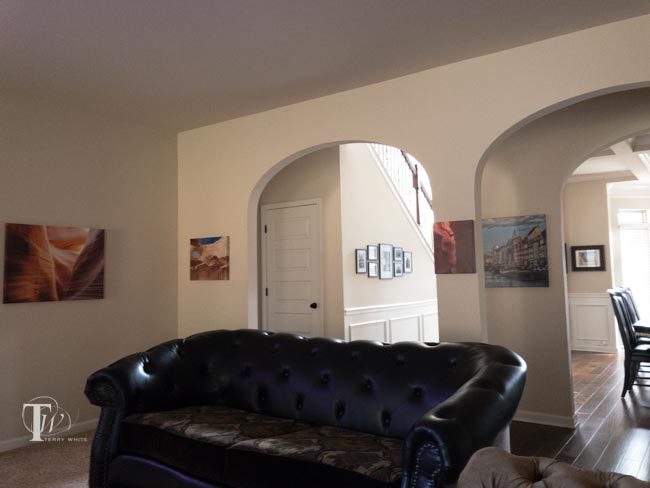 I found an article that suggested that the magic number for the center of your photo is 57 inches from the floor. It seems that art galleries and museums use this measurement.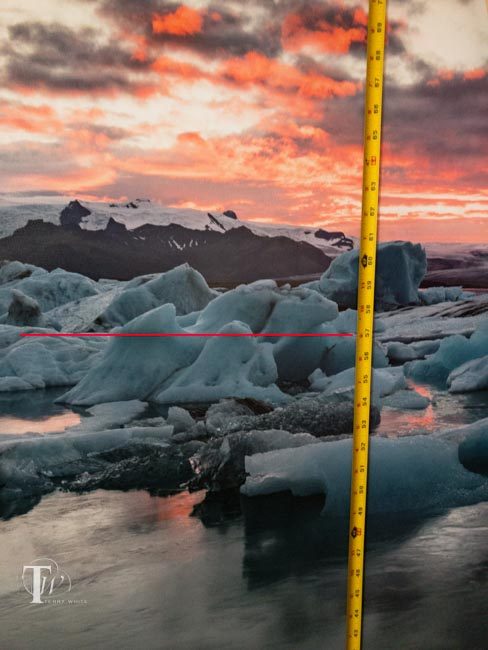 I figured I couldn't go wrong with this rule. I started hanging all my new pictures so that the middle of the picture or grouping would be 57″ from the floor. I even went back and lowered the ones that were too high.
How to measure for a consistent look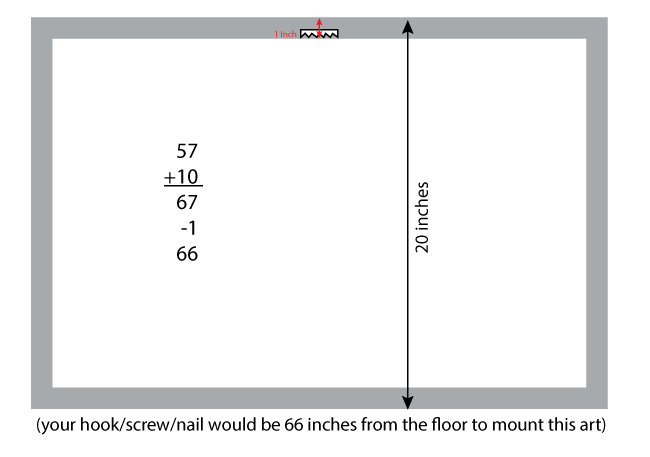 Let's say you're mounting a canvas print that's 30″ x 20″. This means that the height is 20 inches. The middle of the print would therefore be 10 inches. Since most hooks, wires, etc are going to be near the top of the photo, you'll need to do a little math for each piece of art that you want to hang. In this example we'd add 10 inches (the middle of the photo) to 57 inches (where we want the middle of the photo to be on the wall) and that would give us 67 inches total. Before you put your hook in the wall, you also have to subtract the mounting hardware from the top of the artwork. Let's say that there is a hook 1 inch from the top of the artwork on the back. This would mean that you would want to hang this canvas print at the 66 inch mark on the wall.
There will be exceptions to the rule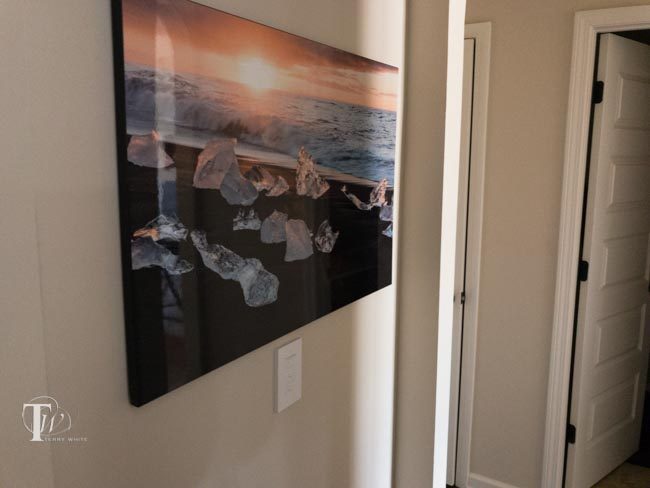 Unfortunately there will be times where this rule can't work because there's an object in the way. For example, in this case above there is a light switch below the art. Had I used the 57″ rule, the art would have partially covered the the switch. That wouldn't have worked, so I had to add 3 inches to the measurement to raise the art. The same thing happened with the metal prints to the left and right of the fireplace in the first photo at the top of this post. There's a light switch on the right of the fireplace and therefore I had to mount those two prints a little higher.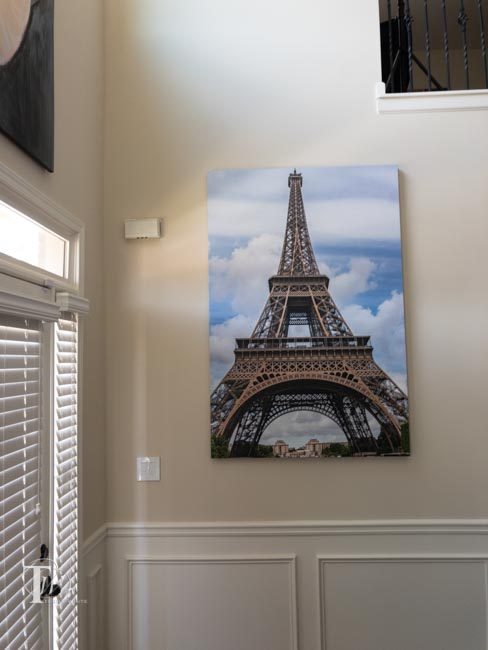 There could also be molding an trim on your wall that would interfere with a larger print. In this case above my Eiffel Tower canvas print is 60 inches tall. So rather than focus on the 57″ rule I center it from the landing above to wood molding on the wall.
What about printing your photos?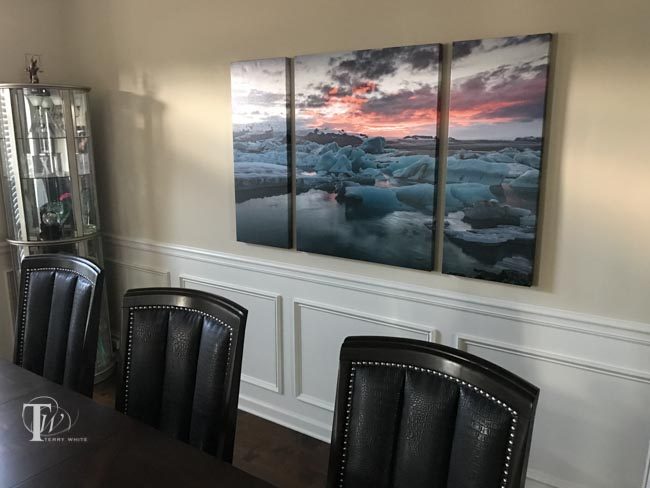 I know several photographers that print their own photos all the time. They do an amazing job at it. I have printed my own photos too, but honestly I just don't have the patience for it. It seemed like every time I wanted to make a print it took more work to get the printer ready than had I just let a service provider print them for me. When I moved from Michigan two years ago I left my printer behind.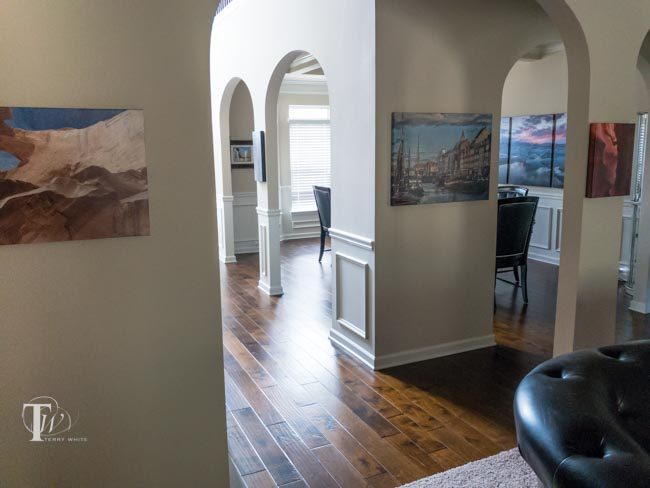 Believe it or not, I use Costco – Yep, Costco. Yes the wholesale warehouse. Yes, that Costco. I know it doesn't sound all that glamorous or magical, but I use Costco for two reasons. They do a great job AND they regularly have to the lowest prices.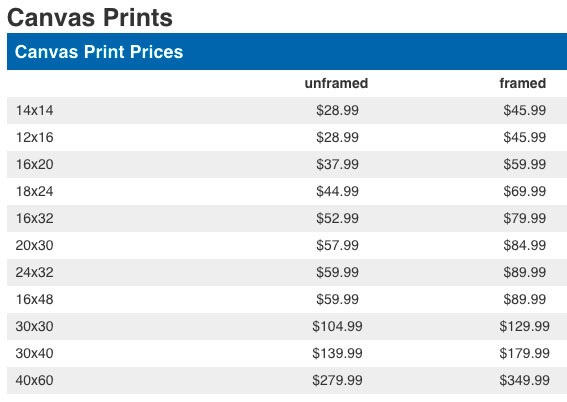 In Michigan my studio was only a 10 minute drive from Costco. I would upload the photos I wanted printed the night before and pick them up the next day. Sometimes I would upload and pick up the same day. Yes you could even download the color calibration profiles for a specific location. However, here in Atlanta my local Costco is about a 40 minute drive one way. Therefore, I've had all my new canvas and metal prints shipped to me. They come ready to hang.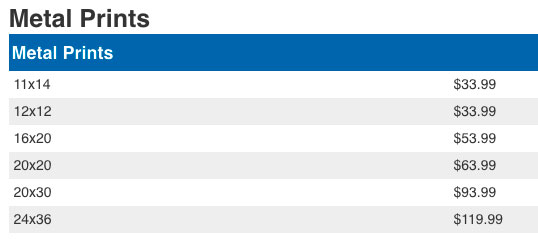 So far the experience has been great. I've only had one shipment that was damaged during the shipping. I had two metal prints that arrived bent and broken. I called Costco and they replaced them with no hassle. They didn't want the old ones back or even a photo of how they were broken. Excellent customer service. The new ones arrived in perfect condition.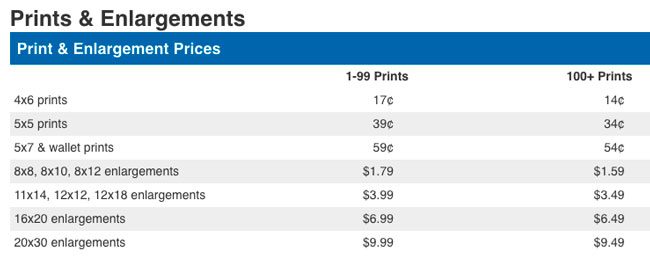 With Costco's low prices, I just can't really justify the cost of a large format printer, ink and photo paper, not to mention the time to get a good print. If I were to buy a photo printer today, it would be this one. I could get a lot of prints done for the cost of the printer alone, not to mention the ink and paper. I would still send out my canvas and metal print work.
Prepping my photos in Lightroom for Printing by a Lab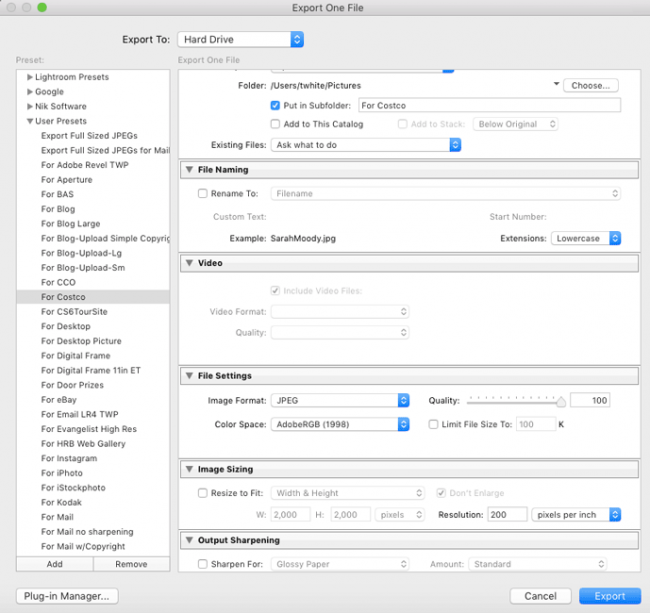 Again I wish I had some magical top secret solution to share with you, but I don't. I basically export a full res JPEG using the AdobeRGB color space. However, I do have a tip. Since most prints will usually seem a bit darker than they looked on your computer screen, make a Virtual Copy of your processed photo in Lightroom and increase the exposure by a .5 to 1 stop. Also before you send your first BIG job to a new service, try a smaller (less expensive) print first. In all the printing I've done with Costco in the last five years I've only had two that were unacceptable. For whatever reason the color was WAY OFF. They reprinted them and they came out fine. I've had about a 99% success rate over the last 5 years. These are prints that either came out as I expected or exceeded my expectations.
How I get that Studio Matted Print Look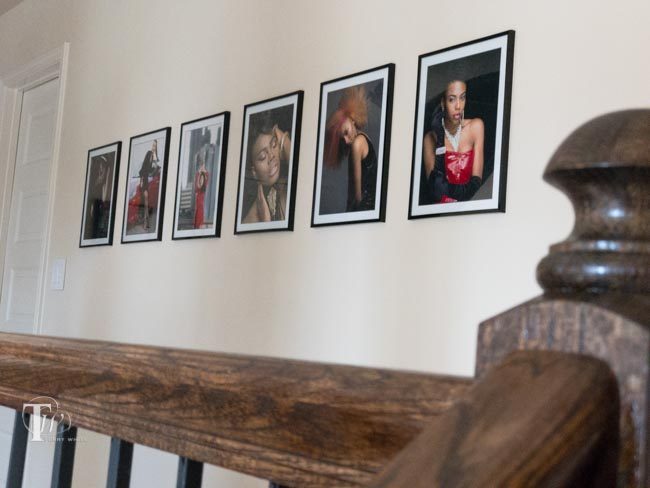 The framed prints above are 11×14″ in size. However, they appear as if they have a white matte around them. To create that "look" I actually use the Lightroom Print module (no I'm still not printing my own prints).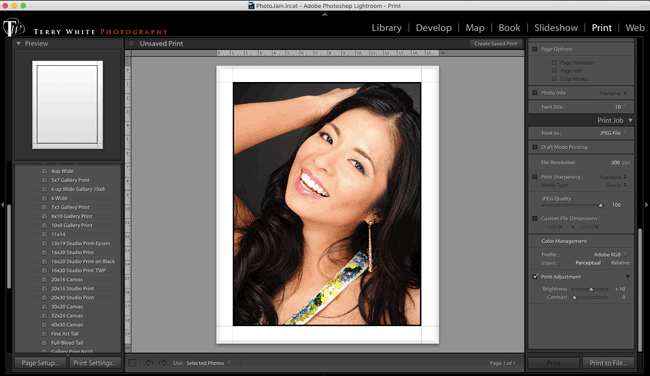 The Lightroom Print module can also be used to generate JPEG files. I love the Print Module because I can use it to "style" my prints by adding a visible light grey border around my photo and by making the cell smaller I can have a white "matte". When printed and frames this gives that optical illusion that there is a physical matte in front of the photo. Once you have the look you want you can save it as a template to apply to other photos. Just click the Print to File button to make a JPEG of the image you styled. Then upload that JPEG to the printing service of your choice.
The Bottom Line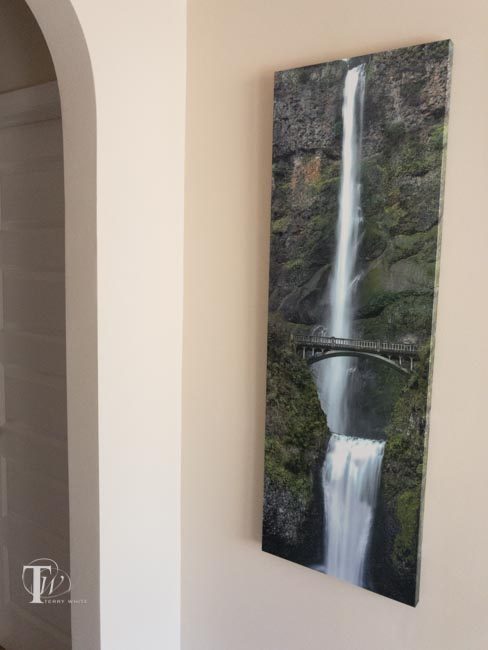 I've been a fan of digital photography since the Apple QuickTake 100 camera. That was the day I stopped buying film. Although the pictures from that camera were barely suitable for anything much less printing, I saw the handwriting on the wall. However, showing someone my pictures in print seems to make them more "real." Digital is great when you have to share images across distances and to strangers, but when I walk around my home I'm glad that I'm surrounded by the memories that I created.
You can see my pic of the day by following me on Instagram here.