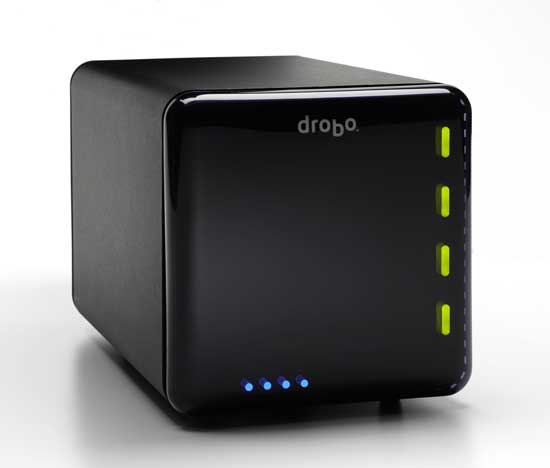 My buddies have been raving about Drobo for over a year. For some reason I was just not getting it. Maybe it was the name or the tagline of "data robot" that was throwing me. Anytime someone mentioned Drobo, I would have a vision of a robotic arm that would move drives from slot to slot.
What is Drobo?
Well, I finally took a closer look. Drobo is not a robot! At least not in the mechanical sense. Drobo is a 4 bay hard drive array (RAID) that continuously monitors the health of the drives you install. Drobo automatically combines the drives you install into a single volume mounted on your desktop. The drives are also automatically mirrored/stripped for data protection. For example, if you put in two 750GB drives you will only have 696.8GB of available storage to you. This is because Drobo is using the other space (drive) to constantly protect/mirror/backup your data as it's writing it. It's also reserving a little bit of space so that you can hot swap out a drive if needed because you want to install a bigger one or if one is failing.
What sets Drobo apart?
I have used and written about other RAID systems. What sets Drobo apart from the rest is that it doesn't require that the drives be the same size. You could for example start with a 750GB drive and 1TB drive. This won't buy you any extra space if you're only using two drives, but it will allow you to grow your available space by adding say a 3rd drive. The Drobo website has a fantastic "Drobolator" (space calculator) that will allow you to play out all your "what if" scenarios on how much space you will have depending on how many drives you install. The other thing that sets Drobo apart is the way it works with multiple drives. Drobo uses a technology called BeyondRAID. This allows it use both Mirroring and Striping. Drobo is also different in that it constantly monitors the health of your drives and doesn't just tell you a drive has failed, but also tells you that a drive is going bad so that you can replace it BEFORE it dies. Even if you didn't notice the warning (red light) and it died, you would still be protected as your data would be on the other drive(s) in the unit.
Great design
I love the way Drobo is designed. No screws or software to install (although the Drobo dashboard app makes it much easier to format your drive). You just pop off the magnetic cover and slide your hard drives in. The original Drobo was USB 2.0 ONLY. Many of the reviews I saw complained that this made it too slow for use as your main drive. The new Drobo is a Firewire 800 model (also has USB 2) and that makes it fast enough for regular use! The indicator lights on the front tell you all that you need to know including health of the drives and amount of space used.

What's my configuration
I put four 1TB drives in it for a total usable capacity of 2.7TBs. Drobo is not bootable. I have it as a data drive on my Mac OS X Server. So far after a week, no major issues. It does take a few seconds longer to spin up, but that's to be expected on any RAID system.
Archiving, Backing up and Data Drive
The original Drobo, which was USB 2.0 only, wasn't really fast enough to be used as a main drive. At least that's what most people said about it. Therefore, most people looked at Drobo as an archival solution only and not for active use. Now that the Drobo has Firewire 800 support, it is fast enough to be used for your main drive or online storage. However, keep in mind that the Drobo is NOT bootable (even if you got it to work, it's not recommended). This is why I have Drobo attached to my Mac OS X Server as a data drive, but not as the boot drive. I still boot from the internal drive which runs the Server OS and then I have the Drobo shared on my network via Mac OS X Server. Speaking of Archiving, the question becomes how much "stuff" do you need to keep? I've watched my server storage needs grow each year. I quickly went from a 250GB, to a 500GB, to a 750GB, then to a 1TB and now to 2.7TB's of storage. What's taking up so much space? You guessed it: Digital Photos, Music and Videos. I recently had a conversation about this very topic with Scott Kelby and he even wrote a blog post about this important topic with some tips. As a photographer, let's say I do a shoot and let's say I end up with 500 captures. I'll do my best to narrow that down as best I can, eliminating the bad ones, the ones that are very similar or the ones that I just don't like. Now let's say that I'm down to 300 shots. I'll then post a web gallery for the client, model, friend, etc. to pick the ones they want. So now let's say they've picked their favorite 10 or so and I've picked my favorite 10 or so. Those are the ones that get retouched. Those are the ones that are delivered as the "Final" shots. So what do I do with the other 280? You guessed it, I keep them! Not once has anyone ever come back to me and said, "hey, you know those shots you took 6 months ago that I really didn't like, well I'd like a couple of those shots now." So I literally have thousands of photos on my Drobo that will likely never see the light of day. Now keep in mind I know that family photos should be cherished and photos from wedding shoots should probably be kept, but where do you draw the line? Should those photos that no one wants (you or the client) be deleted? Should they be moved offline to some cheaper storage? Should they be deleted after so many months or years because they will likely not be needed? Everyone is going to have a different take on this. One thing I don't trust is storing photos on a CDR or DVD as they will eventually fail. Putting them on a hard drive that you don't use regularly could be risky too. Drives have lubricant in them that will eventually dry up or seize up if not used regularly. Online storage can be expensive too. I'm intrigued by the use of Flash drives for archival use. They are increasing in capacity and coming down in price. For example, Micro Center sells a 4GB drive for $12, a 8GB drive for $20 and a 16GB drive for $40. They are small and therefore easily stored. You could even bill it into the cost of the shoot. For example, if you were doing a portrait shoot and you expected to end up with 300 12MB RAW files, those would fit on a 4GB flash drive. So you could bill an extra $12 to store these photos. Slap a label on it, put it in an envelope and staple it to the contract/model release. However, the question of longevity still comes to mind. What's the shelf life of these flash drives?

The bottom line
If your storage needs continue to grow, then Drobo is something that you should look at. As you need more space, you just add/replace with bigger drives. the drives are even hot swappable. You have to also remember that even though your data is much safer in a Drobo than a single drive, this doesn't protect you in the case of a fire, flood or theft. So you should still have a strategy for offsite storage. I'm currently backing up my Drobo to an external Firewire drive (actually I rotate between two) that I put in the Safe Deposit Box at the bank. Drobo is cross platform and works on both Macs and Windows PCs. An empty Drobo (no drives) goes for $499.99. You can then buy whatever SATA drives in whatever capacities you want. You have to start with at least two. Use it for data, use it for archiving or use it for backup. If you want to share a Drobo and you don't already have a fileserver set up, you can buy an additional piece of hardware called DroboShare ($197.48). Note: Although DroboShare has a Gigabit Ethernet connection, DroboShare connects to Drobo (up to two Drobos) via the USB 2 port and NOT the Firewire 800 port. So I wonder if that creates a bottleneck in performance? See how Drobo works from the Video demonstrations here.