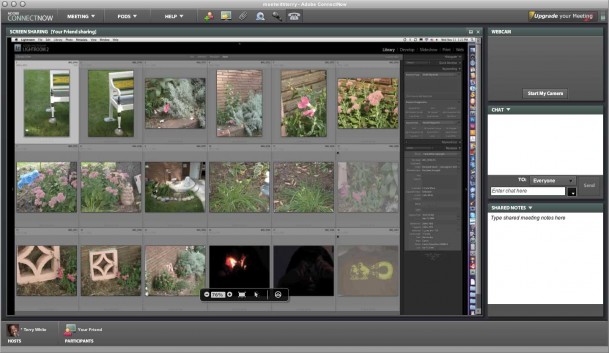 If you know anything about computers, chances are you have a friend, relative or colleague that knows less than you do and they come to you for help. I have a couple of friends that come to me from time to time and ask me "how do you do______ again?" Usually it's something that they actually have done before but they've either forgotten how or they've missed a step. Well if you've ever tried to help someone remotely with a computer problem before you know that half the battle is for them to explain what's going on on screen or what the actual problem is?
Look at their screen over the Internet
There's actually a way for you to see EXACTLY what's going on as long as you and your friend have access to the Internet. Adobe provides this service FREE of charge and it's called Acrobat Connect Now. As a matter of fact if you're in one of the CS4 products you can get to it even quicker by choosing "Share My Screen" from the file menu. However, even if you're not in a CS4 product and even if you don't even own an Adobe product you can still use this great service for FREE. Just head over to acrobat.com and sign up for an account. If you already have an Adobe I.D. then you're all set.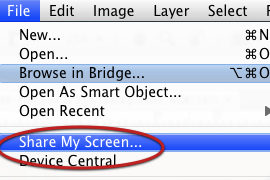 How does it work?
Once you setup your account on Acrobat.com you can login and access Acrobat Connect Now. This is a Flash based technology that gives you a persistent meeting room for doing your own online meetings and presentations for up to 3 people/locations. However, in addition to sharing your screen and ANY app that you may be working on (doesn't have to be an Adobe app), you can also "request" to see the screen of any other meeting participant including the person you're trying to help.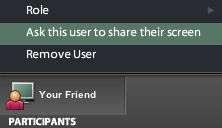 The other person doesn't need an account! They just need to go to your meeting room via your meeting room URL. Once they are in your meeting room live with you you can then request that they share their screen/desktop with you. Up until this point the other person doesn't need to install anything at all. However, if they are going to share their screen/desktop with you then Acrobat.com will ask to automatically install the Connect Now Add-In. This very very small plug-in will download, install, and launch and log them back in automatically. At that point they can share their screen with you and you can see exactly what's going on.
Take Control!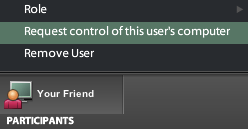 Once the other person is sharing their screen you can of course walk them through what to click on to solve their problems. However, it may be faster or easier for you to just do it! So you can also choose to "Request Control". The other person will have to grant your request via the dialog box that will popup on their screen. At that point you can use your mouse and keyboard to control their computer as if you were sitting there. This is a consultant's dream. You can offer this as an additional service offering or help desk type support.
Giving Control Scares Me!
At any point you can take back control. Also you will see exactly what the other person is doing as you are still sitting in front of your computer. Once you leave the app/meeting room they no longer can do anything to your computer via Connect Now. Not to mention you're asking this person for their help so I assume that you trust them.
Can I see and talk with them too?
This question always comes up. So let's review the options for voice. Connect Now has VoIP built-in. So you can (as long as you have a mic on your computer) use the VoIP features of Connect now to talk in real time with your meeting participants. Acrobat Connect Now also comes with a Teleconference Phone Number and Passcode. So you can get on the phone and have everyone dial into a conference call at no additional cost than what it takes to dial the NON-toll free (Long distance) number. You can also use your webcam to project your image or anything else you're trying to show that isn't on your screen. They can share their webcam with you as well. There is also a Chat pod so that you can text chat back and forth and lastly you can of course use your own phone and just call the person directly. They probably called you in the first place for help anyway. Just keep them on the phone while you jump into Connect Now.
The Bottom Line
There is no better cross platform solution that allows you to do this. Especially for FREE! That's right, it doesn't matter if you're on Mac or PC or if they are on Mac or PC. This solution is platform independent. Now granted the performance will be at the mercy of your internet connection. However, if you both have a decent speed internet connection, this should work out great for both parties. So end your frustration by not understanding what the other person is trying to explain to you. Just look at it for yourself.