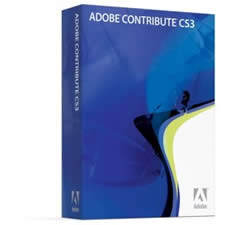 The New Adobe Contribute CS3 is an EXCELLENT way to update your blog! I'm now a believer. Although I've been doing this blog since February 2006, I still feel relatively new to blogging. I only started my blog because Apple had come out with iWeb and it seemed like an easy way to get started with a graphical tool (see my original iWeb blog here). However, after a few months I started to feel like iWeb just wasn't powerful or flexible enough for some of the things I wanted to do. Even simple things like post dating a blog entry didn't seem possible with iWeb. Sure you could change the post date and time, however the minute you posted the entry it was live on your site regardless of what time and date you set it for. It wouldn't even allow me to chose a different template for my site without starting over again.
Then Adobe Photoshop product manager John Nack turned me on to Contribute and I kept it in the back of my mind until about a month ago. I started experimenting with Contribute also because my web hosting company made WordPress blogging available at no additional cost. Contribute is compatible with many of the popular blogging engines such as Blogger and WordPress. I like Contribute for blogging because it lets me create blog entries offline and post date them to appear at the exact time and day that I specify. It lets me work in a WYSIWYG environment. It also doesn't restrict me to only use Contribute. I can still post entries if I'm out and about (away from my computer) from any web browser. I can much more easily use tables, insert images, add video including Flash Video, audio and format my text. Not to mention easy bullets, numbering and indents.
No software product is perfect and I do have a few wishes for the next version. I would like to have interactive spelling. While Contribute does have spell check, you run it after you've typed all your text. That seems so 1995. Grammar checking also would be nice. However, even with these minor omissions, Contribute CS3 is a solid tool for Blogging and for Web Designers to allow their clients to update their own web sites (it's original mission). It even lets Mac users update their .Mac hosted web sites. Contribute CS3 is available as a stand alone product or as a part of the Web suites.