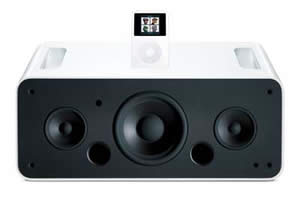 Apple made a lot of noise initially around the iPod hi-fi stereo system for the iPod. They clearly spent the majority of their time on sound quality for this product. I'm not knocking it as it is a great sounding system with lots of volume, but it entered a crowded market at the high end of the price range. At $350, there are lots of speaker system to choose from at that price and less. Even the Bose Sound Dock is only $299 (It's hard to say Bose and "only" in the same sentence). I own both of these systems and they both have their advantages over each other. Even to my non-audiophile ear, the Bose SoundDock sounds a bit better in my unscientific side-by-side test in a big open room. It also doesn't have that storm trooper look like the iPod hi-fi.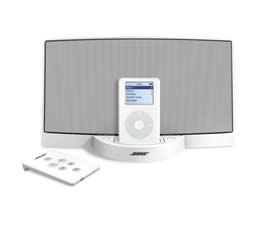 But like I said, they both have their advantages and disadvantages. The SoundDock is smaller and takes up less space. The iPod hi-fi can run on batteries and has audio-in. Therefore it can be used as a speaker system for other sources such as streaming from your AirPort Express or directly connected to your notebook for presentations.
Now it's 2007 and there is a new kid on the block. Check out the New Altec Lansing iMV712 (what a catchy name). The new iMV712 comes in at the same $350 price as the iPod hi-fi, but offers an 8" LCD screen so that you can actually watch content on your iPod video without having to hold it right up to your face (exaggeration alert). While 8" is not all that big, it's big enough for comfortable personal viewing from a reasonable distance.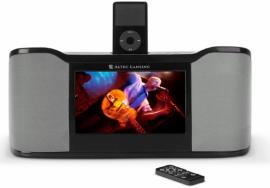 The minute the iPod hi-fi came out, people (critics) started saying it should have had this and that. One of those things that people said it should have is a screen. Sure not everyone has an iPod video. However, since it would have come from Apple the screen could have had the iTunes visualizer built-in. It could have displayed the Album art nice and big while you were just listening to music whether it was an iPod video or not.
I don't have the new iMV712 and have no plans to buy one. I'm pretty set between the speakers I already have and my Apple TV's. However, if I were in the market for a higher end speaker system, this is the one that I would start my research with.