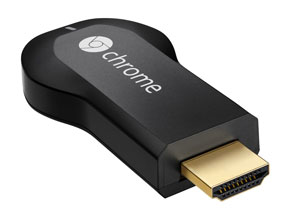 If you've followed my reviews you probably already know that I'm a fan of TiVo and Apple TV. Between the two devices I pretty much have all my TV watching needs covered. TiVo is definitely the best DVR experience for recording and watching TV shows and Apple TV is great for streaming all my media content, watching Netflix, YouTube, HBO Go, iTunes rentals, podcasts, etc. With Apple TV I can even stream/mirror any content from my iOS devices OR my Macs. The latest Macs and Mac OS X has AirPlay built-in. Even with all these capabilities I was intrigued by Chromecast. The low $35 entry price was low enough to give it a shot.
What's Chromecast?
Chromecast is a small "dongle" that attaches to your TV via HDMI. However, don't let the picture deceive you as it did me. You not only connect it to your TV via HDMI, but you also need to supply power to it. You can either use the supplied power adapter and plug it into the wall or you can use the USB cable and plug into an available USB port on or near your TV for power. This freaked me out at first because my TV is on the wall and I didn't want any wires hanging down. However, I was lucky to have a USB port on my TV right next to the HDMI ports in the back. I was able to plug in the Chromecast and power it right off the USB port on the TV as well. No visible wires!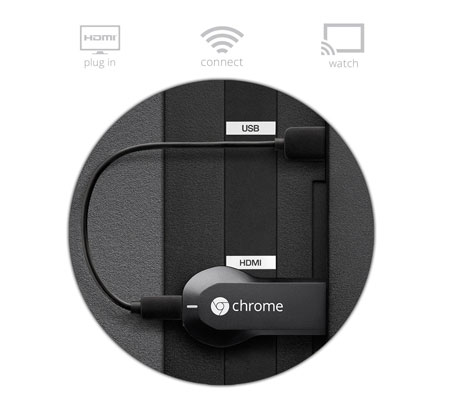 Once it's plugged in and you turn your TV on to that HDMI input you'll be presented with a setup screen. Head over to your computer and download the setup app. You computer should see the Chromecast wirelessly. During the setup process you'll give it access to your WiFi network and enter your WiFi password. Mine needed to download a firmware update then I was up and running. After the Chromecast install on the TV, you'll need to download (Google Chrome if you don't already use it) the Chromecast extension for Chrome. This extension lets you broadcast from any browser tab you have open in Google Chrome to your TV.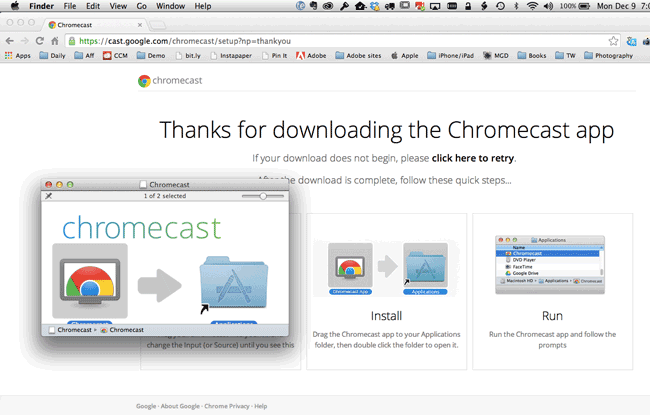 How is this better or worse than Apple TV?
First off it's not direct competition to Apple TV. Apple TV does way more and costs more. Chromecast only works with whatever you can display in Google Chrome or from a Chromecast compatible app on your computer or mobile device. So no streaming of other things on your computer unless they are Chomecast aware. However, that's probably the one thing I like about it over Apple TV. While I can use AirPlay to stream ANYTHING from my MacBook Pro to my Apple TV, it's a direct mirror. I cant' say stream a slideshow in Lightroom and then go work on another photo in Photoshop. It's a mirror of whatever I'm doing on the computer. (UPDATE – with Mac OS X 10.9 Mavericks you can AirPlay to an Apple TV and use the Apple TV as a second display/extended desktop and NOT mirror.) However, with Chromecast I can stream content from one browser tab and go work on anything else while that browser content is streaming in the background. That's what I like about it most and I think that's what people that are trying to cut the cable/satellite bills out of their lives will like too. You can stream Netflix, HBO Go, YouTube or any other site to your TV while not tying up your whole computer. There are times that I watch my Slingbox via my web browser. Now I'll be able to stream that content to my TV.
What about audio? This is the tricky part. If your content is either Flash based or coming from an App that is compatible with Chromecast then your audio will also stream to your TV. However, if the content is not Flash based then the audio will play through your computer.
The Bottom Line
If you want to stream content from the web to your TV, this is your easiest most cost effective way to do it wirelessly. The playback rate is "decent", not great or perfect, but certainly watchable without dropping too many frames. The picture quality was very good. It's a one time cost with no monthly fees. I'm tempted to get another one for travel/hotel room use.  You can get one here for $32.88. If you want to MORE, then I'd still recommend getting an Apple TV.