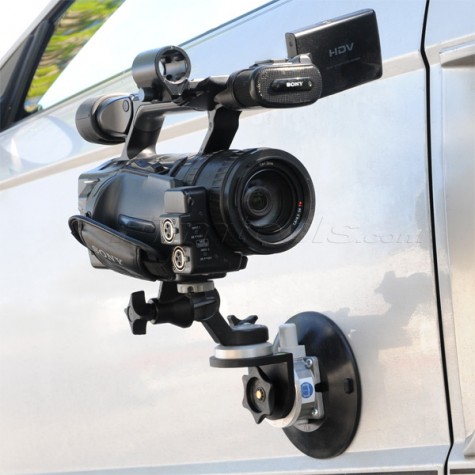 Last weekend I collaborated with my buddy Bruce over at Mandel Video on a video project. He was telling me that he bought a brand new Camera Mount for the car and wanted to use it on this project. Of course I had immediate thoughts of "yeah right, that ain't gonna work!" and I could just picture thousands of dollars in camera gear tumbling down the road. However, when I saw this thing and saw him attach it to the car I was very impressed! So impressed that when we were done shooting I immediately said "OK, how much for the mount?"
Here's a rough cut of the video we're working on that I put together for this review:
httpv://www.youtube.com/watch?v=rmsrVeSmOzc
Although the above video was shot with my light weight Canon VIXIA HF10 HD Camera, I would have been totally comfortable putting a DSLR (like my Nikon D5000) on this mount as well. The suction cup is rated up to 74lbs! The supplied camera mount holds up to 6 pounds. If you need more the folks over at Filmtools.com offer bigger badder options. We shot 3 different clips (1080i AVCHD) and I edited them together quickly in Adobe Premiere Pro CS4.
The Bottom Line
This mount does exactly what it says it does. I was so impressed that I ordered one for myself. You can check it here at Filmtools.com.