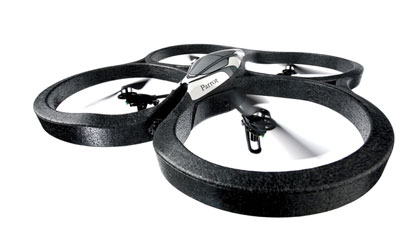 When the original AR.Drone came out I have to admit that I immediately dismissed it as a "toy" and I had very little interest in it. Sure, like any toy it would be fun to play with for a while. However, like many other toys you could quickly lose interest. Therefore I never bought one. Not even for the "cool (aka geek) factor".  Then the AR Drone 2.0 came along and it added something that I thought would be useful. The AR Drone 2.0 adds a better camera that does video at 720p HD. Yes, this raised an eyebrow and I decided to take a look. I did a pre-order and my AR.Drone showed up a couple of days ago. I figured I might have a use for this on set, especially on location shoots to do fly arounds of the set and the area that I'm photographing.
What's Great…
The great thing about this little drone is that it's light weight and very easy to fly. It doesn't come with a remote control! You actually fly it from your mobile device (iOS or Android). I downloaded the App on my iPad and iPhone. The AR Drone 2.0 has it's own built-in WiFi network. Once you charge the battery and pop it in, it powers up and starts broadcasting a network. You connect to this adhoc network from your device and then launch the AR Drone App (a free download). You see what the AR Drone sees right on your device. Using the accelerometers in your iPad, iPhone, etc. you tilt the device to control direction. There's an on screen joystick to turn the drone. If you suddenly lose control, just take your fingers off the screen and the Drone will hover in place.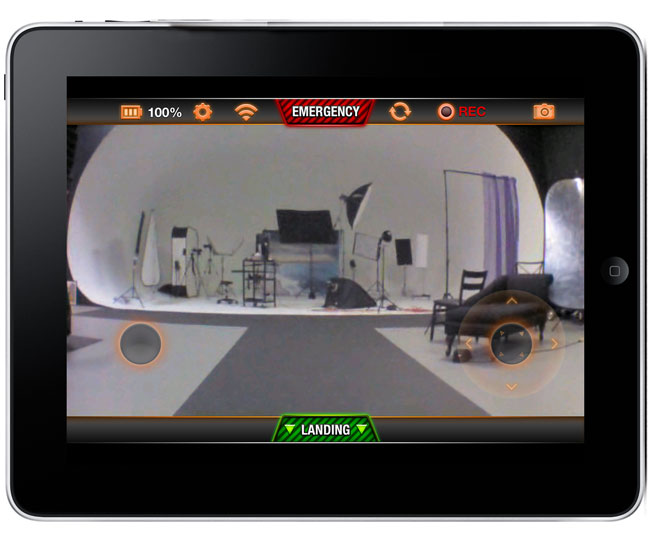 Since the built-in camera is always running you can tap the record button within the App and start recording/streaming video from the AR Drone right to your mobile device. Very Cool! The App even allows sharing directly to YouTube.
Here's a sample video I did flying around my photography studio while a friend also video'd the AR.Drone 2.0 itself using my iPhone 4s:
What's not so great…
Battery life is still relatively SHORT! You get one rechargeable battery and charger and the battery last for about 10 minutes of flying. Then you'll need about 90 minutes to charge it back up. Unless you plan to do really short flights/videos, you'll definitely want to have a couple of charged batteries on hand (about $35 each). It's light weight and while that's a good thing for travel, it means that a strong wind will take it away. Since it works via WiFi you'll also have limited range. Like most small cheap HD cameras, this one doesn't do well in low light. With a small lens/sensor comes lower quality video in low light. However, with enough light the video is more than acceptable for my needs.
The Bottom Line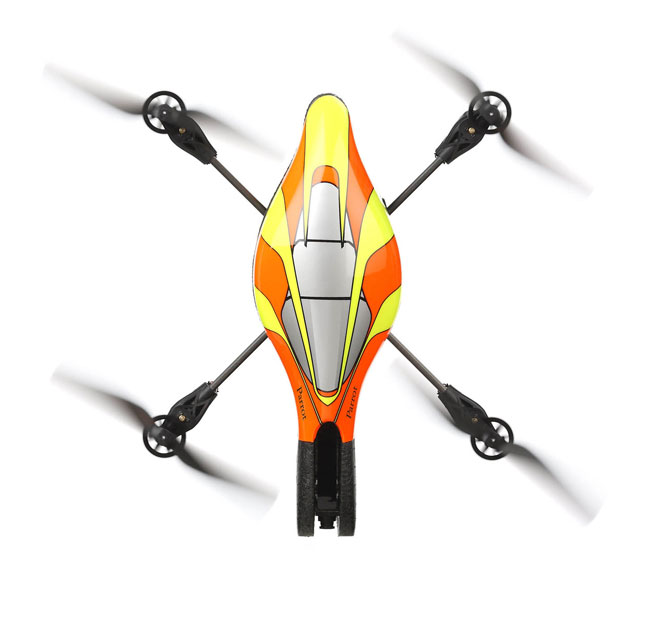 The AR.Drone 2.0 is an improvement over the original! Adding 720p Video Recording makes it useful as a tool. On a calm day I can really see some great outdoor uses for it.
You can get the AR.Drone 2.0 for about $299 here.
You can get the AR.Drone Free Flight iOS App here from the