The MacBook Pro Retina Display is the 1st "Pro" Mac to ship without Firewire. However, Apple also announced that they would ship a Thunderbolt to Firewire Adapter in July. Although the adapter did ship a few days late, it's here and no surprises – it works!
I was shopping for USB 3 drives, but I kinda just stopped looking. I figured that I could get by with connecting my existing drives via USB 2 until the adapter shipped. I'm glad I waited, because out of the box I just plugged in my existing Firewire 800 drives and up they came onto the desktop. This makes my MacBook Pro Retina Display complete.
Bonus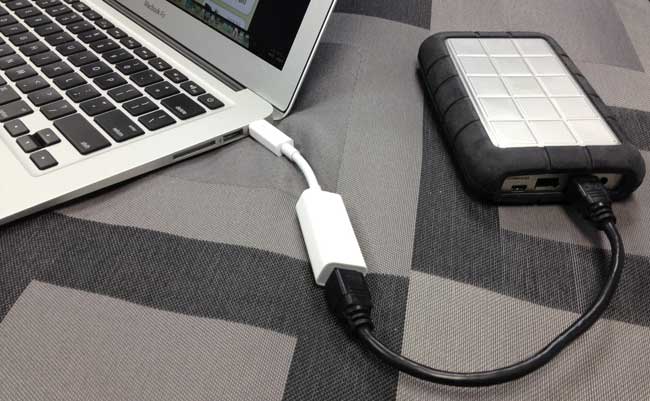 One of the downsides with going with the MacBook Air in the past was that you'd be giving up high speed connectivity to external drives. The original MacBook Air only came with USB 2. The last two models included Thunderbolt, but Thunderbolt drive availability was far and few between. This adapter also brings Firewire connectivity to the MacBook Air for the 1st time! I plugged in my LaCie Rugged 1TB drive into my MacBook Air via the Adapter and it just worked.
Although I haven't done any speed tests, the speed should be the same as Thunderbolt is faster than Firewire. It should therefore be able to keep up with Firewire drives.
You can get the Thunderbolt to Firewire Adapter here.