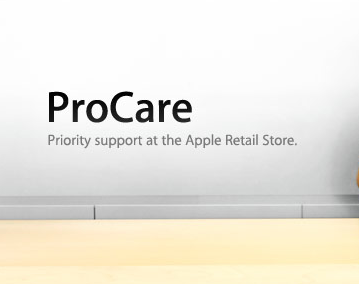 I use my Macs for work. So if I have a problem, I need that problem fixed pretty quickly (read immediately). My local Apple Store is great. I know most of the reps on a first name basis. They treat me wonderfully!! Although I could probably walk in and get special treatment, I try NOT to abuse their kindness. I don't walk in expecting special treatment. Therefore, I pay for Apple ProCare, which gives me (or you) Priority Support. You get to make advance reservations for a Genius Bar appointment. You get rapid repairs and moved to the front of the queue. This is the kind of stuff/treatment that I'm more than willing to pay for as I hate waiting in lines!
–
What I don't get is why does Apple treats this program so oddly?
With Apple you can do almost anything online including ordering thousands of dollars worth of equipment that will be delivered to your door. I have called support on occassion (prior to the Apple Retail stores)  and when the problem couldn't be resolved over the phone, Apple has shipped me a box to ship my computer back to them in and turned it around relatively quickly. Once they even sent a rep to my home to swap out a logic board.
You can buy MobileMe online and you can even buy AppleCare support online. Out of everything that Apple allows you do do online, the one thing that don't allow you to do online is buy ProCare ??? You have to go into the store and signup/pay for it in person! OK, fine! Whatever, I've done that. That's not the odd part. The odd part is that you get a ProCare card with no printed experation date. Sure you can keep track of it from the invoice and I do. However, once it expires, Apple sends you no notification whatsoever. No emails, no phone calls, no SMS messages, no nothing! I would think that they would want another $99 for the next year, but it seems like they don't care. Still this is not the odd part. OK, here it comes: Let's say that I keep track of my own expiration date. It's not to hard, simply put it on your iCal or other calendar. My card recently expired on 5/2/09. Again no notification, I only know this date because I'm manually keeping track of it. I want to renew it. However, the only way to renew it is to make another trip to the Apple Store and wait in line to do so. So I have to go to the store, possibly wait in line to renew the thing that I pay for not to have to wait in line. Apple! Dude! What's up with that? Why are you making it so hard for me to give you money?