This one is definitely going to have more appeal to the Mac users out there than the Windows PC users. However, Windows users stay tuned, I've got a reason why you might want this too.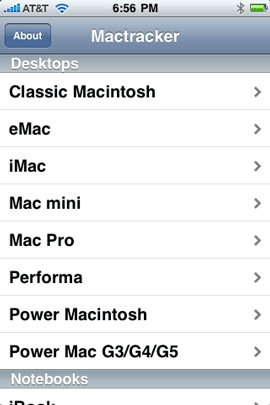 Mactracker has been a long standing indispensable reference tool on the Mac to look up the specs for all the various Mac hardware that Apple has released over the years. It's a great tool especially when you're in the market for a used Mac or selling your Mac and you or your customer wants the specs. Well now that tool comes to your iPhone or iPod touch. Just like the desktop version, Mactracker for the iPhone is organized by category and then by Mac type.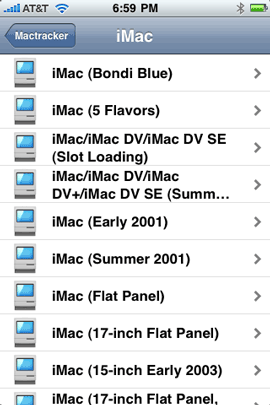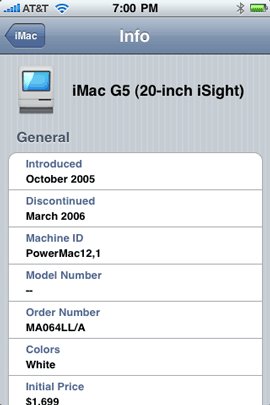 So lets say you wanted to know the specs on the 20″ iMac G5 with iSight camera. You would first scroll up to Desktops (assuming you had scrolled down to see what was there) and then you'd tap on iMac. There you see every iMac model since the first Bondi Blue introduced back in 1998.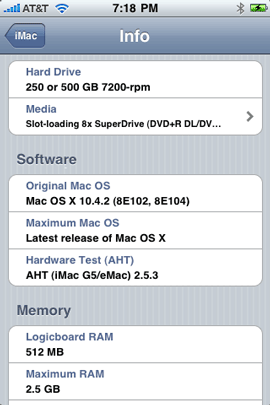 Once you scrolled down to iMac G5 (20-Inch iSight) and tapped on it, you would then see all the important information. Things like when it was introduced and when it was discontinued. Processor speed, latest Mac OS that it could run, maximum amount of RAM that you could put in it and all the info about Expansion, Ports, Graphics, and even the famous audible "Startup Chime" feature.
–
Mactracker, it's not just about Macs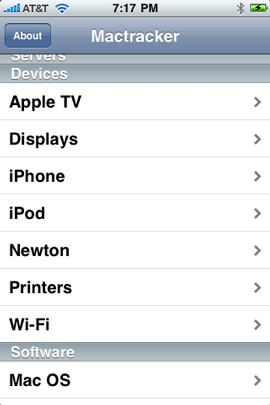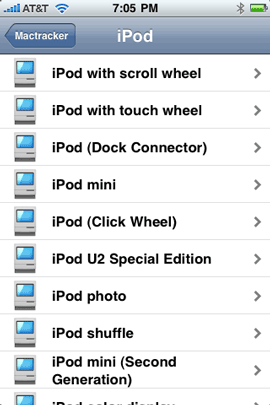 Let's say you are a Windows user, but you have an iPhone, iPod, AirPort Base Station, Apple Display, or Apple TV. You guessed it! That stuff is in there too. So if you were selling or buying any other Apple gear, this would be a useful tool to have.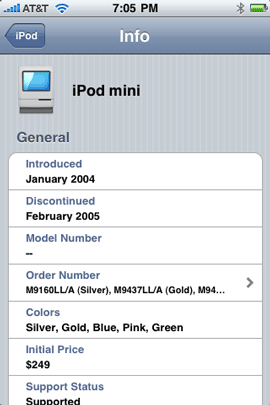 –
The Bottom Line
Having Mactracker on my iPhone is GREAT! I love the instant access to the specs about machines that I'll never remember or care to remember. Although the App works as advertised and best of all it's FREE, like most things there is some room for improvement. I was actually quite surprised that there was no option to email the specs page of a specific machine. Don't get me wrong, I know that the desktop app doesn't have this either, but it seems like such a natural for the iPhone version. I'd also like to see an "I have that" section. This way I could go through the database finding all my gear and mark it as a Favorite or "I have that" and then whenever, I wanted/needed to know the specs of a Mac or piece of Apple gear that I owned I could just go right to that section. Otherwise this app is great! I highly recommend it!
Get Mactracker today from the App Store as a Free download.
–

P.S. If you've ever wondered about some of the apps Apple features in their iPhone TV ads, they've put theme all in one spot for you. Check them out here.