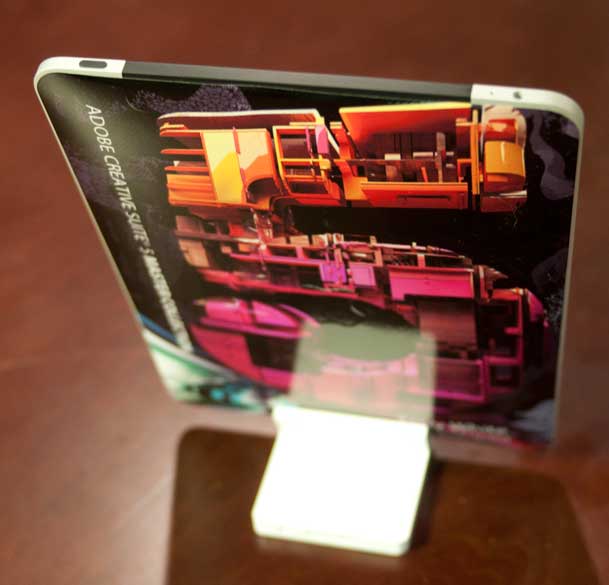 When the Apple iPad WiFi model shipped I did a pretty in-depth review of it, which you can see here. Therefore the purpose of today's review is focus primarily on the 3G capabilities. (and yes that's a custom Gelaskin on the back because that's just how I roll 🙂 )
Which model did I go with?
I had planned all along to go with the 16GB WiFi model for testing and reviewing and then get the 64GB WiFi+3G model for my own use. That's exactly what I did. Although I don't "need" 64GB's of space for my info and media content, I do plan to use the iPad for field backup of my photos and instant touch up and sharing using the iPad Camera Connection Kit. I typically shoot to either 8GB or 16GB memory cards and almost never fill them up in one day. After loading everything on the iPad that I wanted to have on it (including a couple of movies), I still had over 32GBs of free space. That will be plenty for photo backup each day of shooting. My wife claimed the 16GB WiFi version in case you were wondering.
What's different on the outside?

Not much. The only two visual differences on the outer case are the black bar across the top for the antennas/GPS support and the MicroSIM tray on the left side. Otherwise it's visually identical to the WiFi model.
What's different on the inside?
The obvious and biggest difference on the inside is that the WiFi+3G models include 3G wireless technology to allow you to connect to the internet pretty much anywhere there is GSM cell service. The other difference is that these models also include a real GPS chip. So while the WiFi mode can detect your location based on available WiFi signals, the WiFi+3G model can do so based on GPS satellites, cell towers AND WiFi signals. This also means that it's capable of running turn-by-turn GPS navigation apps although it may be a bit conspicuous on your dashboard. 🙂
How do the AT&T data plans work?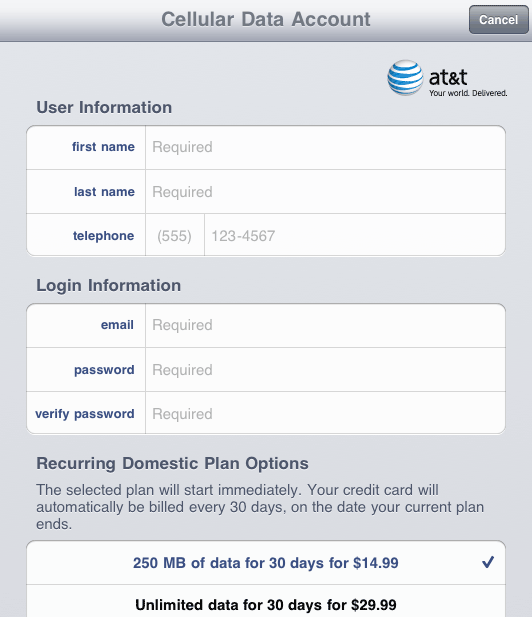 Unlike the iPhone there is no requirement to setup a data plan. You can use the iPad WiFi+3G out of the box (once you configure it in iTunes) on WiFi without ever signing up on AT&T. However, chances are you paid more for the 3G version because you DO want to use it on 3G when you're out and about. The good news is that not only can you set one up (3G account) whenever you're ready, but there is NO CONTRACT. You sign up with a credit card and although it's a recurring charge you can cancel, downgrade or upgrade whenever you want. AT&T offers two plans. You can either go with a limited plan of 250MB/month for $14.99 or an Unlimited plan for $29.99/month. You create your account and signup right on your iPad (Settings->Cellular Data). You also manage your account and upgrade/downgrade/cancel in the same area of the iPad settings. If you go with the limited plan you can also track your usage.
Which plan did I go with?
Since there is no penalty for changing plans, I wanted to see could I get by with the 250MB/month plan. My thought was that I'd be on WiFi "most" of the time and only use 3G when I had to. So I started on Friday (4/30) with the 250MB plan. Even though I was in my house on WiFi all day Friday when I checked my account it said that I had used 1MB. Um, OK (see my tip below). On Saturday I went out to get a haircut and although I usually have an appointment, I usually have to wait anyway. So I figured it would be a good chance to use my iPad on 3G and see how much data I would use on a regular day not connected to WiFi. I arrived at 4PM right on time and as usual I had to wait (Brian you really need to get better at scheduling 🙂 ). This time my wait was longer than usual. I had to wait just over an hour. However, I didn't mind the wait because I had the iPad for entertainment. I used this time to setup some Apps that I had installed but hadn't yet configured. I also brought up each video App to see if they worked on 3G or not (see Streaming Video below). Now keep in mind that I didn't watch more than a couple of seconds in each App. It was just a test to see if they worked or not. I read USAToday and some stories on SkyGrid. I did some email and responded to some Twitter and blog comments.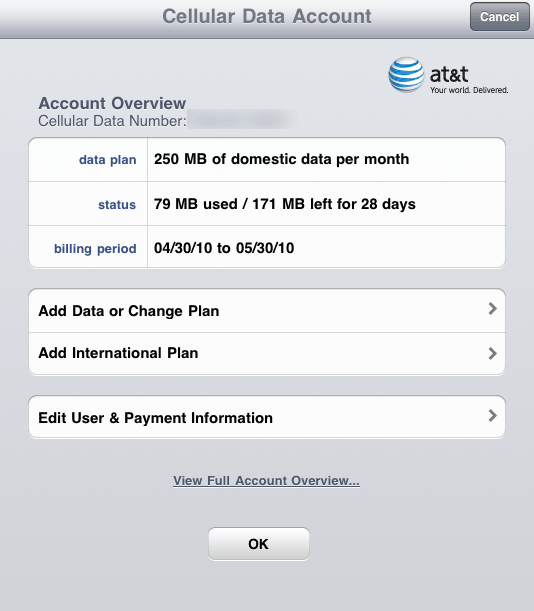 When I got home I decided to check my usage for that "hour" and I had now used 78MBs! Wow! 77MB in one hour of my "typical" use. So as you can see, there is no way that 250MB will last me a whole month in most cases. We'll see how the rest of the week goes. When you run out of data (you get three alerts at the 20% left, 10% left 0% left) you can either add 250MB more for $14.99 or upgrade to unlimited or let it run out for the rest of the month until the clock starts over again next month. In other words you're not going to be dinged any kind of overage charges by the kilobyte or minute. Also keep in mind that your iPad will connect to the retrieve email and sync info if you have PUSH on or a schedule. It's also in constant communication with Push Notification servers.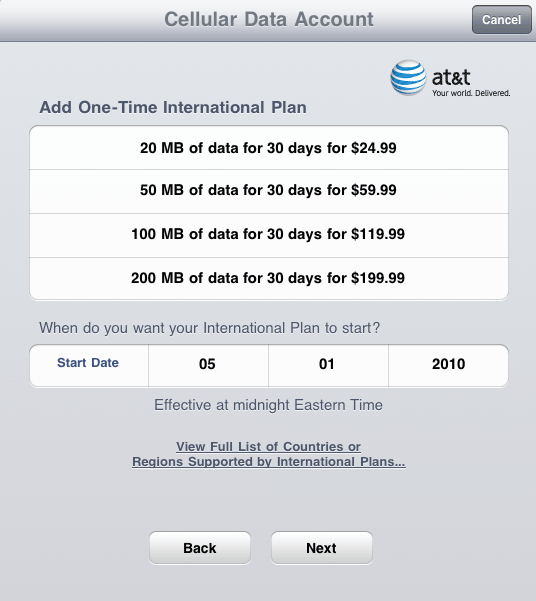 International Travelers – as we all know cell phone data charges while roaming internationally can mount to the cost of buying a small island. So just like the iPhone, Data Roaming defaults to the OFF position. Therefore you can't get hit by accident with international data roaming charges when you travel abroad. However, if you do want to use your iPad internationally you can add on an International Package for a month and even set it for the date you want it to start. That's cool. Not cheap, but cool.
A Tip for 250MB/month Plan Users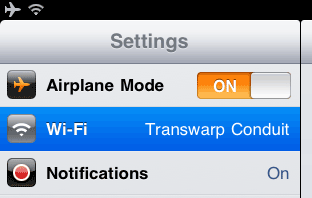 Like I said above, I got dinged for 1MB of usage even though I was on WiFi. Now that may have been what it took to setup the device or who knows what? However, I don't want the iPad on 3G unless I'm trying to use it on 3G. I've even noticed that when I pick up my iPhone 3GS sometimes it's on 3G for the first few seconds/minutes before it switches over to my WiFi network. That's fine on the iPhone because it's on an unlimited data plan. However, for the iPad you probably don't want it using up your 250/MB allotment unnecessarily. So here's a tip: 1) Go into your settings and switch your iPad to Airplane mode. This of course disables the wireless features especially 3G wireless. Now go to WiFi and turn it back on. Yep, the iPad (and iPhone) can be in Airplane mode and have both WiFi and Bluetooth ON. So effectively you've disabled the 3G signal and therefore can't accidentally be on 3G cellular data when you don't want to be. When you do want to be on 3G because there is no WiFi available simply turn Airplane mode OFF and you'll be able to surf on 3G.
Streaming Video Playback While on 3G

Apple/AT&T seem to allow some video streaming from some Apps and no video streaming from other Apps while on 3G. For example, the ABC App won't stream at all. A message is displayed telling you to connect to a WiFi Network. YouTube does work, but delivers up a smaller lesser quality video than you get when you watch the same video while connected to WiFi. The Netflix App seems unaffected. So it looks like your mileage will vary on an App by App basis.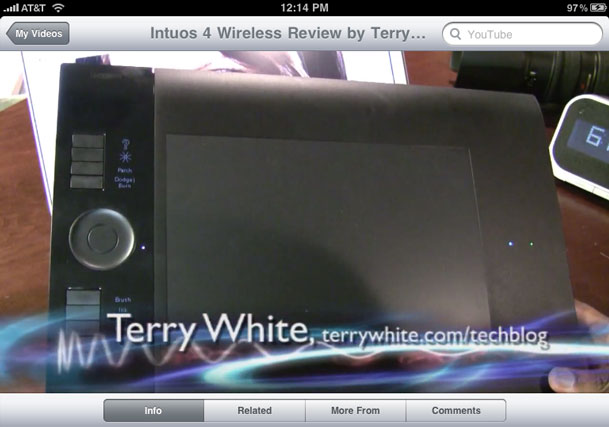 My YouTube Video on WiFi (looks great)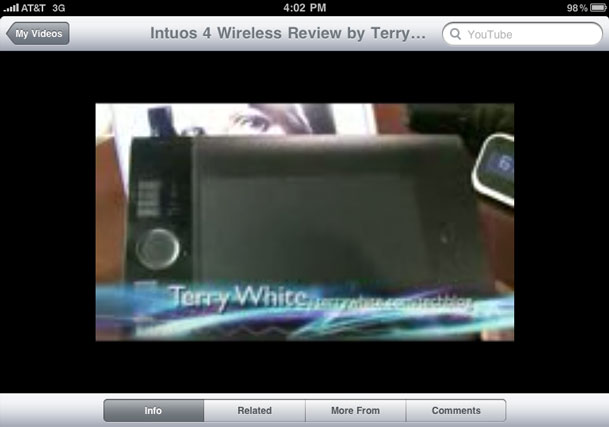 The Same YouTube video on 3G (doesn't look so great)
More!
25 iPad Tips – My first iBook for the iPad
My Top 10 Must Have iPad Apps
More iPad App Reviews
The iPad Camera Connection Kt Review
The 1st Batch of iPad Accessories
My iPad Unboxing Video 😉
The Bottom Line
My primary use for the iPad will be to fit it into my photography workflow and now that the Camera Connection Kit is here and proven to work the way that I need it to, I'm happy with my purchase. I don't know that I will ever be able to just use a tablet device because while it does do what it claims (for the most part), it lacks too many things that I need from my computer. Again, this isn't meant to be a computer replacement so I'm not faulting it for that, but it would be nice to be able to just get by (at least sometimes) carrying only a tablet device like this one. In the meantime I've just added 2-3 pounds to computer bag and I'm OK with that. I certainly have no more need for my Epson P6000 or HyperDrive ColorSpace.
Interesting how far we've come from Apple's original vision
httpv://www.youtube.com/watch?v=3WdS4TscWH8
Clearly they envisioned AT&T getting past their bandwidth issues. Thankfully bow tie guy didn't make the cut 🙂