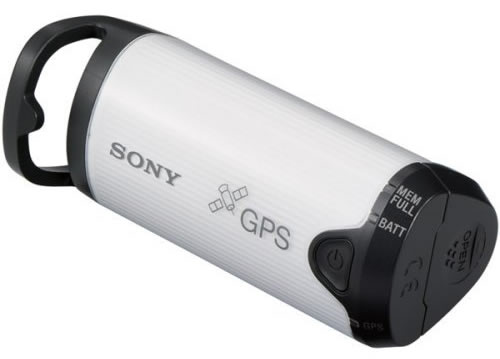 I'm a bit of a GPS buff. I have them in my cars and I even have a portable Garmin Nuvi 360 for travel and use in rental cars. So it's quite natural that when I learned about this
Sony Unit for Digital Still Cameras
that I was quite intrigued. I actually first saw this unit about a year ago. However, when I read the reviews on Amazon.com I was a little less excited. Some were complaining that it didn't work that well especially around tall buildings. So I kind of forgot about it until a few weeks ago when I was having dinner with my colleagues and Colin Fleming told me that he had one. So I had to ask, "does it work?" and more importantly, "would you buy it again?" His answers to both questions were YES! Then my next question was (knowing Colin is a Mac user), what app on the Mac did he use to marry the GPS data to the images? You see the Sony GPS comes with an app to add the GPS data that it captures to your images, however it's Windows only. So Colin turned me on to HoudaGeo which is a $30 Mac app that does just that. It extremely simple and works great.
How does it work?
The concept is simple: You go out on a shoot (outside of course) and you turn on the Sony GPS. It starts a new log file on the device itself and once it connects to a GPS satellite it starts recording your coordinates and the time/date everywhere you go. Then you pick up your camera and start shooting. Since your camera is recording the date and time (very important that you have these set correctly in your camera) of every shot and the Sony GPS is recording the date and time coordinates at the same time all you have to do is match the images with the GPS log file when you return to your computer.
What's my workflow?
Since I shoot primarily in Camera RAW and that there are no two camera manufacturers use the same RAW format, I use Adobe's Digital Negative .DNG format (an open standard for Camera RAW files). The HoudaGeo app can't embed the GPS data in proprietary RAW formats anyway. However, it can embed this data in .DNG files as well as JPEGs of course. Normally I would just import my images directly into Adobe Photoshop Lightroom. However, when I shoot landscapes and want to use the GPS data from the Sony GPS, I plug in my memory card into my Mac and then I use the FREE Adobe DNG Converter (Mac|Win)to convert my Nikon's proprietary .NEF files into .DNG files directly from the memory card into a folder on my drive. I then use the HoudaGeo app to import the .DNG files and then the Sony GPS log file that contains all the GPS data. The 3rd step in the app is to click that actually writes the GPS data to the .DNGs (or JPEGs).
Once the images have the GPS data imported into them, I then import (reference) the images into Lightroom. From there I can do all the great things that Lightroom allows me to do, but I can also bring up any image in Lightroom and not only see the GPS longitude and latitude, but I can also click one button that automatically takes me to those coordinates in Google Maps and gives me a satellite view of where the shot was taken.
Here's the shot I took at a nearby park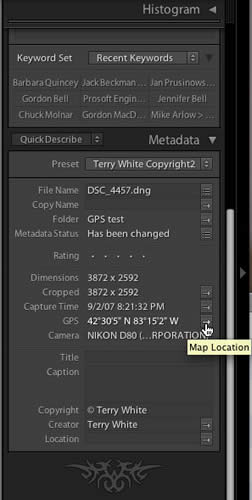 Here's the GPS data showing for that shot in Adobe Photoshop Lightroom

After clicking the "Map Location" button in Lightroom, I was taken directly to a satellite view in Google Maps.
What's hot and what's not?
So far it works as advertised and it's very easy to use. Basically just turn it on. However, there is definitely room for improvement. For example, there is only one status indicator that either blinks fast green when it has NOT locked on to a satellite or slow green when it has. Guys, how hard would it have been to use two different color LEDs or lights. Green is locked on and Red isn't. I'm constantly looking at it trying to figure out "is that a slow blink or fast blink because there isn't that much difference between them. Also Colin tells me that it doesn't behave well when it's dangling from say your belt, which is clearly the way it looks like you would use it. Instead I put a strip of velcro on it to attach to a vest or brim of a baseball cap (looks dorky, but it works). Lastly, it would have been nice to include a Mac app so that I wouldn't have to spend an additional $30 for one. However, the HoudaGeo app is probably better than what Sony would have come up with anyway.
Would I buy it again?
So far the answer is yes! I've only used it in testing a few times so far, however each time it had no problem locking on to a satellite and since I don't plan to use it much around tall buildings, that's not a concern for me. I can't wait to take it on my next trip out in the wild and shoot some of this country's most beautiful landscapes. However, next time I'll actually be able to "show" people "where" the shot was taken. Not sure how useful it will really be, but it sure is FUN! The
Sony GPSCS1KA GPS Unit Kit for Most Digital Still Cameras is $104.57 at amazon.com
Also check out this CNET article on the subject of Geotagging your photos.