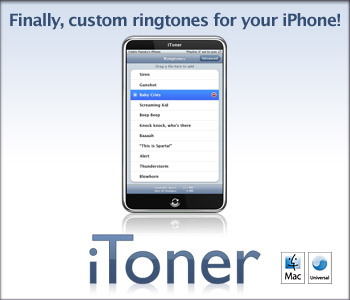 As many of you know I had found an app (iphoneringtonemaker.com) for adding custom ringtones to the iPhone. While the app works great! It is currently Windows only. The great folks over at Ambrosia Software have just released a new app that allows you to add your own ringtones to the iPhone and it's a Mac app. It's called iToner. iToner is a no frills app that does one thing and one thing well. It lets you put your own .mp3s, .AACs, etc. on your iPhone to be used as ringtones.
The app itself look just like the iPhone interface. You simply launch it and drag your audio files into and hit the sync button. That's it! They are then on your phone without the need for any special hacking, jailbreaking, passwords or other secret backdoors. It even recognized the ringtones that I had added previously with the other app.
While this app is great, I'm not sure if it will be needed much longer. The rumor is that Apple is going to launch a ringtone service during their announcements on September 5th. However, Apple's solution will likely be a pay per ringtone solution whereas apps like iToner let you use your existing tunes. My hope is that Apple releases their own solution, but doesn't wipe out or disable the ringtones I've already put on there. In other words I hope we're not "forced" to use their paid service.
iToner is $15 and while there are free solutions out there, none are as easy to use as iToner or as elegant. My biggest ask for the next version is the ability to allow you to trim the songs to just the portion you want to use as a ringtone right in the app. You can download it today and run it in trial mode for 30 days fully functional. That way we can wait and see what happens on the 5th and if we still need it or can still use it, great! Otherwise, you wouldn't have to buy it only to find out that it's no longer usable after Apple rolls out their service. So you have nothing to lose. Go download it now and give it a spin.