The older I get the more reminded I am about the importance of taking better care of myself. As with most things, the easier the task the more likely you are to do it. That's why I use these three devices on a very regular basis to keep me in check. The first one is the Nike+ Fuelband. I originally got one as a gift, but have since upgraded to the current model
The Nike+ Fuelband SE Rose Gold Edition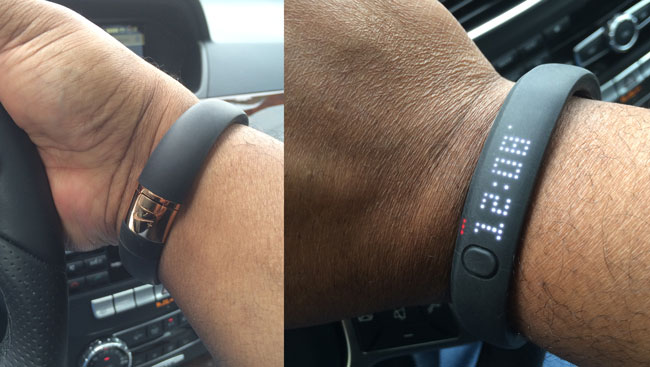 The Fuelband is my choice for wearable "motivator". The idea behind the Fuelband is that you wear it throughout the day or 24/7 and it monitors your "activity" such as walking, running, and sleeping. It can track the number of steps you take and convert them into Nike Fuel Points. It will also show you calories burned. Not to mention that the built-in display can also show you the time, making it a watch as well. The reason I like the Fuelband over other such gadgets like the Jawbone UP and Fitbit is that besides having a better display to show you information even if you don't sync with your smartphone, it simply has a more stylish, less cheap look to it. If the idea is to wear it all day everyday, then I want something that looks as good as it functions. When Nike introduced the SE versions and added a "Silver" and "Rose Gold" model I was sold! Although the Rose Gold version was $20 more than the standard Fuelband SE colors, I wanted it because it matched my other gold accessories. The SE is also a huge improvement over the original model when it comes to battery life. With the old one I used to get about 2-3 days of battery life before needing to charge it. Now I easily go a week without thinking about it. It also incorporates Bluetooth 4.0 which means that it can stay connected continuously to your smartphone while using less juice. The iPhone App is also updated on a regular basis with new features and now you can even track your sleep.
You can get the Nike+ Fuelband SE here
You can get the Nike+ Fuelband SE Silver or Rose Gold here.
Next up is my Withings Smart Body Analyzer Scale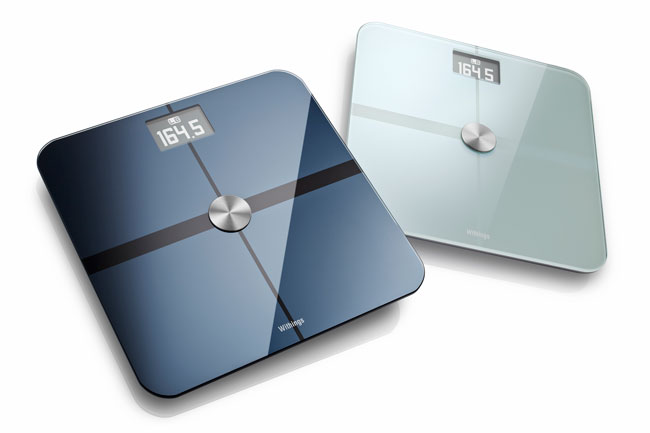 This is the device that I love some mornings and hate on other  mornings. In any case it gives me a weight measurement that is automatically and wirelessly sync'd to my Withings.com account. I can either track my progress from their website or easily from their free iPhone/Android App. I also love this device because it's supported by my favorite health app, "LoseIt". The scale monitors your weight, fat mass, and BMI.
You can get the Withings WS-50 Smart Body Analyzer here
They also sell a less expensive model that only tracks Weight and BMI here.
Lastly I use the Withings Blood Pressure Monitor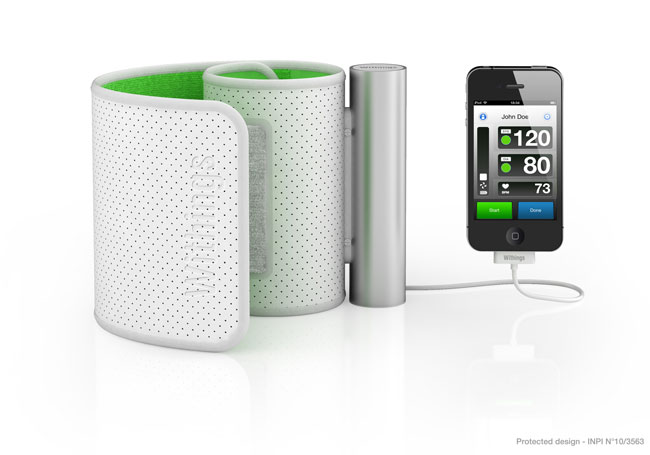 This one is cool because the device is completely controlled by the Withings App running on your smartphone. Wrap the cuff around your arm, fire up the app and tap the start button. Once you get your reading you can even email it to your doctor right from within the app. I have the older model pictured above and it works fine with the Apple Lightning Adapter. However, if you get the current model you don't have to worry about the cable because the new model uses Bluetooth and is therefore wireless.
You can get the Withings Wireless Blood Pressure Monitor here.
The Bottom Line
I can certainly use non-connected devices and enter everything into my apps manually and still keep track of my progress. However, because these devices are connected and wireless it's a no-brainer. I step on the scale in the morning, step off and go on about my day and getting ready. I fire up the the Lose It app over breakfast and see how I'm doing. My Fuelband alerts me when I need to MOVE MORE because I've been sitting too long and lets me chart my progress as well as see how I'm doing compared to my other Nike+ friends. I've lost 35lbs since January 6, 2014. So something is working! More to lose and these devices will help me with my goals. Also see the "3 Apps That Monitor My Health"