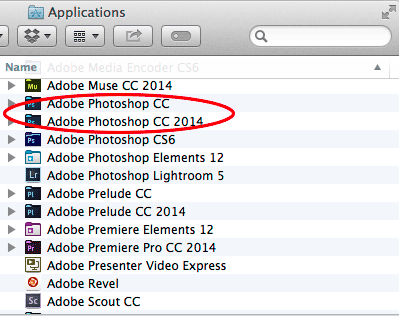 With the release of the new Creative Cloud 2014 versions of your favorite Adobe applications, some have been asking the question as to why for example do they now have a Photoshop CC 2014 AND a Photoshop CC in their Applications folder? Do I really need both? These are good questions and hopefully with this post I can help shed some light on this mystery for you.
First off with the release of the CC Applications last year, you potentially had both your CS6 and your CC applications installed. That was until YOU decided to uninstall the CS6 applications that you were no longer going to be using. From that point on, each new feature update or bug fix merely updated the application (binary) that you already had installed. For example, in the January update of 2014 you got new features in Photoshop CC and after the update you launched the same Photoshop CC that you had always been launching. This is the way Creative Cloud is supposed to work. However, there are times during the course of development that new features require a file format change. Those that use InDesign are used to this. Since day one each new major version of InDesign meant a new .INDD file format. There are also times during the development process that the engineers start with a clean slate. This was the case with each Adobe application that made the move to be 64bit (Photoshop, Illustrator, InDesign, Premiere Pro, After Effects, Bridge, etc.). This required a brand new rewrite and therefore a brand new binary. This is also the case this time around with Adobe Muse CC 2014. It's a brand new native 64bit application for both Mac and Windows. It would have been impossible to update your existing Muse binary.
There's another factor…
In the past educators and authors wrote their courseware and books based on the "NEW" version. With the Creative Cloud model of applications being updated with new features as soon as those new features are ready wreaks havoc on authors. At what point do you write your new book? How well will the "Adobe Muse November 2013 update" book sell? While Adobe hasn't announced an "annual" plan to update all the binaries of each application, Adobe has chosen to do it for 2014. This means that each of your CC 2014 versions are new binaries and therefore a clean slate for the next round of regular feature updates and bug fixes for each of the applications. It means that an author can write the "Adobe Illustrator CC 2014" book.
Do I need to keep both versions?
Nope! Just like when you went from CS5 to CS6 to CC, you are free to UNINSTALL the previous versions of any applications that you no longer use. The CC 2014 versions are NOT dependent on the previous versions. However, you may want to do the Uninstall of your CC versions AFTER you have the CC 2014 versions installed, tested and you're happy as many of the applications will automatically transfer your settings over from the previous version. For example, InDesign CC 2014 now has a "Seamless Update" feature that copies your settings and presets over from your previous version upon first launch. If you had uninstalled the previous version AND removed the preferences from it there would be nothing for the new version to update from.
What about my plug-ins?
Adobe recommends that you reinstall your plug-ins from their original installers. This is the cleanest way to do it and will likely result in less problems as each plug-in is different and may be dependent on being installed properly from the installer. However, my buddy Glyn Dewis has a blog post here on simply copying the plug-ins folder from the previous version to the new version.
How do I uninstall the older versions that I don't need?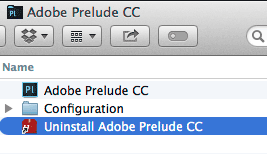 Each CC Application has its own uninstaller. It's usually located in the same folder as the application itself (Muse CC may be in your Utilities folder on the Mac). Launch the Uninstaller and it will walk through the process and remove the older version.
What if I need to reinstall an older version later?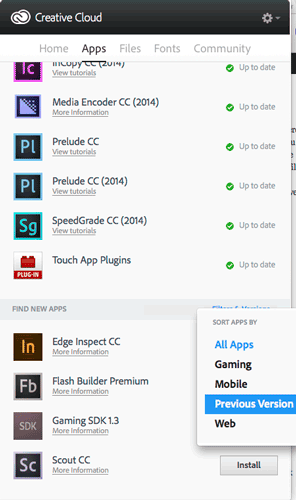 One of the benefits of Creative Cloud is that we're archiving the older versions for you all the way back to CS6. You can install and older version any time you you need and now you can even do it from the Creative Cloud Desktop App. This works even if you never owned CS6 or you came into Creative Cloud after the CC 2014 versions and never had the CC versions before.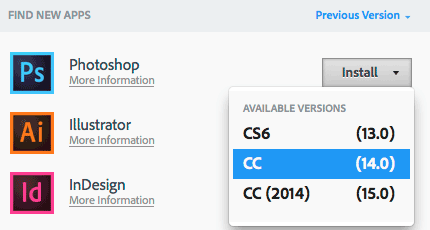 The Bottom Line
While this may seem like an inconvenience or maybe even a hassle it's designed to prevent breaking people's workflows. If we automatically uninstalled your previous versions before you had tested the new versions in your critical workflows you wouldn't be very happy. This way you remain in control over what you install, when and more importantly what YOU no longer need and uninstall when YOU'RE ready. Also note that not only can you have these apps installed on up to two computers, but you can install older versions on an older computer (of your two computers).  Lastly, you definitely want to take a look at the NEW product pages on Adobe.com which feature brand new (by date) "What's New" feature pages. In case you missed it, check out my Creative Cloud Learning Center to see the new features for the CC 2014 Design and Photography apps.