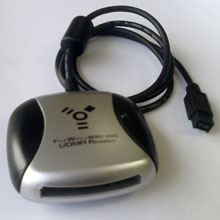 As a digital photographer there is one part of the process that I find to be the most boring and that is waiting to see my shots. You may remember that I did a series of tests using the Synchrotech ExpressCard CF Reader. That also led me to do a series of tests on different brands of CompactFlash cards to see which ones were the fastest. I'm still quite pleased with my ExpressCard reader and my choice in cards (SanDisk, PNY and Lexar), but it begs the question, "What about desktop computer users?"
If you use a desktop Mac or PC as your post processing computer, then chances are you don't have an ExpressCard slot. ExpressCard slots are common on modern day notebook computers. So what options do you have? Well up until recently I was using a rather slow SanDisk USB card reader (only slow because USB is slow by comparison). That all changed when the good folks at Synchrotech sent me a new FireWire 800 UDMA Reader! Not only is this puppy FireWire, it's FireWire 800! That's right, there's a FireWire 800 cable built right in. If you only have FireWire 400, they will sell you a 800 to 400 adapter cable. However, keep in mind that you will only be operating at FireWire 400 speeds which are comparable to USB if you go that route.
The beauty of this reader was that I took it out of the box and plugged it in to my Mac Pro tower and there was nothing else to do. No drivers to mess with. It just works.
How fast is it?
Of course the thing you're really interested in is, "how fast is it?" So I did some tests using the same cards and the same 1GB folder of test images as before (yep, that stuff was still on my desktop from before). I was very pleasantly surprised to see that the results were on par with my ExpressCard PCIe reader:
| | | |
| --- | --- | --- |
| Card | Read 1.1GB | Write 1.1GB |
| Lexar Pro UDMA 300x 2GB card | 1:00.4 | 43.2 |
| PNY Optima Pro UDMA 4GB card | 46.7 | 42.1 |
| SanDisk Extreme IV 2GB card | 37.4 | 57.6 |
| Using a USB Card Reader (best time) | 2:22 |   |
Once again SanDisk came out ahead on the Reads with PNY coming in fastest on the writes. Granted your writes will happen in the camera and not in a card reader, but this should give you some idea of what to expect. Also to get the best speeds you will need the later generation cards that use UDMA like the ones in my test suite. If your camera supports these cards, you'll also be able to take shots at your camera's faster fps speeds. While this card reader is nice and speedy, I still prefer the ExpressCard reader for my MacBook Pro. My MacBook Pro does have a FireWire 800 port, but it's so much nicer not having to have a cable.
The Synchrotech CFFire 800 Pro FireWire 800 to CompactFlash Drive Read-Writer goes for $59. If you have a FireWire 800 port and speed is important to you, then you can't go wrong with this purchase.