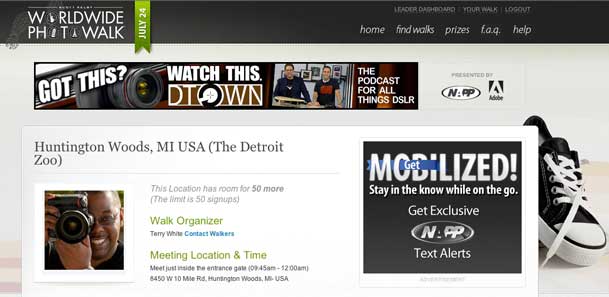 Although my walk is completely full with a waiting list, there are still plenty of walks you can sign up for around the world. Just head over to photowalk.com and who knows, you may capture the winning shot tomorrow.
If you're going on a photowalk tomorrow don't forget:
your camera (I know, but I had to say it)
extra charged batteries
extra memory cards
water
more water
umbrella
the lens you think you might want, but don't want to carry, but will be mad that you didn't bring
a tripod if you really want a super sharp shot, unless you just don't want to carry it (I hear ya).
comfortable shoes
lens cloth
GPS (I'm a geotagging freak, ignore me)
take the stuff out of your bag that you know you won't need (it's heavy enough as it is).
a good attitude
your best smile
a backup point and shoot camera just in case your pride and joy has technical difficulties
Have fun!
P.S. Things come up!
If you can't make it, that's fine. We understand. No hard feelings. If you can't make it though there is someone else dying to have your spot. So please login to the site and click the Leave this Walk link above the map to free up your slot for the next person on the waiting list! It's the right thing to do!