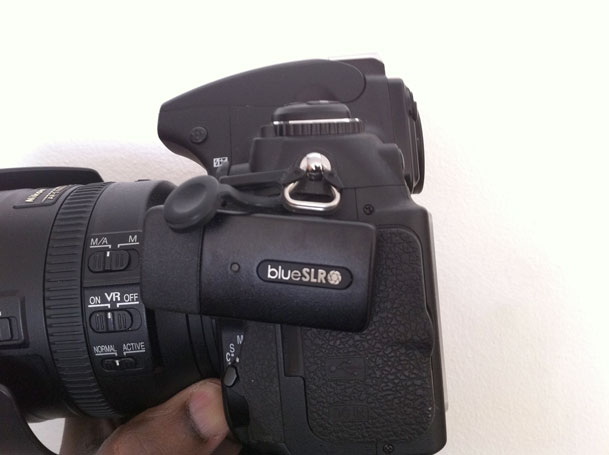 A couple of my favorite gadgets just got married

I'm a Nikon shooter and an iPhone user. It's rare that I'm ever anywhere shooting without my iPhone on my belt. So when XEquals Corp sent me a message about their new blueSLR Wireless Camera Control and GPS Encoding solution I was all ears.
Wireless Control for my Nikon DSLRs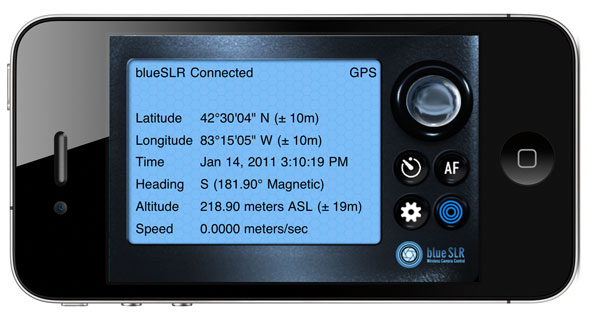 Once you plug in the blueSLR into your Nikon D3100, D5000, D90, D3(s), D200, D300(s) or D700, you can then fire up their free iPhone App. With the blueSLR App you can then remote control your shutter release, auto focus and even time lapse or bracketed exposure from up to 300 feet away via bluetooth. This is the feature that most of the initial announcements were touting and reviewers were so excited about. While I definitely think this is cool, it's not what excites me most about this solution…
GPS Geotagging is where it's at – Literally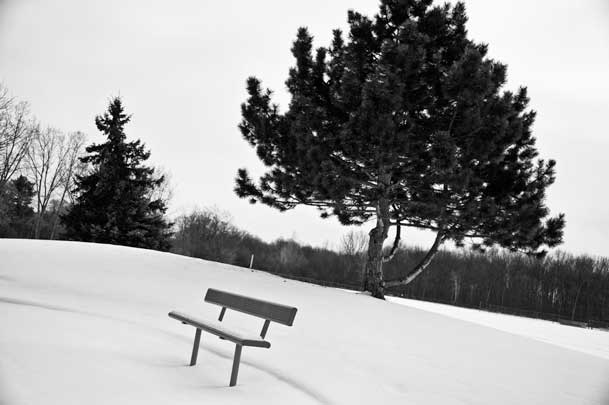 Click the above shot to see where it was taken – Nikon D700, Nikon 28-300mm lens, blueSLR and iPhone 4
I've reviewed many Nikon compatible GPS attachements here over the years and while they have all worked well, they all have one thing in common. They attach to your camera via a cable and have to either sit in the hot shoe or on your strap. They also have to acquire a signal from the global positioning satellites in the sky. Yep that means you've got to be outside to grab a signal before you can go inside with the newer units and continue shooting. However, the iPhone's "Location" feature works off not only GPS satellites but also cell towers and WiFi hotspot locations.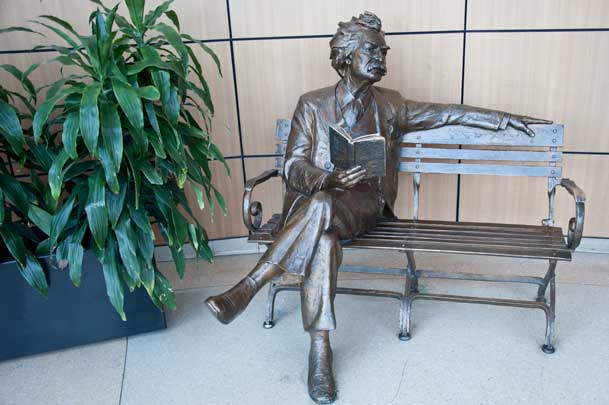 Click the above shot to see where it was taken – Nikon D700, Nikon 28-300mm lens, blueSLR and iPhone 4
This means that your iPhone (iPad or iPod touch) knows where you are even if you're inside a building. The blueSLR solution can use this Location information and input the info right into (the EXIF data) your shots as you take them with your Nikon compatible camera! Woohoo! Finally! Also unlike all the other solutions out there XEquals prides themselves on their "flush with the camera" design. They've gone out their way to make the attachement as unobtrusive as possible. I applaud this effort!
How well does it work?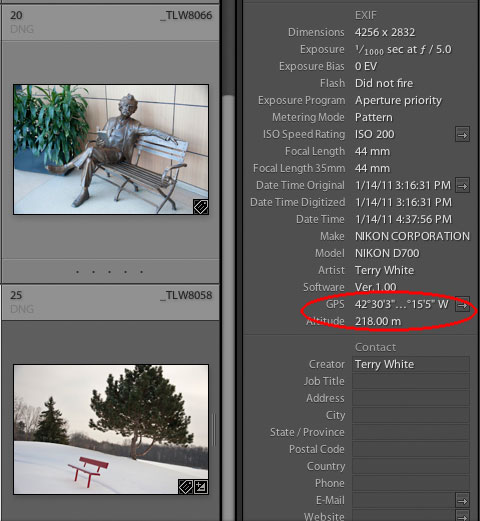 images displayed in Adobe Photoshop Lightroom 3 with clickable GPS button that takes you to Google Maps
I'm very happy with the way this gadget works. The first thing you'll want to do is (it's in the instruction card that comes with the device) change the default metering timeout on your camera from 6 seconds to something like 30 minutes. Otherwise you'll be quickly frustrated by the device constantly timing out before you get to pair it with your iDevice or use it with the App. Once you make that adjustment in your camera, it looks and acts like any other GPS/Remote Shutter Release on your camera.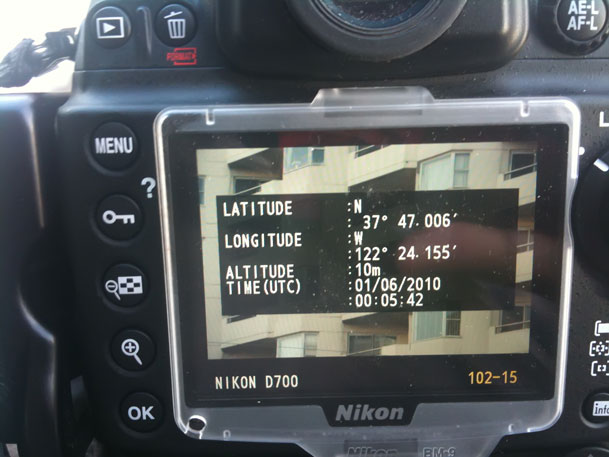 My Nikon D700 has GPS support built-in with a menu to display the status of the attached module. This is one of the reasons I use Nikon over Canon and others. With that said, it's 2011 and I still can't believe that ALL camera manufacturers don't offer a built-in option! More power to XEquals!
Since I don't have to wait for a satellite signal to be acquired I can start shooting right away! Both the remote features and the GPS features work as advertised. The iPhone app also takes avantage of the iPhone's built-in compass for heading info. Sweet!
What about battery life? To be honest I haven't had it/used it long enough to judge the impact on battery life over other GPS units. I know that Nikon has done a lot of work in their latest firmware to reduce the battery drain from GPS devices so I'm not really worried about it.
How's the GPS accuracy? Keep in mind that it's only as accurate as your iOS device. iPhones and iPad WiFi+3G devices are going to be the most accurate because they actually have GPS chips built-in. iPod touch and WiFi only iPads will have to rely on Wi-Fi triangulation which could be an issue in the boonies. In my limited testing the shots were geotagged very accurately using my iPhone 4.
How would I redesign it?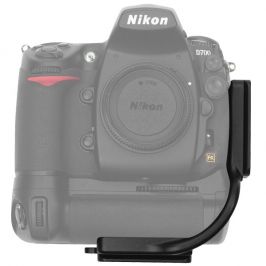 my Kirk L-Bracket has to come off to use the blueSLR
There really isn't anything that is majorly wrong with this device. I do like it A LOT! However, with the "flush" (a blessing and a curse) design, this means that the port door on my D700 is covered while I'm using it. It also meant that I had to remove my L-bracket for my tripod head since it covers that part of the camera. Since it is a remote trigger, most likely I'd want to use it while it's on my tripod. This would mean having to go back to the standard tripod mount instead of my L-bracket . Not the end of the world, but I would like to see the next version offer a "swivel" feature with a lock. If I could swivel it up or out then it would be out of the way of everything that I wanted to attach. For a moment I was going to complain that it didn't offer a 10 pin passthrough on my D700. Then I realized that the only time I've needed a passthrough on my other GPS units was to attach a shutter release. Duh! This is already a "wireless" remote shutter release too. However, if you have some other accessory that uses the 10 pin terminal, then you're going to have to decide which one you want to use.
The Bottom Line
Kudos to XEquals for making a killer device/App combo! I know that there were some manufacturing issues with the Nikon D7000 model and as soon as that one is available It will undoubtedly become my default travel camera GPS unit. If you're not waiting on the D7000 model, then I wouldn't hesitate in getting one of these TODAY!
You can learn more about blueSLR and order directly from their site here.
Get the App for your iPhone, iPad or iPod touch for free here from the
See my blueSLR App review here.