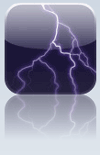 Another weather app? What's my obsession with weather apps?
With all the bad weather we've been having this week I'm using my NEW favorite weather app more than ever. Yes it wasn't long ago that I named MyWeather Mobile as the iPhone App of the Week. After that I got hooked on The Weather Channel app. Now I'm absolutely in love with Accuweather.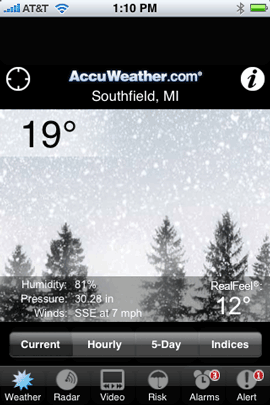 Why AccuWeather?
Why not just use the built-in Weather App that's already included with the iPhone and iPod touch. Anyone that lives or travels near/to snow will identify with what I'm about to say. The built-in Weather App is simply inadequate. Sure it will give the the expected high and low tempurature for the day and even tell me that it's going to snow or rain, etc. However, what it doesn't tell me is WHEN? and HOW MUCH? Simply seeing a little icon for Saturday that shows snow is meaningless. I need to know if it's going to be 1 inch or 12 inches. I travel often, so up to the minute winter weather issue is critical! Now, if you live in, let's say Florida or Hawaii where the weather is pretty constant, then you probably don't need this level of information.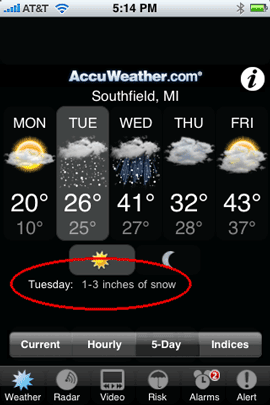 AccuWeather is a full featured weather app. In my opinion it's got the best UI (user interface) of all the ones I've tried to date including the one that I paid for (MyWeather Mobile). AccuWeather not only can give me a much more detailed forecast including hourly forecasts, but it can even show me a video of the most recent weather report for my area. Very slick! Very very slick indeed! Of course it's location based like the others and you can save your favorite locations. You can also see an animated radar weather map. The Risk screen shows you exactly what's likely to happen whether it be Thunder Storms, Rain, Snow, Ice, Wind, or Fog.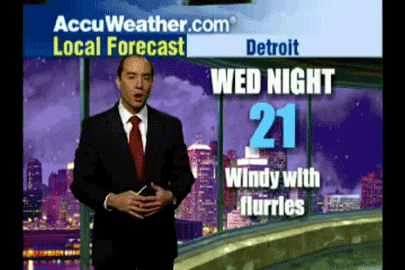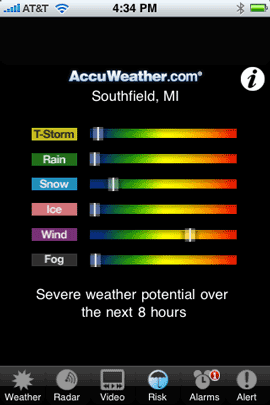 AccuWeather starts off with a very well designed display of the current conditions. This also includes a nice background photo representing what it's doing outside right now. Cloudy, Clear, Raining, etc. I not only get to see the current temperature, but also the wind chill factor (feels like).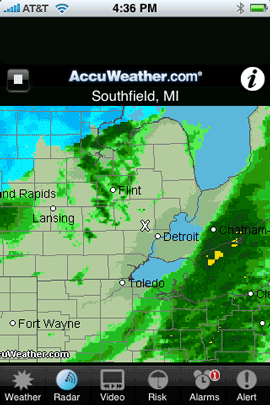 The Bottom Line
There are several weather apps out there. Some are free, some cost $, however, AccuWeather is by far the best designed one and most stable one I've seen and used to date. Best of all it's FREE! You can download AccuWeather for the iPhone and iPod touch here from the App Store.
Be sure to check back next Friday for my "Top 10 iPhone Apps of 2008". Of course I think you already know what one of them will be.

Some come back and see the other 9.