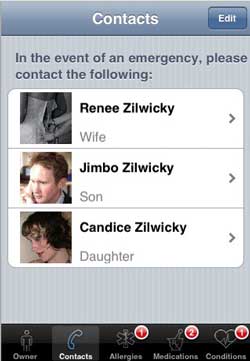 We are all encouraged nowadays to have an ICE (In Case of Emergency) contact on our cellphones. While that is easy enough to do on an iPhone, the problem is that no one will be able to access that contact if your iPhone is locked with a PIN/Password (which I highly recommend). When your iPhone is locked with a PIN/Password the only thing someone can do is hit the emergency call button which dials 911. One tip that I give people is to create a custom Wallpaper screen in Photoshop that displays your ICE information right above where you have to key in the password. At least this info would be available to be seen by anyone who picks up your iPhone without having to unlock it first. However, I'd like to see a real ICE feature built-in.
 
It would work like the Emergency Call button
There's already an Emergency Call button on the keypad when your iPhone is locked. I'd love to see an "ICE" button on the other side of the keypad. This button would be user configurable of course and not only display your emergency contact, but also any medicines you might be taking. How about blood type? Let's take it even further, your doctor's name/number too. As a matter of fact, pressing that button could display an entire screen (if you choose) with this info on it. You could even have the option of allowing your ICE contact to be dialed from a locked iPhone just like the 911 Emergency button works today.
 
There is an ICE App in the App Store
As you can see from the screen shot above, there is an actual ICE app already available from the App Store. The problem though is that no matter how good this app is, no one would be able to access this app if your iPhone is locked with a PIN or Corporate enforced password. So while it may be a very good app, Apple would need to allow access to it from a phone that is locked. Again, I'd just like to see the feature built-in. I also like the "Owner" feature that this app has. That's cool to be able to display in the case of a "lost" iPhone. I've already made this recommendation/feature request to Apple. So we'll see what happens.