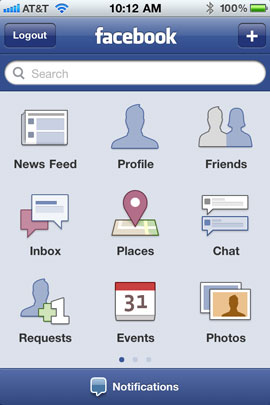 You might remember my recent post "Are you sharing too much on Facebook?" in that post I gave you some tips on how to control your privacy settings so that only the people that you want to see your status updates and photos are the ones that actually see them. It's time to revisit this again now that Facebook has added "Places".
What's Places?
Places is a new feature on Facebook that allows mobile users to "check in" to the different places they may visit. This is not a new concept as sites like Gowalla and Foursquare have been doing this for a while. It's a social networking thing amongst "close friends" and "family" and of course Facebook wants in on it (I'm sure there's money in knowing the establishments that your customers frequent the most). The concept is pretty simple. You visit a location, business, park, etc. and with a mobile device like a smartphone you either use the Facebook app or the Facebook mobile site to check in. That "check in" is then posted to your wall/news feed for all of your "friends" to see. If you don't want your friends to know where you are every minute of the day then don't use it. It's pretty simple to not tap or click on it. Problem solved.

However, there's a little more to it than that with Facebook at least for now. The problem is that your "friends" can tag YOU when they check in to a location. This is a plus from a convenience standpoint when a group of friends are hanging out and a big minus for those that don't want to play! Your friends don't need your consent to check you in! I can already hear the privacy groups screaming about this and luckily although it's ENABLED BY DEFAULT, you can turn it off (see below).
Here's another Privacy gotcha according to Macworld.com:
Another problem is that, while new places users create are private by default, they can become public if enough users check into them. Even if such a place is your house or apartment, Facebook will automatically promote the place to being public after an unspecified number of check-ins. For now, there is no way to prevent your home address from becoming a public location on Facebook aside from asking your friends to not check in at your next party. If a sensitive location becomes public, the only way to attempt to remove it is to flag it for Facebook to review, and ask others to do the same.
So the obvious thing not to do here is DON'T use Places to check in to your private residence. I never saw the need to do this on Gowalla, will definitely NOT be doing it on Facebook Places.
Changing your privacy settings – NOW!
Whether you plan to use Places or not, you should adjust your Privacy settings NOW! I already use Gowalla, but unlike Facebook I only have less than 10 Gowalla friends! These are the few people that are close to me that I would want to know my current location at any given time. So the same goes for Facebook! If I do use the Places feature, I don't want my 1,500+ "Friends" to necessarily know where I am. I want those "Close Friends", "Family" and "People I actually know" to know where I am. Again, this is where the Facebook Lists Feature pays off again. You can designate a List of the people that you would want to see your Places' Check Ins.
The default for Places is set to "Friends".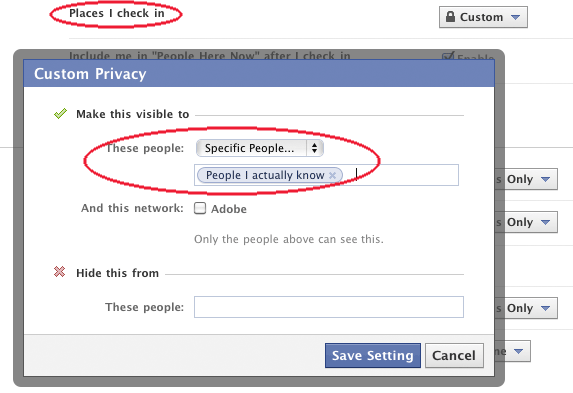 Also don't forget to DISABLE the ability for Friends to check you in to Places if you don't want that:

If you don't want ANYONE to see where you are even if you're tagged, change the setting to "Only Me" and you should be OK for now.