Most people that use Adobe Creative Suite Applications tend to use the same tools all the time. However, the built-in tool panel is set in a certain configuration that you can't really change. Or can you? Well no you can't alter the built-in Tool Panel, but you can make your own! Adobe Configurator 3.1 allows you to create your own custom panels for Adobe Photoshop or Adobe InDesign.
Here's one that I put together for Retouching in Photoshop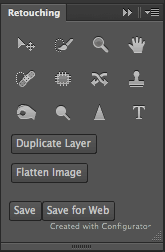 It has the tools and commands I use almost every single time I retouch an image. As a bonus I'm giving it away as a free download here (you'll need to install Adobe Configurator 3.1 first to install the panel). You can start with my Retouching Panel and customize it to your liking.
You can download Adobe Configurator 3.1 here on Adobe Labs for CS 5.x or CS6 users.