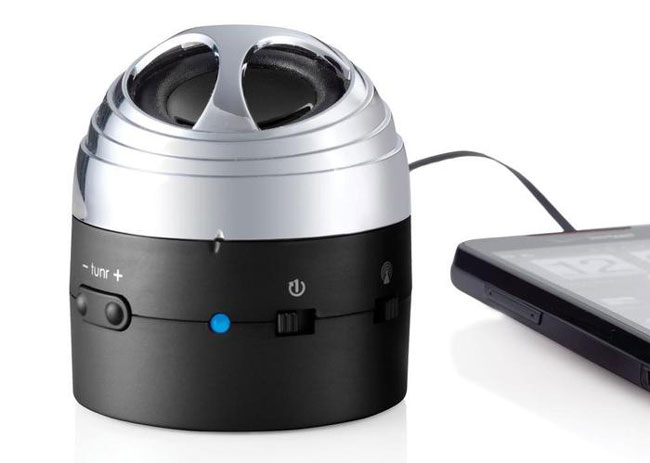 I've reviewed various travel sized speakers here in the past and I really like the ones I've already reviewed. However, my buddy Bruce Mandel was raving about a pair of "pop-up" speakers that he had gotten and he was so sure that I'd like them he loaned them to me. He said, "you have to try these." So i did. The funny thing was that my first experience with them was a test of my AirPort Express and using AirPlay to send music from my office to my studio. These speakers were the most accessible at the time and I decided to plug them in the AirPort Express mainly to see if my AirPlay would work in that location (very far from the main AirPort Extreme up stairs). I Turned on the speakers after plugging them in and walked all the way to the other end of the building where my office is located. When I fired up iTunes and selected those speakers (AirPort Express) I actually didn't expect to hear them until I got back into that area of the studio. I was blown away to actually not only hear them from such a great distance, but to actually hear that they sounded pretty good.
Pop them up for more bass
During my initial test I hadn't even popped them up yet. When you do you actually get more base response than you do when they're closed. They definitely sound great for speakers this size. The two speakers magnetically attach to each other for travel/storage. When you pull them apart you can then pull out the audio cable from one to plug into the other for stereo sound. They come with a separate cable for charging and of course there is a cable to plug in to your audio source. The speakers charge via USB.
What I dont like
You've already heard all the things that I like about them. Small, good sound, battery powered. As far as what I don't like it's really more about the design of the cables, ports, switches, etc. While you certainly need the cables that are supplied, it just seems that they could have done a better job in the way the cables attach. Also I find the audio cable to your computer/iPod, etc. to be a bit short. I'd like the cable be about 6 inches longer. When I tested these the cable was so short that I had to put the speakers on the floor in order to reach the AirPort Express that was plugged in the wall.
While I'm not sure that I'd give up my previous Bluetooth speaker recommendation, these definitely have a better sound to them and I really like the magnetic coupling. I also really like that the cords are retractable right into the unit.
You can get a pair of these here for $49.95 or you can just get one here for $29.95.
Now the question becomes do I give these back to Bruce or not? 🙂