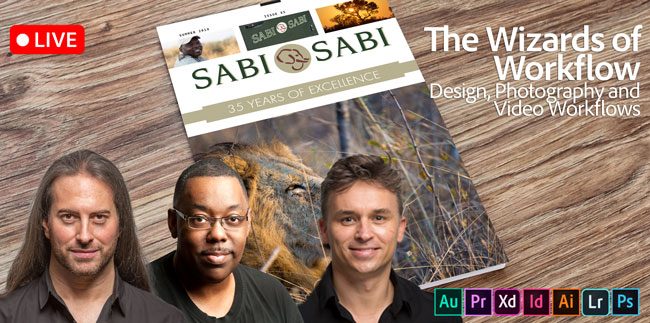 I'm kicking this week off with a stream that gets the band back together. I'll be hosting my esteemed colleagues Jason Levine and Paul Trani. We used to do world tours together and it has been years since we've presented on the same stage at the same time. On this special "test" stream I'll host both Jason and Paul remotely. Jason will be in his home office in Arizona, Paul will be in San Francisco and I'll be in my home office in Atlanta. If all goes well we'll try to do these more often.
The Wizards of Workflow LIVE on Monday, April 30th…
Monday, 4/30 at 1PM PT – The Wizards of Workflow on the Adobe Creative Cloud YouTube Channel. If you want to see an end-to-end Adobe Creative Cloud workflow featuring design, photography and video/audio production then this is a stream that you don't want to miss! Also pop in to say and to give us some good numbers to make this a success.
Tuesday, 5/1 at 1PM PT – 5 Reasons You Should Use Adobe InDesign CC for Your Next Layout on the InDesign Facebook Page.
Wednesday, 5/2 at 12PM PT – How to Get Started with Adobe XD on the Creative Cloud Facebook Page.
Thursday, 5/3 at 1PM PT – 5 Features in Photoshop CC for Graphic Designers on the Creative Cloud Design Facebook Page.