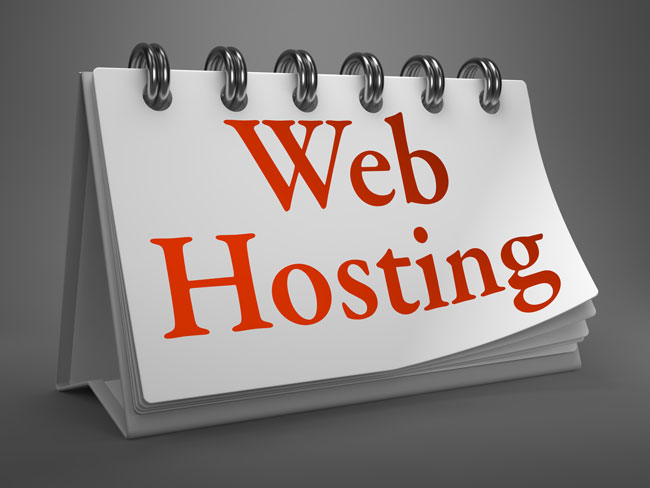 Usually when I write a post here it's generally a positive review of a product or service. I figure most people would rather spend their time reading about products and services that they should buy instead of the countless ones that they should avoid. However, every now and then a product or service rubs me so hard the wrong way that I have to tell others about my experience (my old DirecTV post comes to mind). This time it's with the web hosting company that I've used for over a decade. I'm done with Network Solutions. This actually isn't something that is new. I've been slowly moving my websites and content away from them for a few years now. However, it was a month ago (October 1st 2014) that was the straw that broke the camel's back. Before we talk about the latest incident (the one that sent me over the edge), let me give you some background on my years of service with them:
It started with My websites being hacked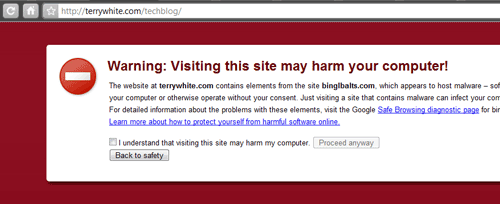 I have about a half dozen websites including the one you're viewing right now, all of which used to be hosted with Network Solutions. Some are WordPress blogs and the rest are standard HTML sites. In this day and age it's pretty common to hear about websites getting hacked. The hacking of my websites with Network Solutions took place back in 2010. My sites were hacked with malware and other ads. Again, this isn't something new and even back then it wasn't unheard of. However, the problem back then was that Network Solutions couldn't seem to close the breach fast enough. As soon as I would get everything cleaned up, the sites would be hacked again and again and again, even to the point that their execs were communicating with me and apologizing. I couldn't take it anymore and moved my WordPress blogs away from them over to Godaddy (frying pan to the fire). However, since my other, less trafficked  websites weren't getting hit I left them with Network Solutions along with my email. Eventually they closed their security breaches, but for me the damage and lack of faith was already done.
The Costs were Rising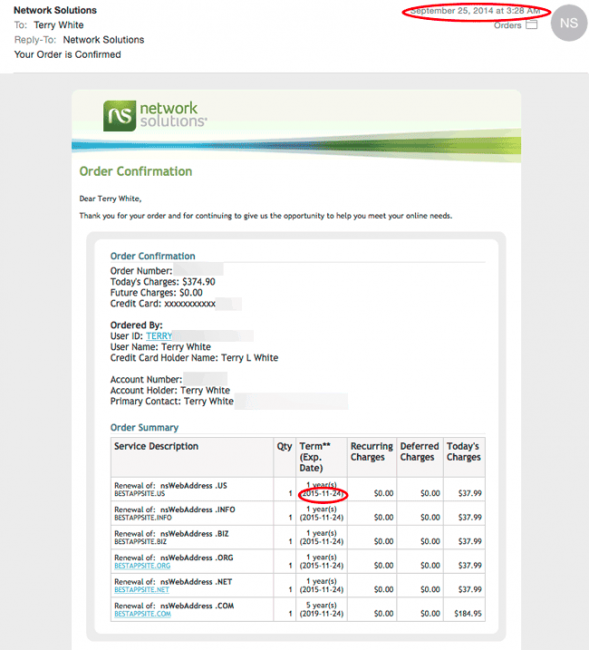 I had one of their top hosting packages and several domains registered with them. Everything I had with them was on auto renewal. One day I noticed that my credit card was getting charged by Network Solutions and I was thinking in the back of my head that there wasn't anything due right now. I logged in and noticed that they charged me to renew several domains (hundreds of dollars) that weren't due to expire for months. This "cash flow" tactic punishes you for having auto renew turned on. If a domain registration doesn't expire until 8/30 why are you charging me for it in June or July? Of course this prompted me to turn off auto renew!
My Hosting Package Expired  <- the beginning of the end
Last October I started getting notices that my hosting package renewal was due. So I went online to pay it. I used the PayPal option, paid the over $400 (yes I was overpaying for hosting) that was due and noticed that my account didn't reflect the payment nor was the money taken out of my PayPal account. I waited a few minutes and no updates on either end, so I foolishly tried again. I got the exact same results. My account showed no payment and the money wasn't taken out of my PayPal. Figuring that something was wrong I called Network Solutions and did the payment over the phone with a debit card. I went on with my day and you can probably guess what happened next….
Yep, the original two PayPal transactions went through and now I had paid Network Solutions over $1,200. Thinking that this would be no big deal, I called them to get the two accidental payments refunded. This is when I started to become unglued. I was told "we don't give refunds." What? Huh? Are you kidding me? I explained to the rep that this wasn't something I bought and decided I didn't like it, you were paid 3 times for a 1 year renewal. Can you not see this?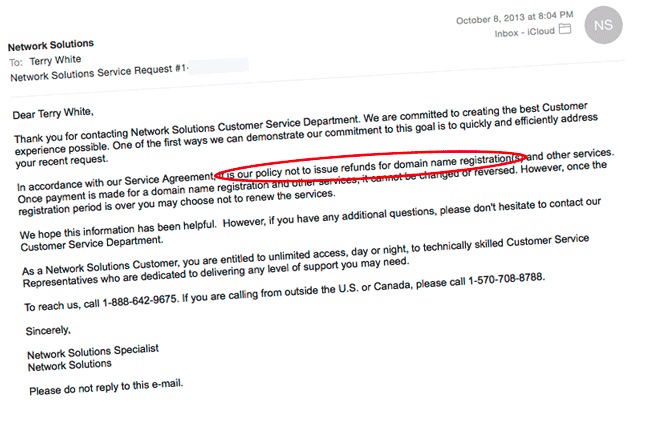 After going round and round with them I was assured it would be credited only to receive an email later that day to tell me that "we don't give refunds." I called again and again and again. Finally I filed a dispute with PayPal and was eventually credited the over $800 back to my PayPal account. You would think it would have ended there, but oh no. Now Network Solutions was harassing me via email for, get this: not paying my bill! As far as their systems were concerned my payment had been "rejected" and I now owed them this money! This went on for months and they finally put a lock on my account (here it comes), that prevented me from (you'll laugh) renewing my domains! Yep, they wouldn't take any more of my money until I called to solve the issue with my account. When I called about this they informed me it was because a payment had been rejected. I explained to the rep on the phone the whole situation from last year and he eventually removed the lock.
I started moving my domains away from Network Solutions
Network Solutions charges more than any other provider I know for domain registrations. They charge $37.99. In 2014 that's unheard of! The funny thing was that once I started the process of moving my 1st domain away from them I got this popup during the process: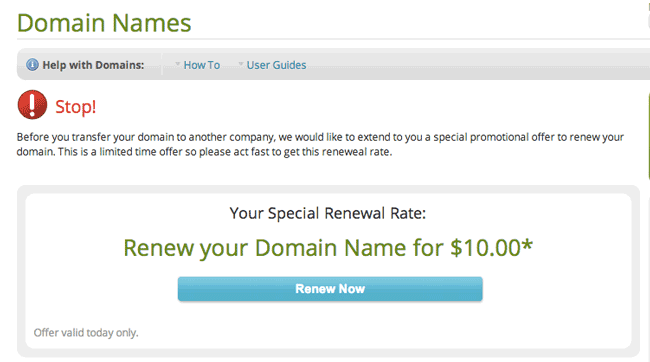 So if I understand you correctly Network Solutions, as long as I'm on auto renew you'll happily charge me $37.99/year. However, if I'm moving my domain away from you, you can all of a sudden renew it for only $10.00? Uhhh, NO! Sorry. I'm gone! Too late!
A Year Later My Hosting Package Expired <- the last straw!
After fighting the above for a year, it was time for my hosting package to be renewed again. However, I had no idea that it was due. Why? Every time I looked at my account it said that my hosting package was paid through 10/1/2015. Knowing that I would be GONE before then, I never worried about it. Around 10/3/2014 one of my users contacted me and said that they couldn't get into their webmail. Not thinking anything could be wrong on my end, I submitted a trouble ticket through their website. 24 hours went by with no response to the trouble ticket and now more users complaining they couldn't get in. I called support. I asked about my email accounts and they said "we don't see any email boxes on your account." Wait! What? Sure enough they had deleted my hosting package. No I don't mean they turned it off. They deleted it! It was gone! My email boxes gone. My websites (the ones I had left with them) gone! Everything was gone! Their support people were scratching their heads. Apparently my hosting package did expire on 10/1/2014. I accept that. However, I got NO RENEWAL notices. No notice after the fact. No warning that if I don't pay they would delete everything. Nothing! Nada! One day after it expired, they simply deleted all my content without warning or notice!
After being forced into buying one more year of their lowest package (I had to to get my content back), spending hours on the phone with support and several days later my email accounts and web folders were restored. As with any service I get that if you don't pay you'll be turned off. That wasn't the problem here! I wasn't given any notice that I owed anything. I wasn't given any warning that my content was going to be deleted. They just deleted it!
Moved on to Bluehost.com
Once you lose my business it's nearly impossible to get it back again. While Network Solutions was able to extort one more year of hosting out of me, I have vowed to never give them another dime. As of 11/1 I have moved the remaining email accounts and websites off of them over to my new hosting company, bluehost.com. Bluehost has been a dream to work with and to date no problems. They pride themselves on good service, affordable prices and US based 24/7 phone support. As each domain nears its expiration date I start the transfer process to bluehost.
I'm done with Network Solutions!