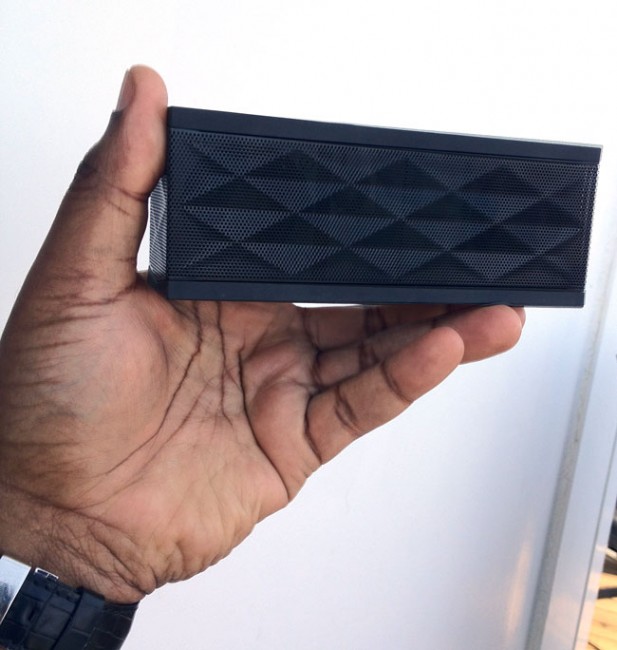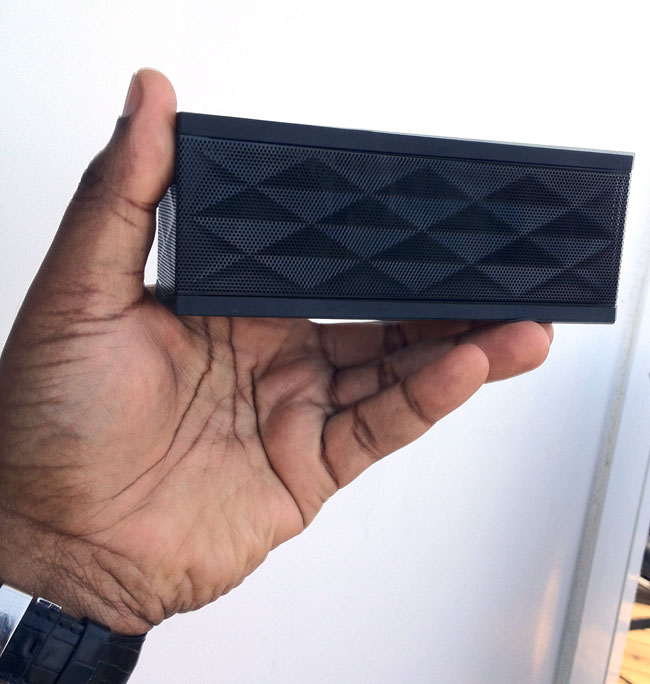 It seems that I'm always on the look out for the ultimate portable travel speaker and I've reviewed quite a few here. With each one I think I've found the right one, that is until I find the next one. The Jambox is not a new product. However, for some reason I resisted it until recently. I was in my local Apple Store picking up something else and I saw the Jambox on the rack. I was immediately drawn in by the compact size. It's much smaller than I thought it would be. Next thing you know I was doing the self check out using the Apple Store App on my iPhone and I was out the door.
I got back to my office and charged it up. One thing I appreciated right off the bat over previous speakers that I've reviewed here was the minimal amount of cords/cables. Other speakers that I've tried that separate and have a cable attached between them kinda bother me. The Jambox comes with a thin stereo cable to attach to your computer, mobile device or other music source. However, since this is a Bluetooth speaker that cable is totally optional. The only other cable is the standard micro USB cable for charging. Once you charge it up and disconnect the USB cable there are no other cables required to listen to your tunes wirelessly.
How does it sound?
I expected the sound to be good and it was. However, the bass was better than I expected for such a small box. I had no problem pairing it with my iPhone and iPad and the music playback from the Music app and Pandora app was flawless. No skips or drop outs.
Speaker phone bonus
If you do pair it with your smartphone you can also use it as a bluetooth speakerphone. There's a dedicated answer call button right on the top of the Jambox. My iPhone 4s rang while the music was playing. It paused the music and I just tapped the button on top to answer the call via the built-in speaker phone. Nice!
The Bottom Line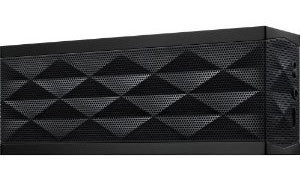 I know I've said this before, but this time I really mean it (until I find a better one 🙂 ), this is hands down my favorite portable speaker for travel. It's small, sounds good, charges via USB, works wirelessly, and can be used for my conference calls.
You can get the Jambox here in Black, Red, Blue or Grey for $179.43 ($199.99 list price)